Every year during the month of June for the past twenty plus years, I have been a guest PT instructor at the Naval Academy Summer Seminar for over 2000 USNA / high school candidates. The high school seniors come from all over the United States to experience a week of Naval Academy life. They start the day with physical training before 6am and continue a long day of events that include classroom lectures, log PT, obstacle course racing, as well as getting treated like a Plebe for an evening. It is a good taste of what Naval Academy life is like.
People have heard about the Tuesday morning workouts where I lead a group of 800 students through a variety of exercises and tips to master PT tests. Here is a question from a candidate attending a later session this summer:
"Mr. Smith, I was wondering if you are going to lead the PEP (Physical Education Program) during USNA Summer Seminar this year (2017)? If so, what kind of exercises / reps should I be preparing for?"
Future Midshipman Adams.
Adams, Good luck to you and your application process as you enter your high school senior year. The physical training is not that difficult if you work out regularly. However, if you do not, the physical events could be very challenging to you and you may need to stop, or worse, get injured doing things your body is not used to doing. Here is what I did with the most recent Summer Seminar class: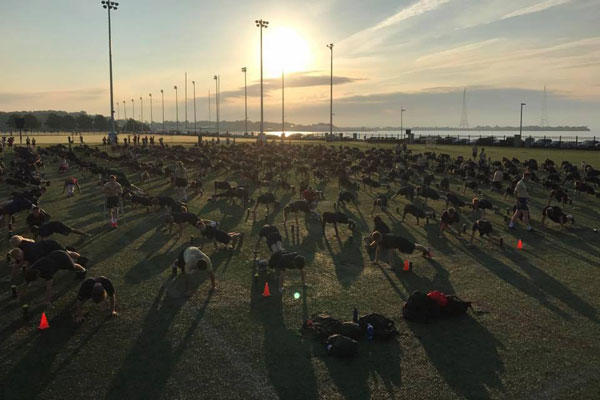 Run ½ mile to the PEP field
Warmup:
10 pushups, 10 squats, 100m run
20 pushups, 20 squats, 200m run
30 pushups, 30 squats, 300m run
Then a 400m run. Light stretch throughout each set.
Death by Pushups!
Stay in pushups UP position for 10 minutes. Do not drop your knee, but you can shake out an arm when in a side plank position. Every minute do a step of the pushup pyramid — increasing by one each minute. So, the workout looks like this:
1 pushup — stay in plank pose for remainder of 1 minute. Then
2 pushups — continue in UP pushups position or plank pose non-stop for 10 minutes increasing the pushups repetitions by one each minute:

Minute 3 — 3 pushups
Minute 4 — 4 pushups…up to Minute 10 and 10 pushups. That equals 55 pushups.
Core Exercises:
Situps: Focus on a pace of 20 repetitions in 30 seconds
Flutterkicks: 20
Situps: 20 in 30 seconds
Leg Levers: 20
Situps: 20 in 30 seconds
Scissors: 20
Situps: 20 in 30 seconds
Stretch stomach
Cooldown — Easy Pace:
30 pushups, 30 squats, 300m run
20 pushups, 20 squats, 200m run
10 pushups, 10 squats, 100m run
Light stretch throughout each set.
Burpees for remainder of time — usually about 10 per minute pace.
Run ½ mile back to dorm.
This is a typical type workout. The other days, Midshipmen will run the PT and you may have a future Marine or Navy SEAL up there leading you guys, challenging you to perform many more challenging exercises and do higher repetitions.
Two things you need to get good at doing:
Getting into the military academies is tough academically and you typically need to have played sports in high school or other activities that allow you to grow and have leadership experiences. It is not just physical, but being in shape when you arrive makes for a less stressful Plebe Summer.