There are many schools in our military that require some sort of swimming or water survival test. They teach everything from basic to the most advanced skills about water confidence depending on your military branch and whether or not you're in a special ops school. There are many ways to improve your confidence in the water, and most require you to be in a pool more often than not, but some techniques can actually be practiced and honed without a big lap pool to swim in.
Here is a list of eight ways to improve your water confidence.
1. Swimming is a Basic Survival Skill! 
Learn to swim.  If you know how to tread water and swim to the water's edge it will potentially save your life and the life of a child or other adults.  Taking lessons is the best way to learn.  The odds are, if you can find a public or private swimming pool, someone is giving lessons there. The Red Cross has an excellent swim school for ages 6 to adult. See if there is one near you.
2. Join a swim team
There is nothing like swimming as a sport to improve your water ability, technique, and confidence. However, being a non-swimming athlete is fine as long as you make time in your training day to prepare for various skills relating to military swimming. Skills like basic and advanced conditioning, swimming with fins, treading water, drown-proofing, and perfecting your techniques in all strokes will be tested in your military future. 
3. Going from GOOD to BETTER
If you are a decent swimmer, but need to improve your technique or conditioning, you will need a pool and some form of coaching. Local swim coaches, friends with like goals (special ops, life guarding, etc.), and training videos that can be easily found on YouTube can all help.  Just search the skills you seek to learn and practice them.
There are many videos on the combat swimmer stroke, underwater swims, and swimming workouts.  Many others discuss actual workouts that will help you master the proper techniques and practice the skills that will help you get comfortable in the water using the Combat Swimmer Stroke (CSS). Check out videos of people learning how to swim freestyle or crawl stroke, breast stroke, and even elementary back stroke.  All of these will help you master proper body position in the water, and as you get better you can start to add distance to the training and actually call it a workout. Once you are doing swim workouts, you are well on your way to building comfort in the water.
4. When in doubt, TREAD
 People often go into water treading events and tests thinking that treading water is easy. Because of this, they are not mentally prepared for the challenge of vertical swimming. It is easy if you have some body fat to keep you afloat, but if you are fairly lean, you will find that treading water is work – just as hard, or harder, than swimming. Treading water is a great workout and you can adjust using legs only, or arms only, through the 20-30 minute "vertical swimming" workout.  If you want to make this workout harder, just add weight. A small 10-15lb weight is plenty to challenge the best at treading water. I often will do the tread workout if I'm in a hotel pool that is too small or too warm to do laps in.
5. Take a SCUBA or Life Guard Course 
There are many schools available to civilians that require and teach the skills of water confidence.  Taking a PADI or NAUI SCUBA diving course is good option if you are considering a future career in military diving or special ops. I had a SCUBA certification prior to BUDS, and that helped me during dive phase. Being a life guard adds another level of water competency to your skillset.  Being able to save someone in the water will require you to be able to first save yourself and be confident in your abilities to help others in potentially dangerous situations.
6. Join a Fitness Center with a Pool 
Not everyone is so lucky to have a pool nearby their work or home. But if you do, you will need access to a pool several times a week if you are serious about mastering water confidence to the tune of Navy SEALs, Air Force PJs, divers and rescue swimmers, and USMC RECON. It takes 5-6 hours of time in the water per week for most people to master the skills required to be water confident.  See why - Water Confidence Training (USAF PJ style)
7. Practice Drownproofing
Drownproofing tests come in different arrangements depending upon the school you are attending.  For the basic test, you will be required to tread and float for several minutes, make a flotation device out of your pants and top, and swim underwater. For the more advanced special ops level you will float, bottom bounce, travel 100m, do flips underwater, and grab your mask with your teeth on the bottom of the pool because your hands and feet are tied behind your back.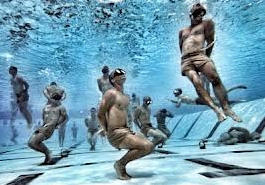 8. Water Filled Mask
Performing with a water-filled mask will force you to relax while simulating the sensation of being underwater.  During many special ops and diving schools in the military, you will have to practice swimming, treading, flutterkicks, leg levers, and other exercises with your mask on completely filled with water. This is very awkward at first, but you will soon learn to deal with water in your sinuses and how to breathe in and out of your mouth only.  This is not just sadistic training by your instructors, it is a true and easy way to test your ability to relax even though you are simulating being submerged.
There are many other ways to build water confidence, but the true key is to get in the water more often and your confidence will grow every day.
Stew Smith works as a presenter / editorial board with the Tactical Strength and Conditioning program of the National Strength and Conditioning Association and is Certified Strength and Conditioning Specialist (CSCS).  There are also over 800 articles on Military.com Fitness Forum focusing on a variety of fitness, nutritional, and tactical issues military members face throughout their career.
Latest Fitness Books: Navy SEAL Weight Training and Tactical Fitness