The email that prompted this article was from a young man contemplating joining the military, but not quite sure what branch he wants to serve in. Arriving fit is his plan, but "how fit do you need to be to join the military?"
Here is his question:
"What is the overall physical fitness level of the new recruits when they arrive at boot camp? Will they have a chance to get into better shape for their next training? (I have seen your advisement guide on what you should be able to accomplish.) If I am going specifically for a special-forces group, what should my decision be -- Army, Navy or Marine, Air Force? I am in a bit of a pickle in understanding where I can best serve my country."
First of all, good job on taking the time to think about what branch of the military you wish to serve. People who serve in the military, law enforcement or other public service professions are the backbone of this country. Having young people consider these professions makes me proud to be a veteran and motivates me to offer any assistance I can.
Now, arriving fit for any military or law-enforcement training program is a must. So preparing for these programs could take at least 6-12 months to be an above-average performer. However, as our adult population grows in waist size and decreases in fitness level, so have American children's weight and fitness. These are our future military members, police officers, firefighters and EMTs. Anyone see a potential problem yet?
But to answer your question, the average fitness level of incoming recruits for the military is considerably low. Standards are set low to allow lower fitness levels into the military branches, but the goal of basic training in the military is to increase the fitness levels of recruits to reach passing standards. 
The instructors do a great job with that and can turn a 50% failure rate into a 99% pass rate in fitness standards. At the same time, the instructors have to teach job skills that will save your life or the life of your comrades. These are not skills that will prepare you for sitting behind a desk. This is training that is very physical in nature. That is why having a strong physical base for several months or years is so important to the recruit.
My recommendation to those who seek to serve in special operations forces in the various military branches is to arrive at your basic training in the best shape possible. This means, not just reaching the minimum standards for that SF branch but blowing the standards away. Then over the course of the training, which will be physically easy for you, you can consider it a form of a taper and rest before the more challenging training programs that the Rangers, Special Forces, Navy SEALs, RECON and PJs provide.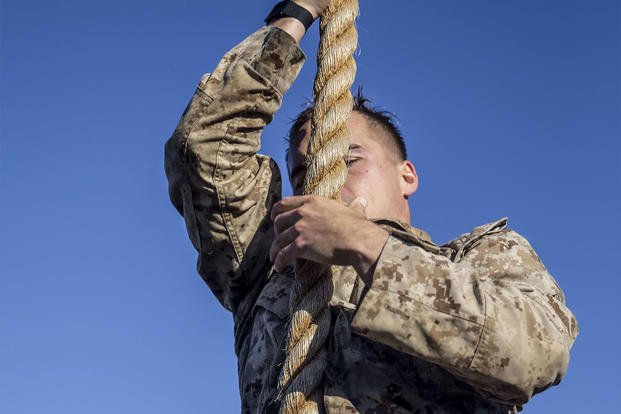 As far as which branch to serve, research the various special operations groups in the military. Some ideas for you to consider are:
Some forces require an intense water confidence course. You may consider the Navy, Marines, Air Force PJ and Coast Guard if you are a skilled and comfortable swimmer, surfer, SCUBA diver or boater.
Being in the Army Rangers or SF will require many miles of running and intense walking with 80-100 pounds on your back. Depending on where your comfort levels are and what you enjoy doing now should be a critical piece of your decision-making process.
The bottom line is that you cannot make a bad decision to serve your country; just show up with an above-average fitness level. Be able to run six- to seven-minute miles for several miles, do 100 push-ups and sit-ups with ease and do 15-20 pull-ups. To get in that kind of shape, check out some of the articles from the Stew Smith article archive or visit the Military.com Fitness eBook Store for programs that will prepare you for any program in the military or law enforcement.
Other related boot-camp articles:
Next step: If you are considering joining the military, your next step should be to speak to a recruiter from the service of your choice.
Stew Smith is a former Navy SEAL and fitness author certified as a Strength and Conditioning Specialist (CSCS) with the National Strength and Conditioning Association. Visit his Fitness eBook store if you're looking to start a workout program to create a healthy lifestyle. Send your fitness questions to stew@stewsmith.com.
Want to Learn More About Military Life?
Whether you're thinking of joining the military, looking for fitness and basic training tips, or keeping up with military life and benefits, Military.com has you covered. Subscribe to Military.com to have military news, updates and resources delivered directly to your inbox.