Here is a workout I like to do with the Raptor vest and a sled. I also use old truck tires with sandbags in them as a sled on rubberized tracks or turf fields, as they tend to "grab" harder to the rubber on those surfaces.
Warm up with a one-mile run without the vest and include a light stretch and dynamic warmup.
Repeat the one mile again with the vest (fast walk or shuffle run). Work for a mile in the 10-minute zone.
Repeat 10 times.
Run fast with tires or sled 50 meters
Odd sets -- 20 squats
Even sets -- 20 push-ups
Walk back to the starting line using different methods each time (Bear crawl, backwards step, forward lunges, low crawl -- get creative with each way back to the starting line.)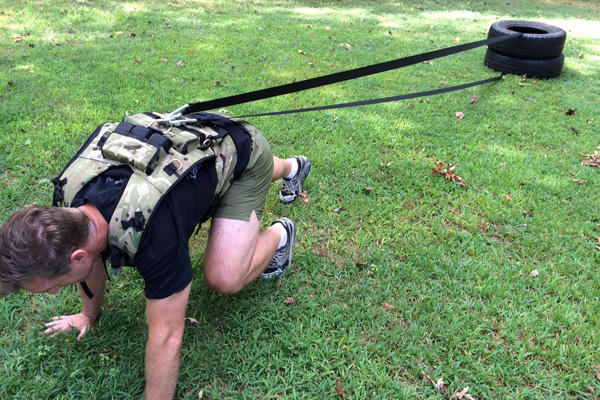 Part of tactical fitness is staying mentally engaged. Thinking about what set you are on (odd or even), getting creative with methods of travel in each set or even doing a skill between sets, like tying a knot or doing a math problem, are ways to keep the brain engaged during the mission.
It is easy to go to your happy place and focus on running or pushing through exhausting workouts. It takes an increased focus and attention to detail to maintain proper thought processes while getting tired and winded. Imagine shoot, no-shoot situations when you are physically exhausted and tired; that is why we like to train to keep the brain engaged in these workouts.
After you are done with the 10 sets above, cool down with another mile at an easy pace with or without the Raptor weight vest. 
Enjoy, there will be more to follow.
Stew Smith is a former Navy SEAL and fitness author certified as a Strength and Conditioning Specialist (CSCS) with the National Strength and Conditioning Association. Visit his Fitness eBook store if you're looking to start a workout program to create a healthy lifestyle. Send your fitness questions to stew@stewsmith.com.
Want to Learn More About Military Life?
Whether you're thinking of joining the military, looking for fitness and basic training tips, or keeping up with military life and benefits, Military.com has you covered. Subscribe to Military.com to have military news, updates and resources delivered directly to your inbox.