If you earned a paycheck and much of your workweek was spent rucking in the military, you will likely not be keen to add this "new fitness activity" to your daily routine. Just like boot-camp workouts and obstacle course racing made their way into the world of fitness activities, rucking is steadily turning from a tedious military transportation activity to a fun event people pay money to do.
Rucking is an effective way to build strength, burn more calories than walking alone and is considered less impactful than running. It is a great option for people who want to make walking harder, but do not want to run. But there are a few things you should understand about rucking. Here are seven things to consider if you are new to rucking for exercise:
1. Walk, Don't Run
In the military, many troops are still capable of running races with moderately heavy rucksacks (40-50 pounds). Your goal as a new rucker, though, is to put time under the load and walk. If you want a standard, shoot for 15-minute miles (4 mph). You will feel it as a moderate pace that borders between a casual stroll and a power walk.
2. Start Light
You may have heard stories about rucks of 100-plus pounds from your military friends. While this is true with many who served in the infantry, Rangers and other special operations ground-pounders, the beginner doesn't need to go heavy. If you are using rucking to get fit and burn more calories than walking alone, a great place to start is 10 pounds. If you lift weight already and run, you can start off a little heavier and do 10% of your body weight for starters. It's up to the individual, but you can add five pounds every 2-4 weeks or as your current weight is getting easier.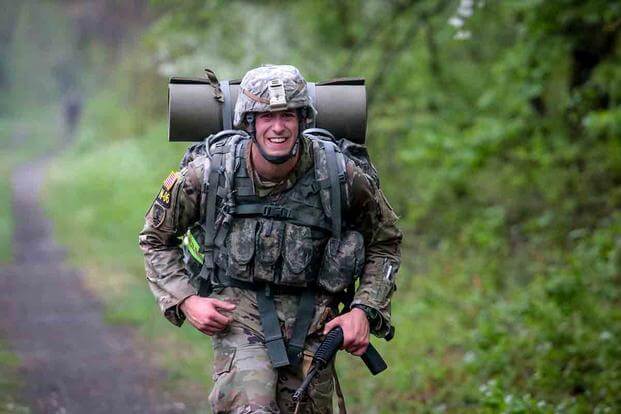 3. Start Short and Progress Smartly
If you walk 30 minutes a day already, try making 5-10 minutes of that normal walk with the added new weight. Progress every week or two with an additional five minutes under the ruck. You can build up to 30-60 minutes of rucking in a few months, as long as you are consistent with your walking and rucking regimen.
4. Don't Do Daily
Start off once or twice a week at first. I recommend calling your rucking day a leg day. Rucking is a great way to top off leg day if you lift. On the day you ruck, you can do squats (sitting down or standing up on a bench) and lunges to build leg strength for this new activity. Add a day of your ruck training every month, but ensure you stay within your weekly time and distance progression with the extra added day. Eventually, as you master your ideal rucking weight, you can build up to ruck-walking daily.
5. Get Good Shoes or Boots
The kind of shoes, boots and socks will largely be preferred by the individual, but it is smart to ruck with boots if you are walking on uneven terrain (such as trails, fields, etc.). But good walking shoes are fine if you stick to roads and pavement.
You run differently than you ruck, so get a shoe you like and run in one pair and walk in the other. Many hiking boots have the ankle support you need. You may be able to find military-issued boots to wear, but to be honest, you get what you pay for. You may like something from Merrell, Danner or Salomon.
6. Get a Good Backpack (or Weight Vest)
Many people start off wearing a backpack to build strength in a more balanced way, as the weight vest has front/back weights distributed on your torso better than a backpack. Check out some weight vests for starters and add them to your calisthenics workouts, too.
Typical military backpacks have higher-load carrying pouches, waist straps, chest straps, and padded and wider shoulder straps. You can also find nicely designed backpacks online that are smaller and durable, but they cost more than you would think.
7. Don't Forget Weight
Adding weight to a backpack seems like common sense. Just put in a plate or a dumbbell to get your desired weight, right? Wrong.
Unless you like metal grinding on your ribs and spine, you may want something softer and equally dense. Try sand. You can buy a 40- to 50-pound bag of play sand (think sandbox filler) for less than $5 and adjust it to fit nicely in any pouch in your pack. If you want to adjust the weight, cut a small hole in the bag the sand came in and then duct tape it up to compress the sand into a smaller size. Make your own sandbag weight here.
You cannot talk about rucking without mentioning GORUCK.com. This veteran-owned business makes rucks and plates that fit perfectly into pouches and offers rucking events that are very popular in many cities around the world. Rucking can be a very social activity that gets you outside while enjoying a conversational pace with like-minded people. Give it a try.
Stew Smith is a former Navy SEAL and fitness author certified as a Strength and Conditioning Specialist (CSCS) with the National Strength and Conditioning Association. Visit his Fitness eBook store if you're looking to start a workout program to create a healthy lifestyle. Send your fitness questions to stew@stewsmith.com.
Want to Learn More About Military Life?
Whether you're thinking of joining the military, looking for fitness and basic training tips, or keeping up with military life and benefits, Military.com has you covered. Subscribe to Military.com to have military news, updates and resources delivered directly to your inbox.