The Marine Corps is a small organization that does a good job of producing a united front. Marketing people call it consistent messaging, and the Corps has long made it a part of their communications strategy. It's simple. Marines are Marines. There are no special Marines.
While this narrative approach gives the Corps a consistent message and appearance, it also fails to highlight many of the special missions the Corps accomplishes that involve small teams of elite, specifically trained, warfighters. Today we are going to highlight one of those small teams of elite service members, commonly called FAST Marines.
FAST stands for Fleet Anti-terrorism Security Team. These FAST units fall under the branch's Security Force Regiment, which provides a dedicated security force and anti-terrorism unit made up of Security Force Marines. These Marines usually guard a variety of installations like Naval bases and others too sensitive to leave without an armed presence.
FAST Marines have a very specific and specialized job. FAST teams are highly trained Marines who deploy across the world to serve as security at United States government installations. Imagine an embassy is threatened, and they need an immediate shot of highly trained Marines with a whole lot of guns.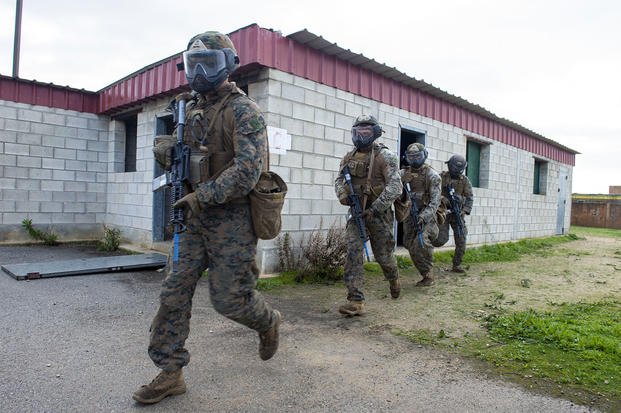 They are called FAST, and those Marines live up to their acronym. FAST Marines do non-traditional deployments to Guantanamo Bay, Bahrain, Spain, and Japan, where they essentially stage as a just-in-case precaution. These 'staging' deployments allow them to deploy at a moment's notice to nearly anywhere in the world. On these deployments, they train extensively and keep their skills sharp in case they are called upon. FAST Marines also deploy stateside to aid Marine Security Forces in guarding nuclear subs and ships during nuclear rod replacement.
History of FAST
FAST saw its establishment in 1987. The 1970s and 1980s saw the rise of modern terrorism, and American interests overseas become targets of it. The President issued an order for the military and federal law enforcement to enhance their anti-terrorism capabilities. The Marines did as ordered and found a weakness in their Security Force infrastructure.
In the event of an attack that could overwhelm a Security Force detachment, they had no dedicated quick reaction force to enhance a Security Force's numbers and capabilities. Thus, FAST Marines were born. Their mission was simple: they exist to reinforce an installation's security force when the threat outguns the security forces on hand.
Since then, FAST has been called in to help secure Naval stations In Panama, where they engaged with what they believed to be Cuban special forces in an intense 30-minute firefight. From there, the Fast Marines would continue into Operation Just Cause, or the full invasion of Panama, in December of 1989.
FAST Marines deployed to Bahrain to protect the Naval Installations during Desert Storm, and in 1991, helped evacuate U.S. personnel from Liberia. When the U.S. established a liaison office in Mogadishu, they called FAST to provide security.
Without going through the entire history of FAST, it's easy to say they've operated at a relatively high tempo since their inception, and have always been there when the Marine Corps and their nation called upon them.
How to become a FAST Marine
FAST Marines have a long pipeline of training before they become active-duty operators. It starts with speaking to a recruiter and obtaining a Security Forces contract. Like everyone in the Corps, it starts at a recruit training depot.
From there, Security Force Marines will attend Infantry Training At the School of Infantry West or East and obtain a MOS of 0311. Security Force Marines will maintain an infantry MOS as their primary MOS.
After SOI, they attend Security Force School. Here they can volunteer for FAST company. There is no guarantee for acceptance, and it's all based on the needs of the Corps.
After acceptance into FAST Company, they begin 5 Weeks of FAST training. From there, they go to an 8-week Close Quarter Battle School. The CQB school teaches FAST Marines how to fight in extremely close quarters. Here they become experts in clearing rooms, hallways, stairways, as well as dynamic entry and various other tasks associated with urban combat.
Following CQB school, they take a tactical driving course. Here Marines learn Motorcade Operations, high-risk driving, evasive driving, PIT maneuvers, ramming, close proximity driving, and driver down drills.
Marines then become bodyguards at a High-Risk Personnel course where they learn close quarters protection tactics.
From there, they begin training in individual nonlethal weapons. This course teaches them tactics and weaponry they can use to deal with threats in a nonlethal manner. Finally, they attend the Helicopter and Rope Suspension Techniques Master Course, where they learn how to fast rope, rappel down structures and out of helicopters, and use SPIE rigging.
Life as a FAST Marine
After all that training, they'll still be expected to know basic Marine skills. This includes basic and advanced trauma medicine, how to use nearly every weapon in the Corps' arsenal, how to use night vision and thermal optics, land navigation, HMMWV course, and more.
FAST Marines will be stationed in either Naval Station Norfolk or Naval Weapons Station Yorktown in beautiful Virginia in companies Alpha, Bravo, or Charlie. 400 Marines and Sailors make up a FAST company.
From there, they can look forward to a potential deployment at the Platoon level to one of several naval stations where they can further their training and be on call for a mission. FAST Marines can expect to be constantly training in one direction or another.
FAST Marines utilize a lot of the same gear as their infantry counterparts. This includes the M4 and likely the M27 in the near future, as well as the Beretta M9, the M249 SAW, and M240B medium machine gun. Shotguns from Mossberg and Benelli offer a powerful close-quarters fighting tool, as well as a nonlethal option with the right rounds. Some Senior FAST Marines may have even been to designated marksman school and be wielding specialized rifles for that role.
Per their contract, a Security Force Marine will only serve two years active duty with Security Forces. After these two years, most will be reassigned to conventional infantry forces. It's an odd system that doesn't make much sense to me. It seems like after an expansive series of schools that FAST Marines would stay FAST Marines, but the Force dictates differently.
In the Infantry
Security Force Marines often have difficulty adjusting to the infantry. They've spent years in Security Forces and often come to the infantry as Non commissioned officers. Their specialized training is just that, specialized. It doesn't translate over to conventional infantry operations, and because they lack the experience of most infantry Marines, they can feel like a fish out of water in the new surroundings and operational environment.
FAST Marines do come to the 'fleet' with a more advanced set of skills and can serve as excellent advisors in close quarter's combat, however. Urban terrain has been a big factor in recent wars, and knowing how to properly fight in it is invaluable.
Loaded Up
FAST is simply one small cog in a large Marine Corps. These small teams of specialists always interest me, and I think the Marine Corps does a disservice to itself by failing to highlight their unique capabilities. Regardless, when American installations overseas dial 911, it's FAST that answers the call.
Read the original article on Sandboxx.
Interested in Joining the Military?
We can put you in touch with recruiters from the different military branches. Learn about the benefits of serving your country, paying for school, military career paths, and more: sign up now and hear from a recruiter near you.