NAVAL AIR STATION SIGONELLA, Italy -- Gunnery Sgt. Richard Gyabin, Special-Purpose Marine Air-Ground Task Force Africa 13 administrative chief, was born and raised in Ghana.
"When I was 19, we had the privilege to integrate into the culture in the U.S.," he said.
The family settled in Chicago, and Gyabin attended the University of Illinois. During his time there, he met a friend's father who was a major in the Marine Corps.
"They had a long history of military service in the Marine Corps," he said. "I would go to his house and see all his accolades, uniform and pride."
His experience with the major led Gyabin to enlist in the Marine Corps Reserve in 1997.
"Initially it was all about money for college," he said. "When I got to boot camp, I quickly figured out it's not all about money. It makes you whole. It makes your personality come together. The camaraderie, esprit de corps and history -- it made me a better person and gave me a great perspective on life. I wouldn't have done it any other way."
While continuing to ascend in rank in the Marine Corps, he completed his economics degree and entered the civilian workforce.
Over the next 15 years, Gyabin deployed to Iraq, Kuwait and the Pacific with a Marine expeditionary unit.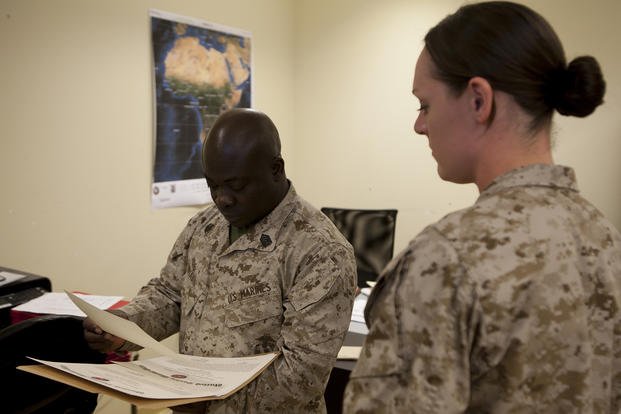 Each deployment, Gyabin served within his administration clerk occupational specialty and eventually as an administrative chief. Serving with Special-Purpose MAGTF Africa 13 was no different, until he was afforded the opportunity to return to Ghana and teach Ghana navy noncommissioned officers the principles of small-unit leadership. He was chosen for the mission because of his experience as a gunnery sergeant and his knowledge of the country's culture.
The first training day in Ghana revealed how unique the experience would be.
"When I introduced myself they were surprised and shocked," he said. "Seeing me come back made them more receptive. To see someone who understands where they are coming from, I was able to connect with them."
The five-day course included discussions of leadership mentality, leadership styles, how to mentor subordinates, dynamic physical training and teamwork.
"It was a short curriculum, but we gave them the best tools and techniques," he said. "We went out there to give them what they needed."
"My favorite part is twofold: going back as a gunnery sergeant to teach on official duty and also the opportunity to see my family.''
Gyabin has deployed as many times as he has returned to Ghana -- only four. The trip to Ghana provided a rare opportunity for him to visit extended family, including his 86-year-old grandmother.
He contacted her after arriving in the country, and once the leadership course was completed, he visited his grandmother on a Saturday evening.
"It was a good visit to be able to visit her as a Marine giving back to society,'' he said. .
"We had some conversation. When we talked, it felt like we bonded again."
Gyabin said the rare opportunity to assist his native country and the brief but joyous reunion with his grandmother made the entire trip worthwhile.
"You can't always fish for someone; you have to teach them how so they can survive. As a native, giving back to Ghana and to the society as a whole personally was gratifying and a great accomplishment for me. It's priceless."
Special-Purpose MAGTF Africa strengthens U.S. Marine Corps Forces Africa and U.S. Africa Command's ability to assist partner nations in addressing their security challenges. The approximately 150 Marines and sailors conduct security force assistance, military-to-military engagements and are trained to provide support to crisis response.
Want to Know More About the Military?
Be sure to get the latest news about the U.S. military, as well as critical info about how to join and all the benefits of service. Subscribe to Military.com and receive customized updates delivered straight to your inbox.