My childhood dream was to be a mounted police officer and ride a horse downtown. By the time I was 21, I had made it ... During my last year of college, I became a motorcycle cop, riding a steel horse. Then I took a step that changed my life. I joined the Marines.
My stepdad had been a Marine, with three tours in Vietnam; my father had retired from the Army Reserve as a major; and in World War II, my grandfather was a Montford Point Marine -- a segregated unit that contained the first Black men in the Corps.
I had no interest in the military. What changed my mind was a flier offering a free trip to the Mardi Gras for anyone who joined the Army ROTC women's rifle team. During ROTC leadership training in New Orleans, I saw a Black woman pilot wearing an Army flight suit. "Why didn't I think of that?" I asked myself.
I never forgot that image. A few months later, I decided that I could always be a cop, but I wouldn't always have the chance to fly. And I wanted to join the toughest outfit. I called the Marine recruiter and told him I wanted to become a combat pilot. I earned my wings in 2001 -- the first Black female aviator in the Corps.
I served two combat tours in Operation Iraqi Freedom -- eight months the first time and seven months the second -- and was recognized by the Defense Department for a second achievement: becoming the nation's first Black female combat pilot.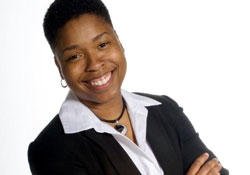 It's only been a year since Captain Vernice Armour left the Corps to start her own business, but she's already using what she learned as a Marine -- and a helicopter pilot -- and she's sure it'll stay with her for the rest of her career.
We flew close air-support and convoy escorts in AH-1W SuperCobras, spending the night at forward operating bases in hostile territory. Often, we returned to our base in Kuwait with bullet holes in our helicopters. It was an exhilarating -- and rewarding -- experience.
Back in the states at Marine Corps headquarters, I entered a new world as a diversity officer and a liaison to the Pentagon. Speaking at conferences made me realize that people really wanted to hear about my Marine Corps experiences, and I loved sharing them.
I also realized that I couldn't give this my all and still provide what the Marines demanded, and deserved. So in August 2007, I left the Corps to start my own firm, helping companies and organizations improve their leadership practices and bottom-line results.
My company, VAI Consulting and Training, LLC, in Stafford, Virginia, has a list of clients that includes banks, defense contractors, nonprofit organizations and even the Department of Defense. I view myself as a professional speaker and consultant.
In my work with these clients, I pass along the values and techniques that I learned and honed in the Corps. We all have obstacles in life, I tell them. Acknowledge the obstacles and "make it happen." I start my lectures wearing a flight suit and end it in a business suit. It helps make the point.
My friends joke that I personify the old adage: "Once a Marine, Always a Marine." I'm always urging my listeners to ask themselves, "What is your plan of attack?" I talk about making "flight plans" instead of "road maps." I urge them to do more than just promise to try. "Do it," I say.
I'm sure that what I learned in the military will always stay with me. The dedication, the commitment, the loyalty, that bond that comes with being a Marine -- you don't find it anywhere else. Everything I do stems from my time in the Corps. I'm standing on a strong legacy.
I'm immensely proud of having been able to serve my country, and thankful for having joined the Corps. I've more than fulfilled my childhood dream of becoming a mounted policeman. I'm certain that very few of the cops who rode horseback in my childhood days ever flew choppers in combat.
Answering the Call is a monthly series of short articles by prominent men and women discussing the impact of their time in the military on their later lives.
Want to Know More About the Military?
Be sure to get the latest news about the U.S. military, as well as critical info about how to join and all the benefits of service. Subscribe to Military.com and receive customized updates delivered straight to your inbox.