To mark Veterans Day, video-game publisher Activision Blizzard premiered its latest downloadable operator for "Call of Duty: Modern Warfare III" based on a real-life Navy SEAL, with the proceeds from all purchases going directly to helping veterans transition from the U.S. military to civilian life.
The so-called "Warrior Pack," offered for $9.99 by the nonprofit Call of Duty Endowment, includes a "King Koa" operator skin, weapons blueprints and accessories based on the real-world career of retired Navy Chief Petty Officer Benjamin F., a native of American Samoa and 16-year Naval Special Warfare veteran who deployed to Europe, Africa, Afghanistan and Iraq and received two Bronze Stars with "V" devices, a Purple Heart and Navy Commendation Medal during the course of his service.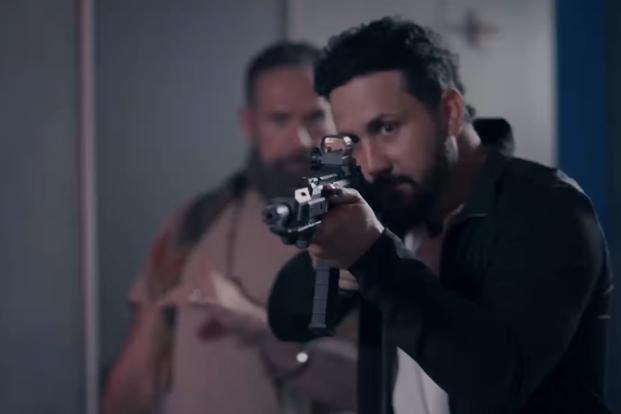 The Warrior Pack was designed not just by Ben, but by a team of U.S. military veterans working across Activision tasked with maintaining the authenticity of the military-centric characters, equipment and themes that are the lifeblood of the "Call of Duty" franchise. The weapons skins borrow from Ben's Samoan tattoos, the pack's trident-centric charm and sticker are an overt callback to Navy SEALs, and the lion emblem has specific meaning within the SEAL teams.
"Being born in the South Pacific has a great deal of influence on me and the type of person I've grown into," Ben said in a recent installment of Activision's "Warrior Wednesday" YouTube series (he was unable to speak with Military.com for this story). "Having that Polynesian culture helped me tremendously in my SEAL career as well. Being able to incorporate my culture into this game brought a great deal of fulfillment I wasn't expecting."
Even the placement of specific items in the operator kit -- the magazine pouches, the combat knife, the IR strobe, the explosives and chemlights -- were a reflection of Ben's real-life combat kit in Iraq and Afghanistan, one that the members of the Activision team tasked with bringing Ben to digital life took seriously.
"When it comes time to cammy-ing up your weapons, you spray it, you design it yourself. And when the idea was pitched to incorporate a bit of my tattoo and other forms of Polynesian culture, it made the whole process a lot more meaningful," Ben added in another video. "I kinda wish I would have thought about it when I was active duty, because I would have tried to imitate stuff we have for this game."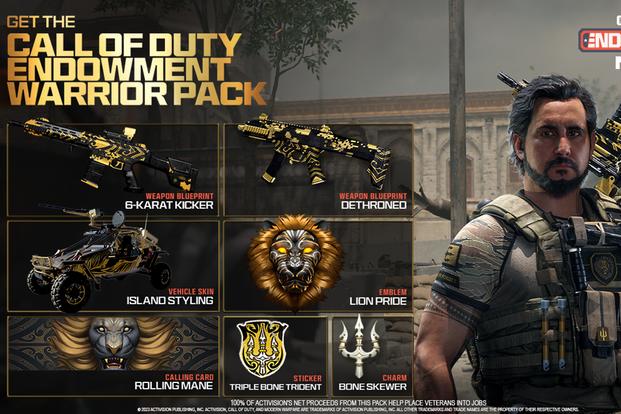 For the Activision team, adding a real-life Tier 1 operator into "Modern Warfare III" was a privilege, and not just as a push toward increasing the "Call of Duty" franchise's fidelity to the defining details of the military conflicts that are its narrative core.
"I worked with SEALs often in Afghanistan; they were everywhere all the time, cowboying out there in their own trucks," said Ryan Ferriera, an Army veteran and senior concept artist at Sledgehammer Games responsible for incorporating Ben into the game. "It was important to me as a veteran that we put Ben in the game in the way he wanted, in a way that best represented him as an operator, his team and the ethos they carry into battle. "Sometimes, the operators [in video games] get a Captain America vibe without getting the
real Captain America, which is our Tier 1 operators," he added. "[Ben] knows what it means to write that blank check for up to and including your life. He's the kind of guy who will come out of the trench to come get you 200 meters behind a razor wire fence under heavy fire; it's not a second thought to him."
Ben isn't the first real-life operator to appear in a "Call of Duty" game: In 2020, Activision turned real-life Green Beret veteran Tu Lam into a playable character in 2019's "Call of Duty: Modern Warfare." Later that year, Medal of Honor recipient Florent "Flo" Groberg partnered with Activision to develop an in-game kit based on the very same loadout he carried while deployed to Afghanistan.
But Ben is the first real-life veteran to show up in a package specifically sponsored by the Call of Duty Endowment, whose mission since 2009 has been to help veterans transition into high-quality civilian jobs. To date, the endowment has successfully placed more than 125,000 veterans into high-quality jobs through more than $73 million in grants, according to the nonprofit.
According to Michael Maggitti, a Marine Corps veteran and senior marketing manager for the endowment, the prime in-game placement of the Warrior Pack when "Call of Duty: Modern Warfare III" became available was meant to raise "millions" for the endowment to continue its work.
"The level of authenticity that we put into the pack, the level of detail and dedication of the studio had to tell [Ben's] story ... everything has its rightful place for the right reasons," Maggitti told Military.com.
"The effort put forward to design him as a character .... It was so much more close to home, it felt like working with team members and like-minded folks to put out a quality product that veterans will look at and say, 'That's me,' or, 'That's my buddy,'" Ferriera, the concept artist, said. "It gives people more of an incentive to learn about people who come out of the service. It's a positive message and experience all the way around."
But besides raising money for veterans and providing players with a badass new skin and loadout for their next "Call of Duty" binge, the Activision team sees Ben's appearance in the game as part of the endowment's mission to "offset the negative trends you see centered around our IP [intellectual property], whether it's violence in games or inflammatory competitive verbiage that you see in the community," Mikal Vega, a retired Navy SEAL, former explosive ordnance disposal tech and now performance capture director at Treyarch, told Military.com.
"Everyone has a different experience [with 'Call of Duty'], but for me, the endowment is the lighthouse that says, 'This is what we're really about,'" Vega said. "Getting authenticity in games, placing veterans after service and bringing a piece of that service to that fan base."
The Warrior Pack is available for free to U.S. military service members and veterans "while supplies last," courtesy of USAA. "Call of Duty: Modern Warfare III" is available on Xbox, Playstation and PCs now.
-- Jared Keller can be reached at jared.keller@military.com.
Keep Up With the Best in Military Entertainment
Whether you're looking for news and entertainment, thinking of joining the military or keeping up with military life and benefits, Military.com has you covered. Subscribe to the Military.com newsletter to have military news, updates and resources delivered straight to your inbox.