On May 29, 1944, an American B-17 Flying Fortress nicknamed "Miss Ponnie" crashed while on a bombing mission over Nazi-occupied Austria. Georg Reutter's mother watched the plane go down from her house in Graz. Some 75 years later, Reutter, now an elderly retiree, picked up his metal detector and walked out to what he believed was the crash site to look for the wreckage.
A simple act of curiosity would lead to Georg reuniting the descendants of the 10-man bomber crew for the 75th anniversary of the crash. Filmmaker Brendan Hughes captured the reunion and details Reutter's painstaking but resilient efforts to bring them all together in a new documentary, "The Metal Detector," which is now available on PBS and at PBS.org.
Reutter retired after decades working in finance, a sector that requires a special attention to detail, and employing his metal detector became a kind of retirement hobby. The man and the hobby would come together to change the lives of six people who had never met, united by the memory of their veteran fathers.
As a young man, Reutter's mother would tell him about watching an American plane crash in the hills behind a nearby monastery. Unsure if anything would still be there (if it ever was), he set about trying to confirm this bit of family lore by finding the crash site.
He found the entire airplane.
"Tons and tons of metal started coming out of the ground," director Brendan Hughes told Military.com. "Georg is a guy who is just so full of compassion and curiosity. His compassion is for the men who parachuted into his town when it was enemy territory, wondering if they were OK. His curiosity drove him forward."
After putting together some of the wreckage, Reutter found the aircraft's tail number, which led him to the local library, where he discovered a list of World War II plane crashes and corresponding tail numbers. The numbers led him to a plane name, which led to a crash date, which led to the names of the 10-man crew. He even tracked the plane's flight path. From there, he found an American veterans website, which led him to the names of descendants.
One of those descendants is actor Mick Berry, who performs a one-man show about his father in San Francisco. When Reutter called Berry, he hit paydirt: Berry's father Dan was the ball turret gunner on the crashed B-17. After coming home from the war, he dictated the entire event to his secretary, leaving behind a detailed, 25-page account of the incident. Berry's show is his father's recollection of bailing out over Austria.
The film's executive producer, Amelia Hirsch, happened to catch Berry's show in San Francisco and was blown away by the story. Talking to him after the show, Berry told her about a "crazy phone call" he received from an Austrian who found the plane. Reutter had called each descendant he could find, inviting them to come to Austria and retrace their fathers' footsteps in enemy territory. He would be on his way to Graz in just five days. Hirsch called her cousin, filmmaker Brendan Hughes.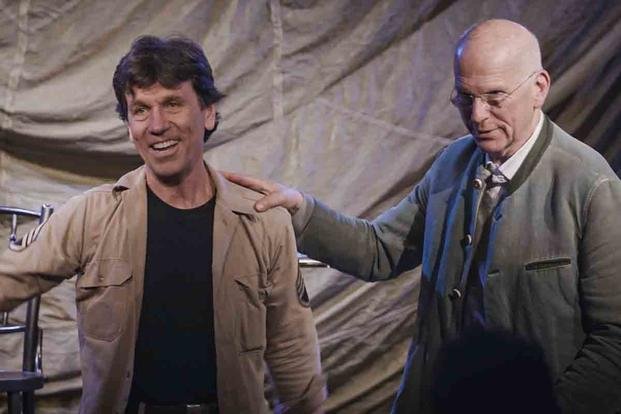 "She told me the story and said, 'We have to capture this,'" Hughes says. "This weekend is going to happen with all these people. There has to be a film crew. And in five days, my wife was on an airplane to Austria to capture the entire thing."
Reutter invited six descendants of the B-17's crew to come to Graz, introduce them to the townspeople who helped them and to unite his town in remembrance. "The Metal Detector" follows them all on this journey.
"There's a German word that I learned over the course of making this film, which is erinnerungskultur, which means 'culture of remembrance,'" Hughes says. "It's a drive on the part of Austrians and Germans to face the darkest parts of their history so that they never happen again. ... A yearning for peace comes out of a deep knowledge of history and its darkness."
"The Metal Detector" began airing on PBS and on PBS.org starting on Nov. 11, 2023. Watch it on PBS by clicking here.
-- Blake Stilwell can be reached at blake.stilwell@military.com. He can also be found on Facebook, X or on LinkedIn.
Keep Up With the Best in Military Entertainment
Whether you're looking for news and entertainment, thinking of joining the military or keeping up with military life and benefits, Military.com has you covered. Subscribe to the Military.com newsletter to have military news, updates and resources delivered straight to your inbox.