Careers for Veterans
MAG Aerospace Veteran Employer Profile
Serve. Win. Perform.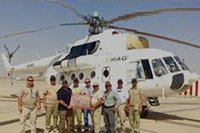 MAG Aerospace is committed to hiring and promoting veterans and transitioning military personnel. We are proud to partner with Vetlign to better support veterans in their career search and assist in identifying precisely the right jobs that suit their abilities and background. Click on the Vetlign logo and enter your military experience to see open positions aligned with your skillset.
MAG Aerospace has a deep commitment to veteran hiring, support, and career advancement. MAG was founded by a team of veterans, and MAG remains a veteran-led company to this day. MAG's values — Serve. Win. Perform.™ — are derived from the values that MAG's founders and leaders lived while in uniform.
MAG is an employer of choice for service members who wish to continue to serve beyond the uniform. We recognize that veterans can add value to every community and organization, and we strive to provide our veterans the maximum opportunity to continue to make a difference. Three out of every four MAG employees is a veteran. Veterans serve at every level and location of MAG and have been promoted to MAG's executive ranks.
Working at MAG
At MAG, we provide and enable real-time situational awareness to help our customers Make the World Smaller and Safer™. We are laser focused on serving our customers by providing technical expertise, operational excellence, and flawless execution. Relentlessly driven by our dedication to service, winning, and performance, we have become the leading independent provider of manned/unmanned full-spectrum outsourced ISR services in the world. Our success is due entirely to the high caliber of employees we recruit, hire, and retain. At MAG, we look for individuals who thrive in a high performance environment where challenges are the norm and success is expected. If this sounds like you, apply today.
About MAG
MAG is the leading independent provider of manned/unmanned full-spectrum outsourced ISR services, with 1,700+ employees operating 200+ platforms over 150,000 flight hours annually on 6 continents.  MAG offers turnkey C5ISR services (ISR Operations, ISR Training, ISR Technical Services) and other specialty aviation through a technology agnostic approach to government, international, and commercial customers globally.  MAG has secured diverse contracts with highly sought after customers across multiple end markets. Operational highlights:
MAG provides and operates contractor-owned/contractor-operated aircraft and crews to provide real-time intelligence collection and surveillance for multiple US Government customers
MAG provides pilots and flight operations support for ISR operations worldwide
MAG provides sensor operators, training, and analytical support for sensor systems in addition to on-ground Processing/Exploitation/Dissemination worldwide
MAG provides all aspects of technical management, training and logistics to support the full-spectrum of Unmanned Aircraft Systems
MAG serves its customers' ISR needs anywhere in the world under extreme and austere operating conditions ranging from the jungles of South America to the mountains of Afghanistan to the coasts of the world's oceans.