The idea of a cross-country bike ride has followed Don Coffey for much of his life. He first got the bug in 1976, when he saw a sign in a window that read "Bike-Centennial," a bike ride across America to celebrate the country's 200th birthday.
But Coffey had just secured his first job out of college, and he had to work. He always wished he'd taken that ride. Fast-forward a few decades and at least one cross-country ride later, and he's ready to do it again to raise money for wounded veterans.
"I'm helping those who fought for our freedom by doing something that makes me feel free," Coffey tells Military.com
Coffey, though not a veteran himself, comes from a long line of service. His son is currently serving in the military. His father served during World War II, and even his mother joined the Navy to work in the secretarial pool during the Second World War. Coffey joined veteran-owned Cleveland Whiskey, after retiring from his first career in chemistry, to serve as the brand's chief science officer.
Read: A Navy Veteran Used His Military Training to Create Award-Winning Whiskeys
Riding his bike has been his lifelong pastime, so when Coffey finally retired from his full-time career in 2014, one of the first things he did was kick-start that past-due bike ride. Instead of trying the entire country from the start, he rode through Florida first.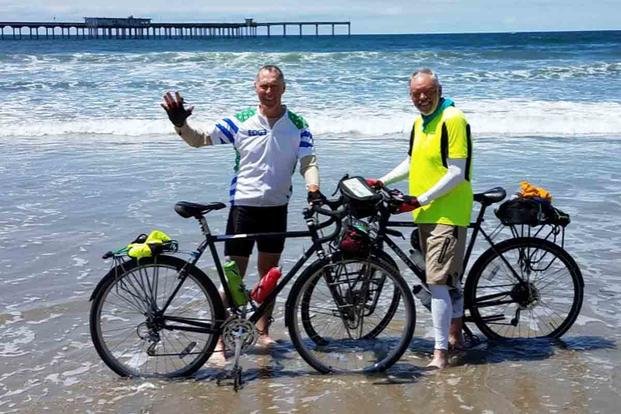 He rode from Pensacola, along the Gulf Coast and around up through the state's eastern coast. No problem. Five years later, he and a friend made the trek from Saint Augustine, Florida, to San Diego, California.
"That was such a great experience to be pedaling away, digging deep some days, just to have a big, hairy goal to get across the United States on a bicycle," Coffey says. "You know, I was probably halfway through when my wife and I agreed we should have raised money for something."
Despite having achieved that lifelong goal, Coffey didn't forget the experience of biking across the country, and he vowed he would do it again -- only this time, he would raise money for something. He decided to support wounded veterans, because of his son's service in the U.S. Army.
"I have been so fortunate in my life," Coffey says. "I'm very lucky, and I'm lucky enough to be able to bike across the country two times. It's a great opportunity for me to give something back."
Coffey, now 67 years old, and his daughter Elizabeth are riding their bikes from Massachusetts to Washington state, some 3,800 miles. On this cross-country trip, the duo will be raising money for the Wounded Warrior Project.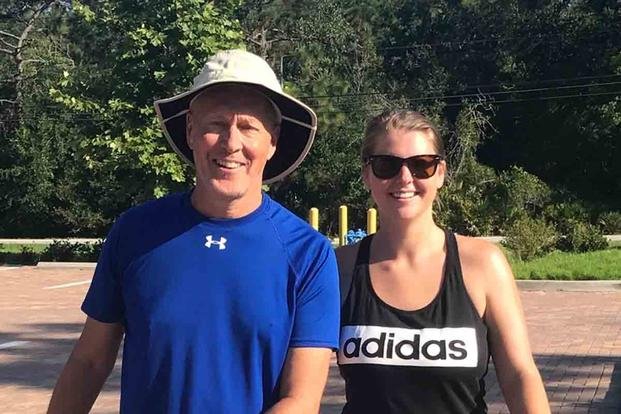 The effort also includes Coffey's wife Susan, who will be following the father-daughter team in a recreational vehicle. Anyone interested in supporting the cross-country ride can donate directly through their community fundraising site on the Wounded Warrior Project website.
To track their progress, the "Coast to Coast Coffeys" will periodically update their Wix page, featuring photos and stories from their trip.
-- Blake Stilwell can be reached at blake.stilwell@military.com. He can also be found on Twitter @blakestilwell or on Facebook.
Want to Learn More About Military Life?
Whether you're thinking of joining the military, looking for post-military careers or keeping up with military life and benefits, Military.com has you covered. Subscribe to Military.com to have military news, updates and resources delivered directly to your inbox.