PORT CLINTON -- Harold Brown enters the Liberty Aviation Museum on a Monday morning wearing a smile. One can't help but feel the calming energy surrounding the 92-year-old Air Force veteran.
A Redtail Squadron logo is visible on his navy polo shirt as the former Tuskegee Airman walks through the museum. His enthusiasm registers in numerous ways, from offering bits of information about the small model airplanes hanging from the ceiling to stopping to have his picture taken with passing guests.
There's no question that Harold Brown is pretty recognizable in this part of town.
VIDEO: Tuskegee Airman Harold Brown releases memoir
An 11-minute black-and-white Tuskegee film plays on a projector as Mr. Brown takes a seat at a round table in a room on the opposite side of the wall. He begins to speak about his upcoming book, "Keep Your Airspeed Up: The Story Of A Tuskegee Airman," scheduled to hit stores Aug. 8.
"It brings back all kinds of memories," he says. "Good memories, bad memories. It reminds me of how close I've come to dying on more than one occasion."
The 270-page memoir was co-written by Brown's wife, Marsha Bordner, or as she describes the process: "He's the hero; I'm the teller."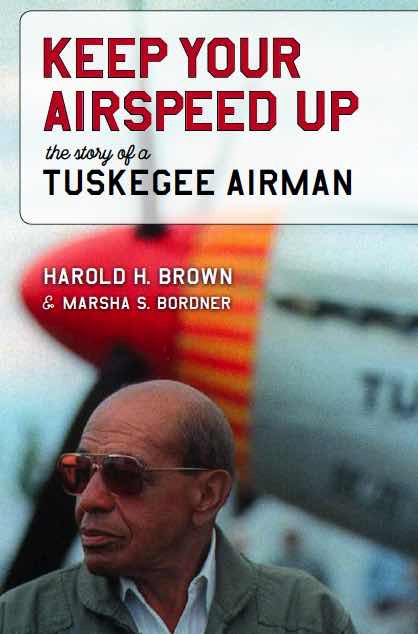 She was compelled to finish the book to demonstrate the hard work it took the 992 Tuskegee pilots to fight not just against the Axis of Evil abroad but also racism and prejudice at home.
"This group of men had to fight the military and our society at large for an opportunity just to prove they were smart enough to fly an airplane," Bordner, 67, says sitting next to her husband. "They really believed [it]. The people of that time said, 'Well, you know, the Negroes wouldn't be bright enough. They might be able to [fly] a little Piper Cub, but they couldn't possibly fly a complicated aircraft.' The Tuskegee Airmen really laid the ground[work] for the civil rights movement."
The book focuses on three phases of the Minneapolis native's life, divided into "The Early Years," "The War Years," and "The Post War Years."
After years of collecting materials for the book, Marsha Bordner found herself with hundreds of interviews, transcripts, and tapes of details about her husband's life.
"The last two years I decided it was time to finish it, so I really buckled down and started working all the time," she says. "It was time to finish it."
The first part of the book, "The Early Years," provides insight into what life was like in Minneapolis during the 1920s and '30s, which Bordner says had a black population of less than 1 percent. The book also details the former Tuskegee pilot's ancestry, from his parents' journey to the north during the Great Migration to Brown's vision of becoming a pilot.
"Part one is Harold's love affair with a plane when he decided he was going to be a pilot no matter what," Bordner says. "Some kids get dreams and ... for him it was always flying an airplane."
"The War Years" details Brown facing racism for the first time in his life and becoming involved with the Tuskegee Institute in Alabama, where he flew a P-51 Mustang. During his 30th mission, his plane was damaged during a strafing run, a technique of attacking ground targets from his aircraft. A locomotive exploded, and he was forced to bail out of the plane over Nazi Germany.
"That was rather traumatic," he says. "Then the realization hits, 'Hey, there's a war going on and you just got shot down whether you like it or not, so how are you going to survive?'"
A violent group of German citizens seized Mr. Brown within 30 minutes and were going to hang him when the pilot was saved by a constable who intervened and took him to a prisoner of war camp.
"They were extremely angry and they decided they were going to kill me," he recalled. "They made it perfectly clear to me they were going to murder me. It's hard to explain that moment other than you're trying to accept the fact that in a few minutes you may die, but at the same time you're thinking, 'Hey, I'm not ready to die. What choices do I have? I can't run. There's no place to run to, and I can't hide. I'm just out there.'
"Interesting enough, when they were going to hang me there was a constable in the back. He put his hand on my shoulder and stepped in front of me, put out his rifle and started pulling the people back and stopped them. This lone guy is facing 40 angry people with his rifle and they're screaming and hollering in German I can't understand. Those were probably all of his friends; he might have even had some of his own relatives in that crowd, but he kept them back."
Then the book segues into "The Post War Years", which chronicle Brown's 20 years of military service flying a B-25 bomber during the Korean War, his time in the Strategic Air Command during the Cuban Missile Crisis, and his education career at Columbus State Community College.
"Everyone has a story to tell," Brown says. "Some of them have more things of interest than others. I did have several mishaps from which I could've lost my life. There's a few more things that happened to me than most of the guys. It's nice to know, 'Hey, your whole story is wrapped up in 270 pages and includes everything you did.' "
Of the more than 992 black pilots trained at the Tuskegee Institute between 1941 and 1945, 440-450 were sent overseas, 32 became prisoners of war, and 66 were killed in action, according to the website tuskegeetopgun.com. There were approximately 15,000 Tuskegee Airmen, which included mechanics, radio operators, navigators, trainers, weather men, and medical personnel. Beyond combat, Marsha Bordner says the Tuskegee Airmen were pivotal in breaking down racial barriers within the military.
"Can you believe the military was progressive? They were the ones who finally said this business of having a whole segregated base, a segregated hospital, black mechanics, it had to be everyone only of that race on one base, that this is not economic, and it's inefficient," she says. "They were the first to desegregate and [the military] said, 'Look, these guys proved it so let's move on.' It took 20 years after that before it finally set the grounds for the civil rights movement.
"They led the way for civil rights in America, and that's what inspires me," she says. "That's why the story had to be told."
After a life of hardship and accomplishments, Harold Brown gazes contentedly at the book resting on the table in front of him.
"One of these days I'm going to kiss this good life goodbye," he says. "I still remember most of the stories and most of the details. I'm 92 years old and this happened [many years ago], but it's a story and it's things that have happened to me in book form. It's nice to have your whole life in front of you."
"Keep Your Airspeed Up: The Story Of A Tuskegee Airman" can be purchased at amazon.com or at major book retailers. For more information about the book, Mr. Brown's life, or for upcoming book signing dates, visit airspeedup.com.
Contact Geoff Burns at gburns@theblade.com or 419-724-6054.
Guidelines: Please keep your comments smart and civil. Don't attack other readers personally, and keep your language decent. Comments that violate these standards, or our privacy statement or visitor's agreement, are subject to being removed and commenters are subject to being banned. To post comments, you must be a registered user on toledoblade.com. To find out more, please visit the FAQ. ___
(c)2017 The Blade (Toledo, Ohio)
Visit The Blade (Toledo, Ohio) at www.toledoblade.com
Distributed by Tribune Content Agency, LLC.
This article is written by Geoff Burns from The Blade and was legally licensed via the Tribune Content Agency through the NewsCred publisher network. Please direct all licensing questions to legal@newscred.com.