The 6888th Central Directory Postal Battalion was World War II's only all-female, all-Black battalion. The unit has been getting some long overdue attention after a 2019 article by Kevin M. Hymel published in WWII History magazine inspired a movement that led to the unit being awarded a Congressional Gold Medal in 2022.
The 855 women in the 6888th were sent to England in 1945 and given a seemingly impossible task, sorting through a three-year backlog of mail sent to troops. The unit eventually delivered 17 million pieces of mail to its rightful recipients.
Related: 102-Year-Old WWII Veteran from Segregated Mail Unit Honored
The segregated battalion was later moved to France, with stops in Rouen and Paris. It operates as a self-contained unit with its own medics, military police, dining hall, transportation, and administrative services.
It's impossible to underestimate the effect that the unit's efforts had in supporting the war. The 6888th created and adopted the motto that fueled their efforts every day: "No Mail, Low Morale." Just take a visit to the World War II Museum in New Orleans to learn about the importance of those letters in an era before easy access to international phone calls, much less FaceTime, texting or social media.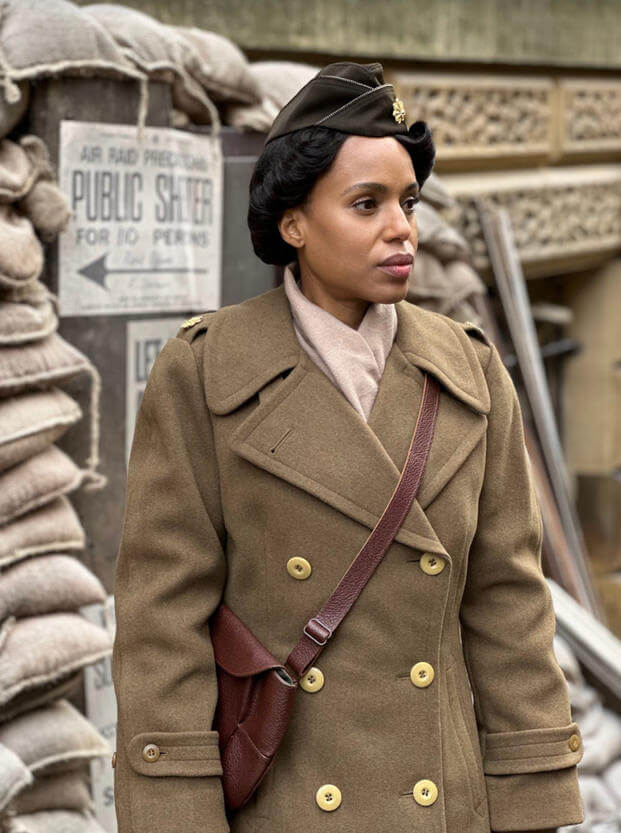 "Six Triple Eight" will be written and directed by Tyler Perry, who has ventured out from his massive Georgia studio complex to shoot the film on location in England. Kerry Washington ("Scandal, "Django Unchained") stars and will be joined in the cast by veteran actors Susan Sarandon ("Thelma & Louise"), Dean Norris ("Breaking Bad," "United States of Al"), Sam Waterston ("Law & Order") and Oprah Winfrey.
Perry has also cast a group of young actors that includes Ebony Obsidian ("Hunters"), Milauna Jackson ("Strike Back"), Pepi Sonuga ("Queens"), Sarah Jeffery ("Charmed"), Shanice Shantay ("Perfect Harmony"), Jay Reeves ("The Tax Collector"), Kylie Jefferson ("Tiny Pretty Things"), Jeanté Godlock ("Daybreak") and Moriah Brown ("Turnt").
"Six Triple Eight" will be the fourth movie that Perry has made to stream on Netflix. The man works quickly, so we'll cross our fingers and hope that it's streaming by Christmas.
Keep Up With the Best in Military Entertainment
Whether you're looking for news and entertainment, thinking of joining the military or keeping up with military life and benefits, Military.com has you covered. Subscribe to the Military.com newsletter to have military news, updates and resources delivered straight to your inbox.