As the country has been opening back up and people are starting to resume outdoor activities, I've been spending time with two different pairs of sport earphones. The Soundcore Spirit Dot 2 and Soundcore Spirit X2 each cater to different preferences, but both deliver strong performance for the price.
Soundcore is the audio brand from Anker, the company known for its awesome variety of quality charging cables for your electronic devices. Rather than design One True Headphone that's supposed to fit everyone's needs (hi, Apple), Soundcore has headphones available at multiple price points with designs that fill a variety of needs.
Both the Spirit Dot 2 and Spirit X2 currently retail for around $80. There are plenty of wireless headphones out there for $30 that have neither the battery life or audio quality you'll find here. These are devices designed to compete with far more expensive headphones and, for the most part, they do.
Soundcore Spirit X2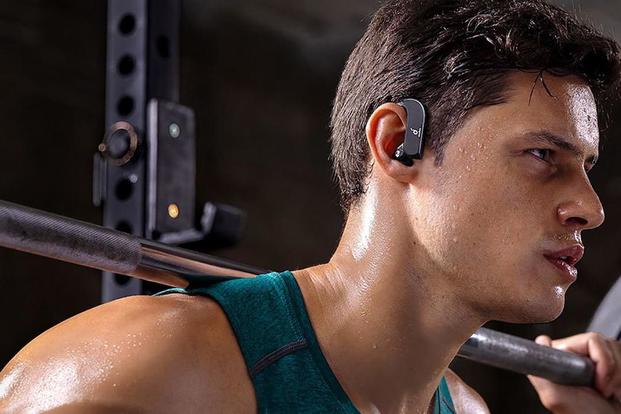 The Spirit X2 are aiming to compete directly for the $249 Beats Powerbeat Pro. They're sweatproof with an IP68 waterproof rating and offer nine hours of listening on a charge. The case extends that battery life to 36 hours, which could give you a few weeks of workout without having to plug in for a full charge.
Each speaker has a 12mm driver that's heavy on the bass. These are designed for use outside or in noisy environments so users shouldn't expect the same sound profile as headphones designed for detailed in-home listening.
They also don't include active noise-cancelling, but that's a feature that's dangerous for runners and bikers and, unless it's of highest quality, potentially irritating during exercise. These are plenty loud enough to help tune out surroundings and that lack of ANC likely helps prevent ear fatigue.
The Spirit X2s aren't going to fall off during intense workouts because of a three-part system designed to secure them to your ears. There are five sizes of ear tips and three sizes of wings to help users to find the perfect fit and that's topped off with the hooks that loop behind your ears. Even the most vigorous head-banging is not going to dislodge these from your head.
Those hooks allow for some extra room in the device for a bigger battery and more electronics. There are a pair of physical buttons on each earphone that allow you to raise or lower the volume, skip forward or back one track, play and pause and turn a bass boost feature on or off.
Physical buttons rule and they're becoming a rare option as electronics companies race to make their devices smaller. These button functions are easy to learn and easy to remember.
What's the downside here? The ear hooks take up a lot of head real estate, something that might get complicated for someone who wears eyeglasses. Add a facemask to the equation and you might get quite a tangle.
Related: Soundcore's Liberty 2 Pro Earphones Deliver Hi-Fi Audio for a Fantastic Price
Fans of Soundcore's more expensive Liberty 2 Pro headphones might miss the ability to tweak the sound profile in the company's phone app but those are earbuds designed for more critical listening. The Spirit X2 headphones are designed to survive the kind of intense activity that would leave the Liberty 2 Pros in the dirt.
At this price point, you don't get inductive charging with the case. You do get fast charging via a USB-C port hidden behind a flap on the case.
Soundcore Spirit Dot 2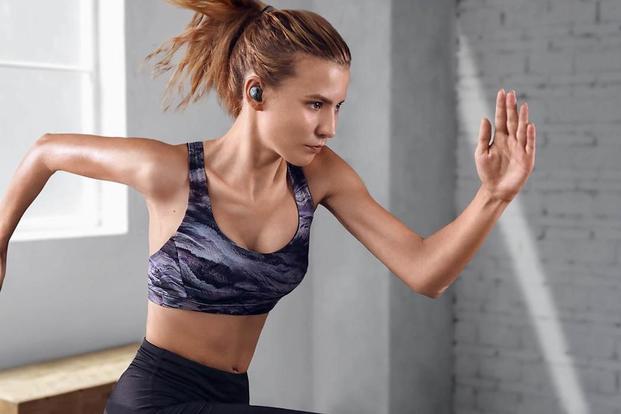 The Spirit Dot 2 headphones have just launched and they provide a very different experience. They're tiny in-ear monitors designed to compete with the highly-rated $200 Jabra Elite Active 75t and they offer great value if the Jabras are out of your price range.
The most important feature here is the fit. They come with the same five sizes of ear tips and 3 sizes of wings as the Spirit X2 headphones. Once you've identified your best fit combination, these things are going to stay put until you take them out.
Anyone facing you head on might not realize you're wearing earbuds and, from the side, someone might think you've stuck Raisinets in your ear canal. They're tiny, something that's going to make a lot of users incredibly happy.
Controls are a different issue. Users can pause or play by double tapping the Soundcore logo on the right earbud and skip to the next track by double tapping the left side. You can bring up your phone's digital assistant by pressing either side for two seconds.
The controls work as advertised but that's it for controls. You can't raise or lower volume from the earphones nor can you go back a track. You'll have to pull out your phone for those functions.
To get your headphones into such a small package, there are tradeoffs. You get 5.5 hours of playback on a charge and recharging via the case only gets you up to 16 hours. Soundcore isn't advertising the size of the drivers in these headphones but they're definitely smaller than the ones in the Spirit X2s.
How to Choose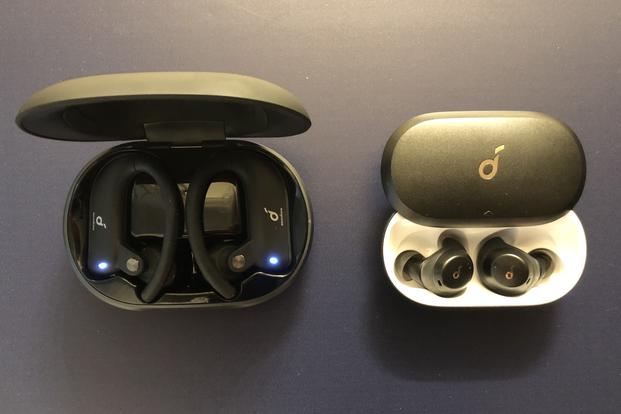 Since these both retail for the same price, a choice comes down to how you're using them and what's most important for your listening experience.
The Spirit X2 headphones sound better when listening to music, they have amazing battery life and easy-to-use physical buttons. On the downside, those ear hooks can be a massive pain if you wear glasses, have long-ish hair or choose to wear a facemask when you go out. If all three are in play for you, getting everything situated can be a massive pain.
The Spirit Dot 2 headphones are tiny and comfortable. The controls work well once you master them even if they're not physical buttons. You're definitely sacrificing battery life in exchange for the smaller size but that's just physics and has to be expected.
If you mostly listen to audiobooks or podcasts like Military.com's excellent new Left of Boom or editor Amy Bushatz's outdoor life series Humans Outside, then the Dot 2s more than get the job done. Music doesn't sound as good as it does if you're using the SpiritX2s, but that's not saying the quality is not excellent at this tiny size and mid-range price.
Related: Left of Boom Episode 1: The Civilian Who Got a Bronze Star from the Army (ft. Joe Galloway)
The Spirit X2s were easily the choice for me in spite of the glasses/hair/facemask struggles but I'd never say that anyone was making a mistake if they went with the more compact Dot 2 headphones.
If you're committed to your physical fitness plan and want some company in your ears while you're working out, then it's an incredibly smart investment to upgrade from the cheap stuff. At this price, you get more reliable connections, better battery life and audio quality that is closer to the $200 pairs than the $25 bargain basement brands.
Keep Up With the Best in Military Entertainment
Whether you're looking for news and entertainment, thinking of joining the military or keeping up with military life and benefits, Military.com has you covered. Subscribe to the Military.com newsletter to have military news, updates and resources delivered straight to your inbox.