The new Soundcore Liberty 2 Pro in-ear wireless earphones are shockingly good and downright amazing at their $150 list price. They're the single best listening experience I've had at under $200, and that includes in-ear, on-ear and over-ear headphones.
Soundcore is Anker's audio brand. You probably know Anker from those practically indestructible Lightning and USB-C cables it's been selling for the past few years. Its cables, portable batteries and wall chargers are some of the most dependable you can buy, and they're always near or at the top of an Amazon search.
The company has been making Soundcore Bluetooth speakers and headphones for a while and, until now, they've offered solid performance and quite good value for money. The Liberty 2 Pro is a far more ambitious product, and it's designed for music lovers.
The company knows what it's got. It went out and recruited a small army of Grammy-winning producers and engineers to try out the earphones. The guys (and, yeah, they're all guys: Do better Grammy voters) offer enthusiastic endorsements in this promotional video.
Why are these so good? They offer a relatively neutral sound with both clarity and space. Most wireless headphones pump up the low end. Thumping bass sounds great at first listen and does an incredible job of obscuring a lack of detail in the mid-range. I'm hesitant to declare this, but here goes: Listening to records I've worked on with the Liberty 2 Pro earphones reminds me of listening on a good pair of Genelec studio monitors. Music sounds like it was mixed to sound when we were making it, and I've consistently had this experience over the past few weeks.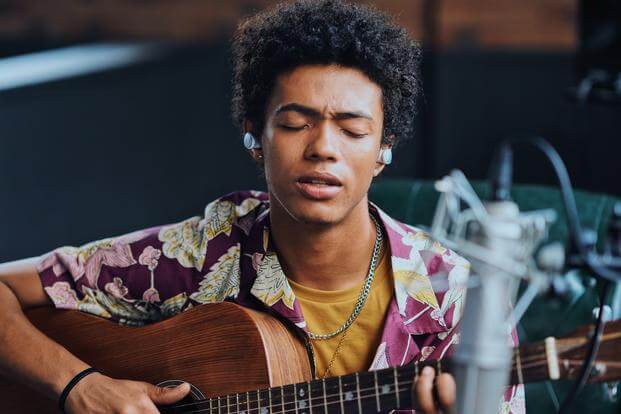 They're also remarkably comfortable. Soundcore has balanced the earbuds so that most of the bulk sits outside your ears. They may or may not look weirder than Apple AirPods did back when everyone was making fun of those, but I'm certain you won't care what they look like once you've listened.
They offer up to eight hours of playback. Once you add in the additional charge that comes from the charging case, you can get up to 32 hours of play before you need to recharge the case. If the earphones run out of juice, you can get two hours of play with a 10-minute charge in the case. I haven't managed to completely deplete the case with regular use. Plus, the case supports wireless charging, so you can just drop it on a charging pad whenever you're near one.
Soundcore has built an app for iPhone and Android that allows you to tweak the sound profile. When you first set them up, you can take a brief hearing test to build a custom setup. There are also preset equalizer profiles you can explore. Since I've been using them, Soundcore has used the app to deliver a firmware update to iron out a few bugs.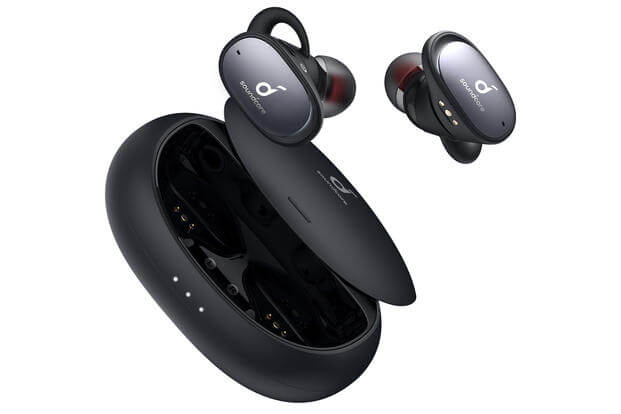 It calls the design "Astria Coaxial Acoustic Architecture," and the earphones feature dual drivers: a custom 11mm round dynamic driver and a compact Knowles balanced armature. The translation is that we're talking about a design and features that usually show up only in devices that cost at least twice as much.
Each earphone includes an actual button that you can press to pause/play music, skip tracks and answer phone calls. It's incredibly satisfying to have the mechanical feedback that's missing from so many Bluetooth devices.
If you're an AirPods user, these are missing that device's best feature: The Liberty 2 Pros don't automatically pause your music when you take one out of your ear. One more thing to consider: The built-in microphones don't match the audio quality of the listening experience. I've had enough complaints when using these for phone calls that I've started switching back to AirPods when I need to make a call.
It's almost a miracle to find earphones this good for $150. Soundcore wanted to make a splash with this device, and it delivered a superior listening experience at a reasonable price. Can you get good wireless earphones for $100 or less? Sure. Soundcore's own Liberty Air 2 earphones compare favorably to AirPods for that price.
What the Liberty 2 Pro earphones offer is the kind of audiophile experience that you'd expect to cost at least $300. Anker offers a 30-day money-back guarantee. If these fit into your budget, you should most definitely give them a try.