America is a large country with diverse tastes and beliefs. After mastering the coffee business for people who enjoy their brew correctly in fresh-ground, handmade small batches, the geniuses at Black Rifle Coffee have decided to service the great unwashed with their new iced coffee in a can.
Regular customers of the veteran-owned coffee company might find this a divisive choice, but coffee snobs should understand that this drink is not designed for you. There are millions of customers who take their joe soda-sweet and milky, and Black Rifle has decided they deserve something better than the options currently in stores.
Black Rifle has just launched its own ready-to-drink coffee in two varieties, Espresso With Cream and Espresso Mocha. They're shipping them direct to you in 12-pack cases, and they've made a video to share the news.
The company was founded by former Green Beret Evan Hafer, and he got the idea for the business during the invasion of Iraq in 2003. Hafer modified gun trucks to include a coffee grinder and made his morning fix in a French press. The tactical lifestyle didn't have to mean watery, stale coffee, and he set out to offer a high-end alternative.
Related: Just How Good is a Cup of Black Rifle Coffee? We Investigate
He's been joined in the business by former Army Ranger (and noted internet jokester) Mat Best and Air Force veteran Jarred Taylor. The three have made Black Rifle into just as much a lifestyle brand as a coffee company with popular viral videos and a line of killer branded merchandise.
Related: Army Veteran Mat Best Is Having a Better 'Quarantine' Than You Are
Marine veteran and Co-CEO Tom Davin is the fourth major player in BRCC and the man behind the move into ready-to-drink coffee. Tom was most recently CEO of 5.11 Tactical but, in an earlier life, he brokered the deal between Starbucks and PepsiCo that brought bottled Frappuccinos to every convenience store on the planet.
Tom brings a bit more maturity and gravitas to the BRCC image, balancing out the goofball energy his partners bring to their marketing videos.
Let's go straight to the most important statistic. An 11-oz. can of Black Rifle coffee contains 200 mg of caffeine, approximately double the amount per ounce in a bottled Starbucks Frappuccino. The caffeine rush (aided by the sugar and milk) is near-immediate and intense. For comparison, a 16-oz. can of Rip It energy drink has just 160 mg of caffeine.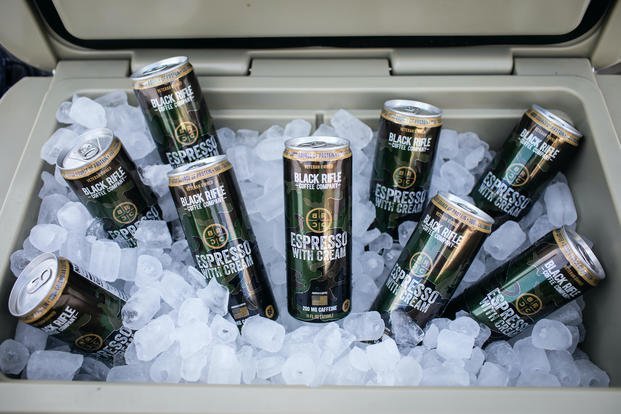 That leads us to questions of calories and taste.
Baseline: I take my coffee black with a tiny bit of non-dairy milk. My imaginary ideal of a canned coffee drink would be a combo of the near-forgotten carbonated Coca-Cola BlāK minus the sugar -- maybe something like a Coca-Cola BlāK Zero. That's never going to happen, but the next best thing would be unsweetened iced coffee in a can.
I'm willing to stipulate that any company that tried to service my tastes would likely have a flop product on their hands, so I'm going to try to describe Espresso With Cream and Espresso Mocha from the perspective of the customers that BRCC is trying to reach.
Both drinks are less sweet than other pre-packaged iced coffee drinks I've tried, but they're still plenty sweet. The ingredients list say they're made with real sugar and not high-fructose corn syrup, and the lack of that weird HFCS aftertaste confirms the fact.
They're using a combination of lowfat milk and nonfat ultra-filtered milk, so the dairy is less likely to cause digestion issues, if that's an issue you face.
Each can has 170 calories and 2g of fat. You really shouldn't have two cans in a row and should never consider having 3 at time because, unless you've built up an unhealthy caffeine tolerance, you'll be jangled beyond recognition. Skip one of those evening beers and you should be fine.
If you're camping, hunting or out on the lake and need a boost, the BRCC cans seem like a better choice than the coffee competition, and I'd choose them over most over-sugared energy drinks. They're also a solid choice on a morning when you just can't get it together to make a proper cup or pot of fresh coffee.
I banged this post out while wired on BRCC canned coffee, and I'll vouch for the massive caffeine hit's ability to focus my mind and concentrate on the task at hand.
To my fellow pour-over coffee snobs, this stuff is not for you. These drinks are created to be best-in-class for a community of souls who may not yet be enlightened about the coffee arts but still deserve something better than what's been available to date.
Both flavors are available at $34.99 for a 12-can case. Shipping is $8 per case but BRCC will give you free shipping if you sign up for a subscription.
If these cans turn out to be a hit, some of us can hope the BRCC labs will turn their attention to riskier and more esoteric drinks. Until then, these drinks most definitely get the job done.
Keep Up With the Best in Military Entertainment
Whether you're looking for news and entertainment, thinking of joining the military or keeping up with military life and benefits, Military.com has you covered. Subscribe to the Military.com newsletter to have military news, updates and resources delivered straight to your inbox.