Decision 3 of 4
Where to Attack With the 20,000 men of the Confederate I Corps?
It is noon on July 2, 1863.
Your most trusted general, James Longstreet, has arrived bringing with him two full divisions of troops. They have been marching all morning and can now be committed to battle.
Likewise, Union forces have also been arriving throughout the night and morning and have extended their flanks and increased their defensive preparations. In a major oversight, however, they have apparently left the hills of "Little" and "Big Round Top" undefended. A major opportunity is at hand to flank the Union left.
Choice #1: Attack as rapidly as possible. Strike the exposed Union positions near the Peach Orchard while moving rapidly to occupy the key positions of Little and Big Round Top before Union reinforcements can strengthen the line.
Choice #2: Take three extra hours to march Longstreet's troops further south to more completely envelop the Union left flank. Avoid immediate combat near the Peach Orchard and instead, give the order to avoid Union scouts and attack the completely undefended far left flank.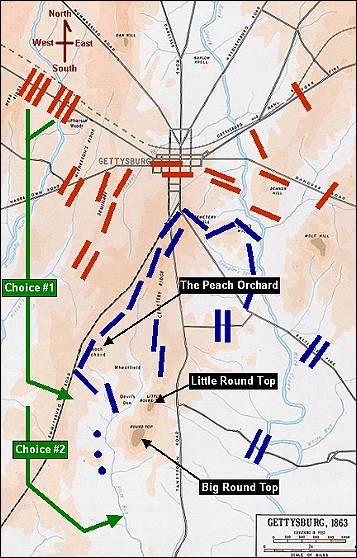 Choice #1:

Attack the Union left as fast as possible before Union reinforcements can effectively respond.

Choice #2:

Delay the assault in order to get further behind the Union left flank before attacking.