By 1945, 432 American service members had received the Medal of Honor for their gallantry in the face of the enemy during World War II. Not a single Black man was among them. It took almost 50 years for the Army to recognize some of the incredible heroics of Black American soldiers, sailors, airmen and Marines during the war.
More than a million Black men wore the uniform of the United States in World War II, and many of them saw combat. Among them, only a few received the highest awards, and none received the Medal of Honor. In 1993, the Army initiated a review of its World War II records to find out why.
It discovered a culture of discrimination that prevented the Army from awarding the medal to a handful of deserving heroes. When the Medals of Honor were officially presented in 1997, only one of these vets was still alive.
Robert Child, an Emmy-nominated writer and military historian, discusses this history in a new book, "Immortal Valor: The Black Medal of Honor Winners of World War II." He also gives a detailed account of the lives of the seven men, then tells their Medal of Honor story.
1. Lt. Charles L. Thomas
Thomas was drafted into the Army in January 1942, and by August 1944, he was an anti-tank officer on his way to France, where the Allies were pushing inland. He volunteered to lead an assault on Climbach, France, just five miles from Germany. As his lead M-20 Scout car crested the hills approaching Climbach, it was suddenly destroyed by enemy artillery.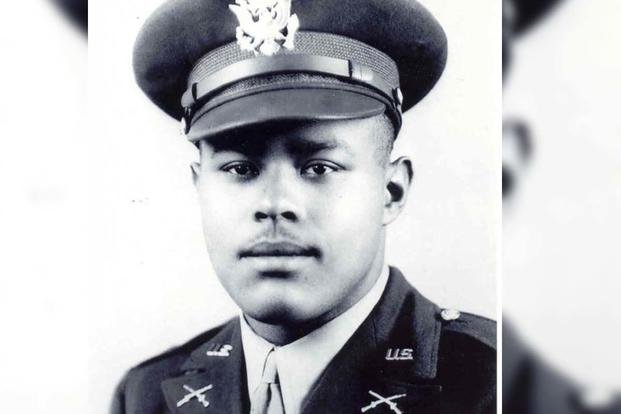 Wounded, Thomas helped his crew out of the wreck before he was hit again in the chest, legs and arm by small arms fire. He still directed his anti-tank platoon in placing their guns and returning fire effectively. Thomas briefed a junior officer on their situation and ensured his platoon could hold its position before allowing himself to be evacuated. They fought for four hours before the Germans were forced to fall back.
His platoon was the first Black unit to be awarded the Distinguished Unit Citation, and its soldiers received four Silver Stars and nine Bronze Stars. Thomas received the Distinguished Service Cross, survived the war and died of cancer in 1980.
2. Lt. Vernon J. Baker
Baker enlisted in 1941 but was an infantry officer by 1943. In command of a weapons platoon in the 370th Infantry Regiment, 92nd Infantry Division, the famed Buffalo Soldiers, Baker was sent to Italy in 1944, where he was wounded near Naples. In April 1945, he was back in action and sent to storm Castle Aghinolfi, which was a heavily fortified German artillery post. The three previous assaults on Aghinolfi had already failed, and Baker was leading a unit that had little combat experience.
Read: 2nd Lt. Vernon Baker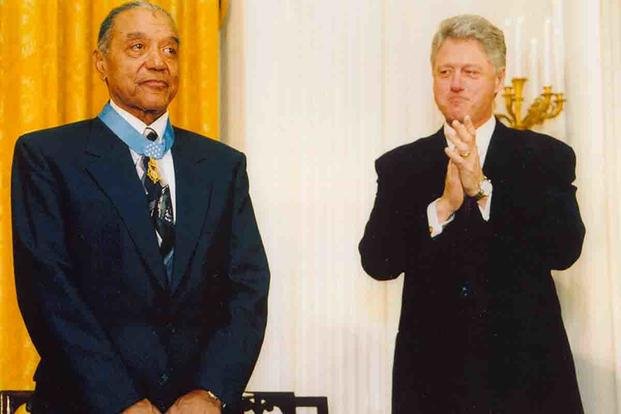 Baker led the initial survey and, once the Americans were discovered, an all-out assault. Baker single-handedly killed six enemy troops before the attack began. Once it did, Baker led C Company even after its commander had fled, knocking out enemy mortars and other positions. When the situation became desperate, Baker then led his men out, using grenades to clear enemy machine-gun nests. They fought for 12 hours.
The next day, Baker again led his men, this time through a minefield, and captured Castle Aghinolfi. He was awarded the Distinguished Service Cross. When it was finally upgraded to the Medal of Honor in 1997, Baker was present to receive it.
3. Pfc. Willy James Jr.
In September 1942, James enlisted in the U.S. Army. By April 1945, he was a scout leading a company of the 104th Infantry Division in establishing a bridgehead across the Weser River in Germany. To maintain their bridgehead, the soldiers had to capture the nearby town of Lippoldsberg. As a scout, James was the first to make his way to the town.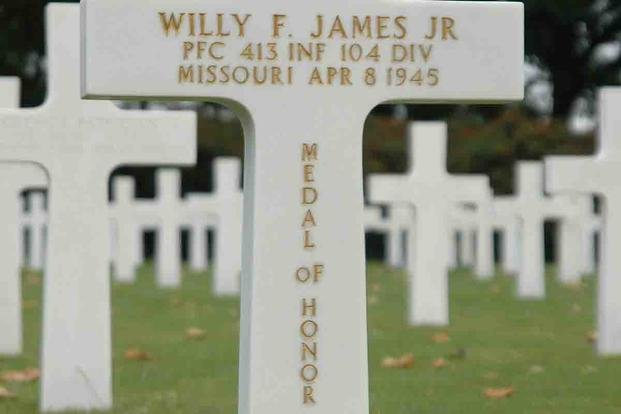 He drew sniper and machine-gun fire for more than an hour in order to pinpoint where the enemy defenders were. He ran across 300 yards of open terrain to relay the information to his platoon. When a new attack plan was made, Pfc. James led the lead team. As his squad advanced, he saw his platoon leader gunned down. Without regard for his personal safety, James rushed to the officer's aid but was gunned down himself.
James was posthumously awarded the Distinguished Service Cross in September 1945.
4. Sgt. 1st Class Edward Allen Carter Jr.
Before joining the U.S. Army in 1941, Carter already had a lot of combat experience. He joined the Chinese in fighting Japan after its invasion and occupation of Manchuria and fought in the Lincoln Brigades of the Republican forces during the Spanish Civil War. He rose quickly through the ranks of the 12th Armored Division and was a 28-year-old staff sergeant in Europe during the Battle of the Bulge.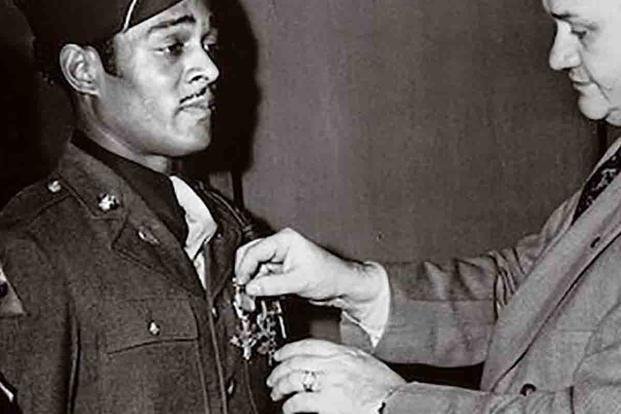 After his tank was knocked out, he advanced alone on the German position. Wounded and under heavy fire for two hours, an eight-man Nazi patrol came to take him prisoner. He killed six of them and took the other two as prisoners. After they provided intelligence on their position, he used them as shields to return to American lines and relay the information to the waiting Americans.
Carter was awarded the Distinguished Service Cross on Oct. 4, 1945, and promoted to sergeant first class for his heroism.
5. Pvt. George Watson
Watson was drafted into the Army in 1942, a quartermaster bound for the Pacific Theater. He had barely arrived in the region before boarding a troop ship, a Dutch steamer called the SS Jacob in March 1943. As it neared the port of Porlock Harbor, New Guinea, it was attacked by nine Japanese bombers. As it sank, everyone was ordered to abandon ship.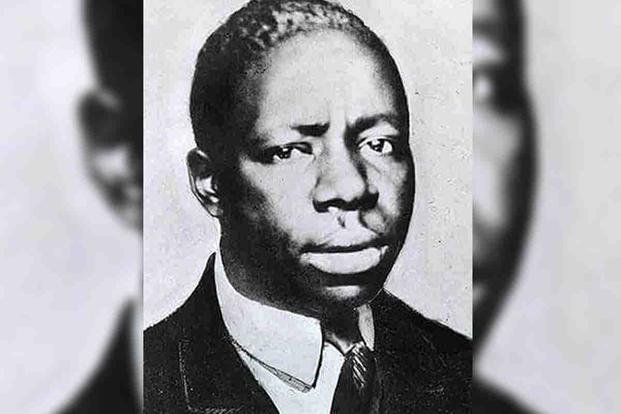 Instead of swimming to save himself, Watson swam to help several soldiers who could not swim make their way to the life rafts. The exertion of swimming to save so many others cost him his life. Exhausted from the effort, Watson was pulled under by the suction from the sinking troop ship. He was awarded the Distinguished Service Cross in June of that year, the first Black service member to receive it.
6. Staff Sgt. Ruben Rivers
Rivers enlisted in 1942 and was sent to join the 761st Tank Battalion, also known as "The Black Panthers." Rated as a "superior" unit, the Panthers were sent to France and landed at Omaha Beach in October 1944, where they fought their way to Germany with Gen. George S. Patton's Third Army.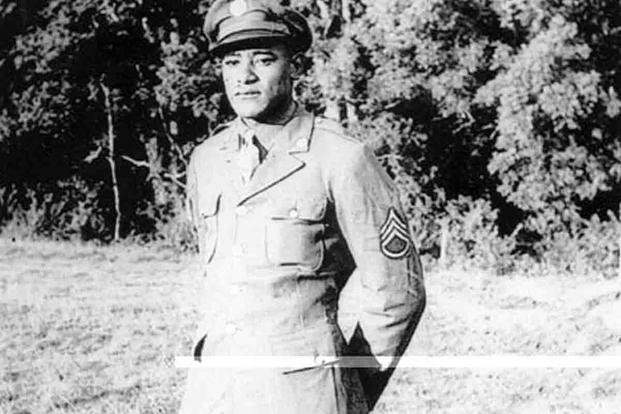 As Rivers' tank drove toward the town of Guebling, France, in November 1944, it encountered a downed tree and was hit by a complex ambush. Rivers' tank also hit a mine, and he was wounded. He dismounted under heavy fire, attaching a cable to the tree and clearing it with the tank. Refusing evacuation, he fought on with his unit.
The next morning, his company was advancing toward the village of Bourgaltoff when it encountered fierce resistance. The company commander ordered the tanks to withdraw. Rivers, in the lead tank and with eyes on the enemy, led his and another tank against the ambush, covering their withdrawal. His tank was hit by German artillery fire, killing everyone inside.
7. Lt. John Fox
Fox was an ROTC cadet who was in the Army before the United States entered World War II. When it finally did, Fox was a forward observer with the 92nd Infantry Division and was sent to Italy in 1944. On Dec. 23, he volunteered to lead an observation post in the village of Sommocolonia, a small hamlet held by 70 Black soldiers and a handful of Italian partisans.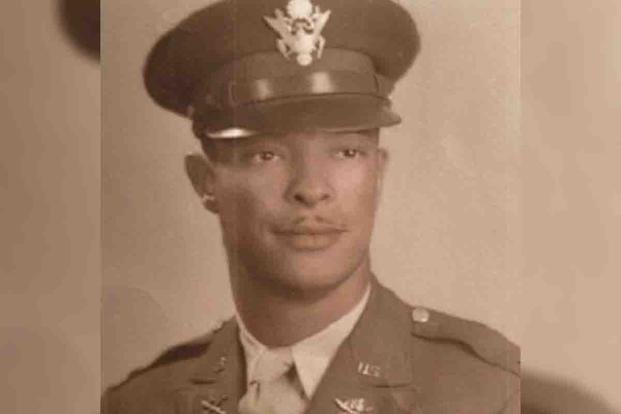 As the Americans held off the Germans, the enemy soldiers mounted an overwhelming offensive the day after Christmas and the town was overrun. As German troops fought closer and closer to his position on the second floor of a house, he called in artillery on himself to buy time for his men and Italian civilians to escape. His sacrifice blunted the German advance and allowed the Americans to retake the town a few days later.
Read: A Black Soldier Received the Medal of Honor More Than 50 Years After Calling Artillery on His Own Position
Fox's commander initially recommended him for the Distinguished Service Cross, but the paperwork was lost until 1982 when the Reagan Administration finally awarded him the medal. When it was upgraded to the Medal of Honor in 1997, his widow, Arlene, was on hand to receive it from President Bill Clinton.
-- Blake Stilwell can be reached at blake.stilwell@military.com. He can also be found on Twitter @blakestilwell or on Facebook.
Want to Learn More About Military Life?
Whether you're thinking of joining the military, looking for post-military careers or keeping up with military life and benefits, Military.com has you covered. Subscribe to Military.com to have military news, updates and resources delivered directly to your inbox.