Tom Custer was determined to join the U.S. Army after his older brother, George, graduated from West Point in 1861. His family at first stopped him, but relented in September and signed for Tom to enlist at age 16.
As the Civil War raged, Tom Custer fought in a succession of battles at Waynesboro, Dinwiddie Courthouse and Five Forks and was eventually promoted to major. Custer captured Confederate colors at the Battle of Namozine Church in Virginia on April 3, 1865, by leaping behind enemy lines on horseback and capturing three officers and 11 enlisted men, along with the flag.
At the Battle of Sailor's Creek on April 6, Custer repeated the feat, charging across Confederate lines on horseback, taking a grazing shot to the face and again capturing the flag. Three days later, Confederate Gen. Robert E. Lee formally surrendered to U.S. Gen. Ulysses S. Grant at Appomattox.
After the Civil War, Tom Custer followed his older brother to the western territories to fight in the Indian Wars. By the time of the Battle of Little Bighorn in 1876, Tom Custer was serving as aide-de-camp to his older brother, Lt. Col. George Custer, and their younger brother, Boston, served alongside his siblings. All three men were killed in battle on June 25, 1876.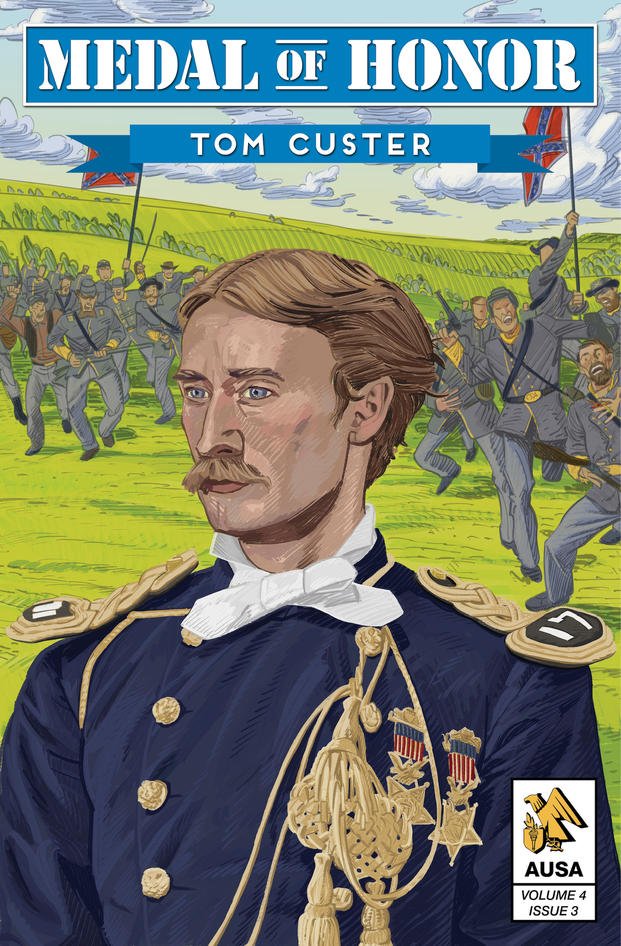 Custer was the first man to be awarded the Medal of Honor twice, for his actions at Namozine Church and Sailor's Creek. His story is being told in "Medal of Honor: Tom Custer," the latest issue of the Association of the United States Army's graphic novel series. You can view or download a free copy at www.ausa.org/custer.
In its current 2022 series, AUSA previously released a book about WWII Buffalo Soldier Vernon Baker and Korean War veteran Ralph Puckett. The organization will also release a graphic novel about Gary Gordon and Randy Shughart, the Delta operators who gave their lives in the Black Hawk Down incident.
Related: This Korean War Vet Waited 70 Years to Receive a Medal of Honor
Related: This Black WWII Soldier Waited 50 Years to Receive the Medal of Honor
Related: This Native American Earned the Medal of Honor for Holding Off a Chinese Attack in Korea
Keep Up With the Best in Military Entertainment
Whether you're looking for news and entertainment, thinking of joining the military or keeping up with military life and benefits, Military.com has you covered. Subscribe to the Military.com newsletter to have military news, updates and resources delivered straight to your inbox.