Vernon Baker's Army career almost never happened. He first tried to enlist in April 1941 in his hometown of Cheyenne, Wyoming, and the recruiter told the young Black man that "we don't have any quotas for you people."
Fortunately for the men in his future platoon, Baker didn't take no for an answer and tried again a few weeks later with a different recruiter and was accepted. However, that recruiter ignored Baker's request to become a quartermaster, and he was assigned to infantry.
He was later "volunteered" for officer training because the Army needed Black officers to lead segregated units into battle. Baker was up to the task and was assigned as a second lieutenant to the 92nd Infantry Division, one of the all-Black divisions popularly known as the Buffalo Soldiers.
In April 1945, Baker led his weapons platoon in an assault of Castle Aghinolfi in northern Italy as Allied forces were moving to take the country from the German army. Baker took out three enemy machine-gun positions, an observation post and a dugout during a daylong battle. Baker killed nine of the enemy during the battle.
Baker's company commander nominated him for a Distinguished Service Cross, and the hero served for nearly three decades before retiring from the Army in 1968. He then worked for the Red Cross for 20 years.
During the Clinton Administration, a study commissioned by the Army determined that systemic racism affected decisions about whether Black service members were awarded medals. A review of files led to seven Medals of Honor. Baker was the only recipient still living, and President Bill Clinton awarded him the Medal of Honor on Jan. 13, 1997. Baker lived until age 90 and died in 2010.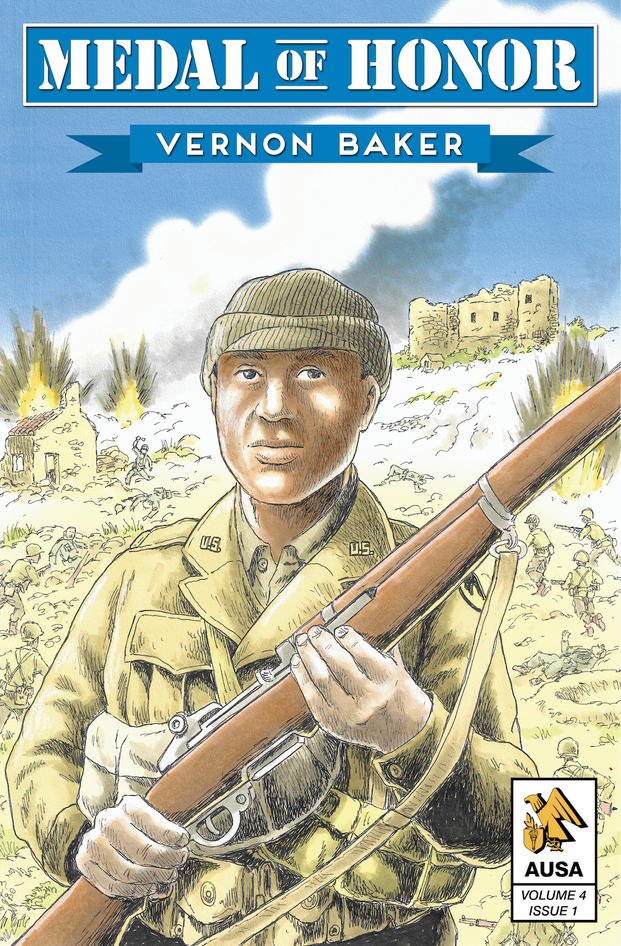 Baker's story is being told in "Medal of Honor: Vernon Baker," the latest issue of the Association of the United States Army's graphic novel series. You can view or download a free copy at www.ausa.org/baker.
In its current 2022 series, AUSA will also release graphic novels about Ranger commander Ralph Puckett; Tom Custer, the Civil War soldier who was the first to receive the Medal of Honor twice; and Gary Gordon and Randy Shughart, the Delta Operators who gave their lives in the Black Hawk Down incident.
Related: This Native American Earned the Medal of Honor for Holding Off a Chinese Attack in Korea
Related: The First Medal of Honor Went to an Army Soldier Who Stole a Confederate Train
Related: This WWII Spymaster Received a Medal of Honor for WWI Heroism
Keep Up With the Best in Military Entertainment
Whether you're looking for news and entertainment, thinking of joining the military or keeping up with military life and benefits, Military.com has you covered. Subscribe to the Military.com newsletter to have military news, updates and resources delivered straight to your inbox.