First Lt. Ralph Puckett was an Army Ranger during the Korean War when, on Nov. 25, 1950, he exposed himself to Chinese machine-gun fire to allow his fellow Rangers to spot the enemy locations during a battle on Hill 205 near the Chongchon River.
There were only 51 men in his unit and they were a mile or more away from reinforcements, and Puckett's tactics kept the men in battle for more than four hours against the superior numbers of the Chinese force. Puckett was injured by both grenade fragments and mortar fire and spent a year recovering from his wounds after a medical evacuation.
Related: 'An Honor Long Overdue:' After 70 Years, Ranger Legend Ralph Puckett Receives Medal of Honor
He was initially awarded the Distinguished Service Cross for his actions that day. As a lieutenant colonel, Puckett commanded the 2d Battalion, 502d Infantry (Airborne) of the 101st Airborne Division in Vietnam and later received another Distinguished Service Cross for his actions in August 1967 during a battle near Chu Lai.
President Joe Biden called Puckett in early 2021 to let him know that his citation was being upgraded to a Medal of Honor, and the 94-year-old veteran attended the ceremony at the White House on May 21, 2021. During the ceremony, Biden said, "This is an honor that was long overdue. More than 70 years overdue."
Puckett's Medal of Honor ceremony was the first ever to be attended by a foreign leader. Fittingly, it was South Korean President Moon Jae-in, and the leader praised Puckett's role in keeping South Korea free and independent. "Col. Puckett is a true hero of the Korean War," Moon said in remarks during the ceremony. "Without the sacrifice of veterans including Col. Puckett, [the] freedom and democracy we enjoy today couldn't have blossomed in Korea."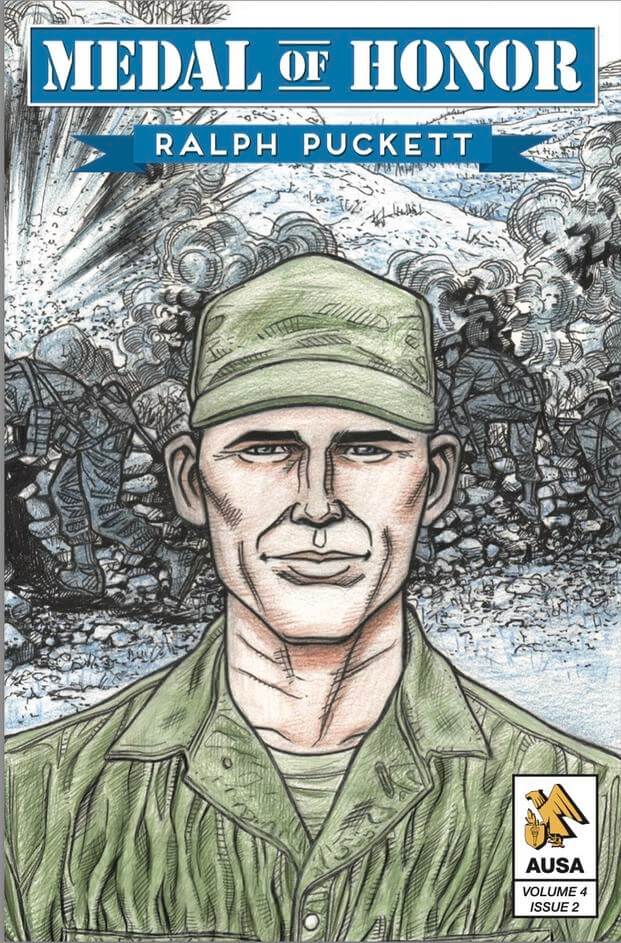 Puckett's story is being told in "Medal of Honor: Ralph Puckett," the latest issue of the Association of the United States Army's graphic novel series. You can view or download a free copy at www.ausa.org/puckett.
In its current 2022 series, AUSA previously released a book about WWII Buffalo Soldier Vernon Baker. The organization will also release graphic novels about Tom Custer, the Civil War soldier who was the first to receive the Medal of Honor twice; and Gary Gordon and Randy Shughart, the Delta Operators who gave their lives in the Black Hawk Down incident.
Related: This Black WWII Soldier Waited 50 Years to Receive the Medal of Honor
Related: This Native American Earned the Medal of Honor for Holding Off a Chinese Attack in Korea
Related: The First Medal of Honor Went to an Army Soldier Who Stole a Confederate Train
Keep Up With the Best in Military Entertainment
Whether you're looking for news and entertainment, thinking of joining the military or keeping up with military life and benefits, Military.com has you covered. Subscribe to the Military.com newsletter to have military news, updates and resources delivered straight to your inbox.