More than 320,000 active-duty men and women serve in the U.S. Air Force, the branch of the military that defends the United States through control and exploitation of air and space. Opportunities include aviation and flight, health care, maintenance and repair, science and technology, and more.
Requirements to Join the Air Force
Enlisted Airman Requirements
Enlisted airmen are the backbone of the Air Force, making up about 81% of the service. Each member has his or her own specialized training and fills a specific job role. Notably, the Air Force age limit is now 42.
Air Force requirements to join as an enlisted airman are as follows. You must:
Be between 17 and 42 years old (17-year-olds need parental consent to begin the application process)
Hold U.S. citizenship
Have a high school diploma or GED equivalent
Be free any serious law violations or drug use
Meet the physical standards of the Air Force
Earn a minimum score on the Armed Services Vocational Aptitude Battery (ASVAB) test
Air Force tattoo policy: Some tattoos are allowed, but they cannot be extreme. See more details here.
Read More: Everything You Need to Know About Joining the Air Force
Air Force Officer Requirements
Officers, who make up about 19% of the Air Force, are the branch's leaders. Commissioned officers handle a variety of duties, including planning missions, providing orders and assigning tasks.
To join the Air Force as an officer, you must:
Be between 17 and 39 years old (17-48 to join as a health care or ministry professional)
Have a four-year degree from an accredited university
Attend Officer Training School (OTS), Air Force ROTC or the Air Force Academy after completing college or a postgraduate degree
Hold U.S. citizenship
Be physically fit and of high moral character
Pass the Air Force Officer Qualifying Test (AFOQT)
Hold additional academic qualifications for some career choices
There are several routes to becoming an officer, including direct commission, Air Force ROTC, Officer Training School (OTS) or the Air Force Academy.
Several specialized programs exist to help you become an officer, including:
Airman Scholarship and Commissioning Program (ASCP): Enlisted Airmen receive a $15,000 scholarship to attend college.
Scholarships for Outstanding Airman to ROTC (SOAR): Commanders can recommend enlisted airmen (based on outstanding performance) for a $15,000 college scholarship, if the candidates qualify and are selected by the AFROTC board.
One-year Professional Officer Course-Early Release Program (1-Year POC-ERP): Active-duty airmen who can complete bachelor's degree requirements within one year receive an opportunity to become a full-time student to complete that degree.
Read More: Become an Air Force Officer
How to Join the Air Force
Contact an Air Force Recruiter
The Air Force recruitment process begins with working with an Air Force recruiter. Recruiters know the ins and outs of the service and can help you navigate the process and make important decisions along the way.
The Air Force recruiting process comes with no strings attached. There is no obligation when working with a recruiter. They will help you decide whether the Air Force is right for you, and will help shed light on which job opportunities within the service might be of interest if you sign up.
Related: Contact a Recruiter
Take the ASVAB
The Armed Services Vocational Aptitude Battery (ASVAB) is an aptitude test that helps airmen narrow down which field of work is best suited for them. It is designed to evaluate skills in several areas. In addition to your overall qualifying score, you will be scored in four ASVAB categories: mechanical, administrative, general and electronics.
The Air Force requires the highest score of any branch of the service for admission. High school seniors or graduates must have a minimum 31 overall ASVAB score, and GED holders must have a minimum of 50 overall ASVAB score.
Officers are not required to take the ASVAB. However, they must take the Air Force Officer Qualifying Test, which is similar to the SAT.
Pass Your Physical Exam
Once an applicant has taken the ASVAB and passed with a qualifying score, the recruiting process moves on to a medical exam at the Military Entrance Processing Station (MEPS).
The basic physical examination includes alcohol and drug testing; a urine check for indicators of glucose, protein, pregnancy and other health indicators; an HIV test; a vision test, including color perception; an ear exam and hearing test; blood pressure and pulse rate; an orthopedic and neurological demonstration and exam; plus an overall exam of the main body systems and organs.
Air Force height and weight: Weight requirements are based on height and gender. The service uses a Body Mass Index (BMI) range of 17.5 to 27.5 to determine height-to-weight ratio for body composition. When a recruit is outside of this BMI range, recruiters will use a body fat measurement (BFM) with a maximum range of 26% for males and 36% for females.
Air Force Basic Training (BMT)
The Air Force version of boot camp, called Basic Military Training, or BMT, lasts eight and a half weeks and takes place at Joint Base San Antonio. The focus of BMT is physical preparation, but it also covers the fundamentals of military life, including weapons use and basic defense, and airmen and expeditionary skills.
Enlisted airmen begin earning college credits from Day 1 of BMT. When they finish, they have four semester hours in physical education.
BMT lays the groundwork for enlisted airmen before they move on to technical training.
Officers attend the eight-week Officer Training School (OTS); or alternatively, the U.S. Air Force Academy or Air Force Reserve Officer Training Corps.
Like BMT, OTS -- which is held at Maxwell Air Force Base in Alabama -- involves daily physical training and requires a passing score on a physical fitness test.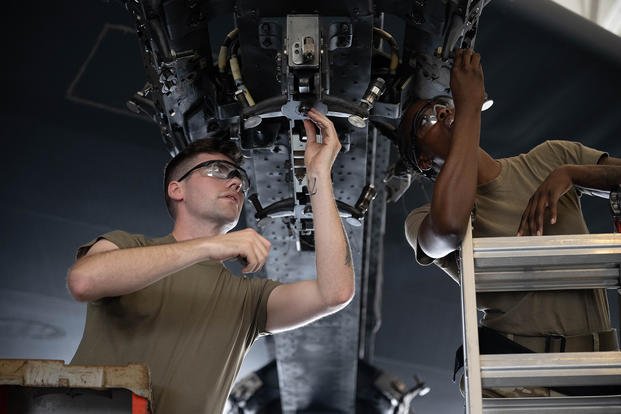 Choose Your Air Force Job (AFSC)
Active duty is similar to working at a full-time civilian job. You will have your own specialty, and you will fill a specific role within your unit.
Jobs in the Air Force are classified by the Air Force Specialty Code (AFSC). To find what jobs you qualify for, the Air Force breaks down your ASVAB subtest scores into qualification areas including math, science, language skills, and specialized areas such as electronics and mechanics.
Most airmen also take two additional tests: the Specialty Knowledge Test (SKT), to compute your job knowledge score; and the Professional Development Guide (PDG), to determine your overall Air Force knowledge and leadership ability.
Read More: ASVAB Scores and Air Force Jobs
Take the Oath of Enlistment
To be sworn into the Air Force, you will take the Oath of Enlistment, which is a pledge to defend the Constitution throughout your military career. If you are entering as an officer, you'll instead take the officer's oath.
Taking the Physical Fitness Test (PFT)
The Air Force physical fitness test evaluates your fitness in four areas: aerobic (running), body composition, push-ups and crunches. Your scores in each area are based on your age, gender, body measurements, amount of repetitions or elapsed time.
Air Force Fitness Standards
Air Force physical requirements have changed over the years. The service recently made additional changes to its fitness test, but kept the old test along with the new. You can choose which assessment you prefer to take.
The old test includes the standard military routine of classic push-ups, sit-ups/crunches and 1.5-mile run. The new options include hand-release push-ups in place of regular push-ups, plank pose or cross-legged reverse crunches instead of regular crunches, and a 20-meter beep test/shuttle run as a substitute for the 1.5-mile run.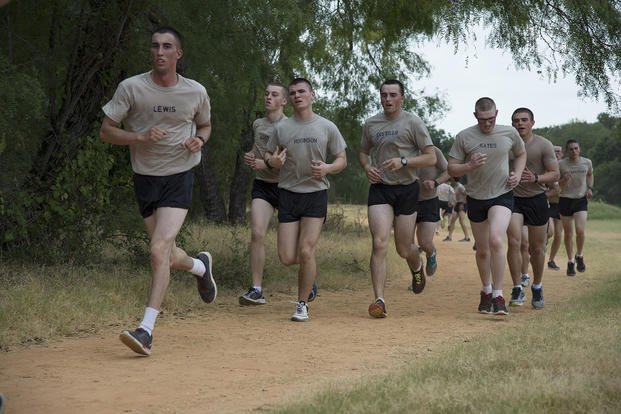 Read More: Air Force Fitness Requirements and Scoring
Benefits of Joining the Air Force
Joining the Air Force comes with a variety of benefits.
Money and Pay
When you join the Air Force, your paycheck grows as you gain more experience and rise up the ranks.
In addition to your salary, as an airman you will also receive paid vacation time, travel assistance, a retirement plan and a full package of benefits, including allowances for housing, food and clothing.
Bonuses
Bonuses are offered for certain enlisted jobs. For example, in 2023, a $4,000 bonus is offered for a variety of roles, including those in aerospace ground equipment, munitions systems, fuels and aircraft armament systems.
For even higher-demand jobs, much larger bonuses are possible: up to $20,000 for some cyber careers, and up to $40,000 for some special warfare operators. View more about current bonuses here.
Education
Airmen have access to a range of educational programs that are either free or that can come with financial assistance. There are many programs to help airmen continue working toward a college degree and beyond.
For those who become officers, many programs are available to help you continue working toward advanced college degrees if desired.
Officers in legal or health care careers have specialized educational opportunities.
Learn more about the Air Force's educational benefits here.
Skills and Training
The educational opportunities that the Air Force affords begin just after BMT with technical training, which can last anywhere from a month to a year and offers college credits as well as on-the-job experience. These college credits are counted toward an associate's degree in applied science (AAS) through the Community College of the Air Force, the world's largest community college.
Health Care
Airmen receive full health, dental and vision care, as well as paid time off for illness. Family members may receive medical care at military or civilian facilities through various options for little or no cost.
Active-duty service members and their dependents are eligible for coverage under the Tricare health insurance program. There are several Tricare programs to choose from, depending on your status and location.
Other Benefits
Air Force bases offer a variety of services as well as social and recreational activities, like stores, medical facilities, places of worship, financial institutions, gyms, golf courses, bowling alleys, tennis courts and swimming pools.
Airmen receive food allowances and can eat for free at on-base dining facilities.
Those who live off base receive a tax-free housing allowance monthly to help pay for living expenses.
For airmen with families, on-base housing is provided for dependents, as well as schools, parks and more. Many bases also support families with day care, after-school programs, youth sports teams and playgrounds. And Air Force spouses receive priority for on-base employment.
Read More: Learn About Air Force Benefits
Information from AirForce.com and other info previously published on Military.com was used in compiling this report.
Interested in Joining the Military?
We can put you in touch with recruiters from the different military branches. Learn about the benefits of serving your country, paying for school, military career paths, and more: Sign up now and hear from a recruiter near you.