Military.com | By Tiffini Theisen
About the ROTC
The Reserve Officers' Training Corps (ROTC) is the best opportunity for you to get invaluable experience while still in school. When enrolled in ROTC, you learn and develop leadership skills and prepare for a career in the U.S. military. You will learn firsthand what it takes to lead others, motivate groups and conduct missions.
Through ROTC, you can start a military career in health care, aviation, finance, engineering, chemistry, law enforcement or transportation, just to name a few fields.
Additionally, different branches of the armed forces have their own ROTC programs. That means you can choose the service and career path that appeals to you.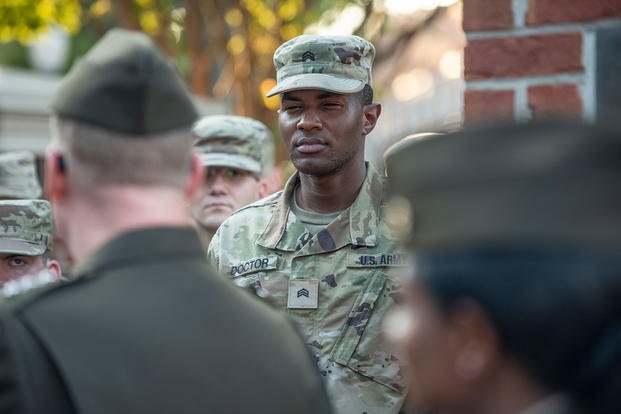 What Is ROTC?
The U.S. Army, Navy, Air Force and Space Force all have ROTC programs.
The military services' ROTC cadets participate in basic military education and officer training, which varies depending on their branch of service, while receiving higher education just like other students on campus.
The Navy's program includes a Navy Nurse Corps Option, as well as a Marine Corps program called the Marine Option NROTC. Those choosing the Marine option have a similar experience as the main NROTC program, with slight differences in course requirements.
Read More: Navy ROTC Marine Corps Option
Air Force ROTC units at colleges and universities are called "detachments."
Students interested in the Space Force would join an Air Force ROTC program and then take steps toward becoming an officer in the U.S. military's newest branch. In 2022, the first cadets to join the Space Force graduated and were commissioned.
Instead of an ROTC program, the Coast Guard offers a scholarship program called the College Student Pre-Commissioning Initiative. Graduates are guaranteed commission as an officer in exchange for full funding for up to two years of college.
By Joining ROTC, Am I Obligated to Join the Military?
Each branch's ROTC program has its own service obligations.
Air Force ROTC (AFROTC) and Space Force ROTC Military Obligations
Students who quit the AFROTC program at the end of their freshman year, even though their first year of college was paid for, incur no military obligation.
"If a student is offered a scholarship while already in college, they are not committed to the Air Force until they accept their scholarship [usually in the fall of their sophomore year]," according to the U.S. Air Force ROTC program website.
Cadets who aren't receiving a scholarship are not committed to joining the Air Force until the beginning of their junior year.
Army ROTC Military Obligations
For the Army ROTC, you are obligated to serve only if you receive a college scholarship. You may enroll in the ROTC Basic Course during your first two years of college without receiving a scholarship and without incurring a service obligation.
If you receive a four-year ROTC scholarship in the Army program, you have different options. First, you could serve eight years as an Army officer after you graduate. Second, you could spend four years as an officer and another four years with the Individual Ready Reserve (IRR), "where you'll return to civilian life but need to be ready to help in a national emergency," according to the Army.
Or, if you commission into the National Guard/Reserve, you will be obligated to complete six years of "one weekend a month, two weeks in the summer" training.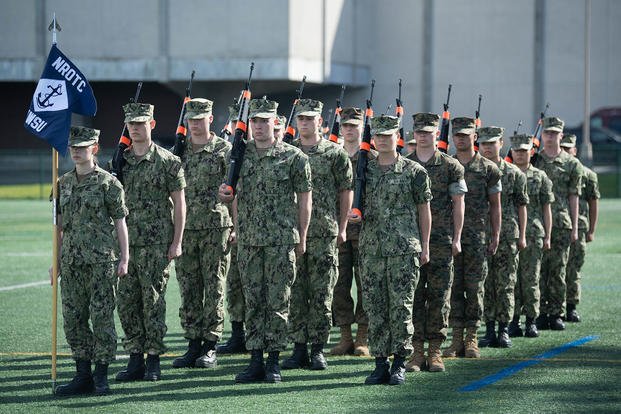 Navy ROTC (NROTC) Military Obligations
Midshipmen who receive a Naval ROTC scholarship of any duration have service obligations depending on which program they are enrolled in:
Navy option: minimum of five years of active military service. Additional requirements may be added for specific job assignments.
Marine Corps option: minimum of four years of active duty.
Navy Nurse Corps option: minimum of four years of active duty.
Is ROTC Like Boot Camp?
Students enrolled in the Army ROTC program receive training as part of their coursework, and they do not have to attend Basic Combat Training. But they must attend the Basic Officer Leader Course (BOLC) after graduating. BOLC typically includes a combination of classroom and field training.
What Can I Expect in ROTC?
ROTC students are college students first. Some universities describe the time commitments of ROTC programs as somewhere between an extracurricular activity and a team sport.
In other words, you're able to live a mostly typical college life -- including taking part in campus activities and organizations -- but with a series of regularly scheduled ROTC activities and responsibilities layered on top.
In a typical ROTC program, you'll take part in physical training one to three times a week, often in the early morning. Alongside the classes you take for your general graduation requirements and your major, you'll be enrolled in military and leadership classes. You'll also have labs and drills to put into practice what you're learning in your military classes. And each program has its own grooming and dress requirements.
Other obligations will be scheduled at different points throughout each semester. These can range from a few days of field training and tactical exercises, reconnaissance mission scenarios, helping with recruiting events and fundraising activities.
During the summers, students go to basic or advanced camp, embark on training cruises, attend field training or other specialized training, and/or take additional courses.
Hazing and disrespectful treatment are not tolerated in ROTC programs.
ROTC obligations tend to be lighter for freshmen and sophomores and increase as students advance through their college careers.
There will also be ROTC clubs you can join, covering a wide range of military topics such as drill and ceremony, service customs, and tactics and weapons.
Your ROTC program also includes time for fun, relaxation and camaraderie. Program leaders typically plan pizza parties, outings such as sporting events and bowling, and formal events such as balls.
What Will I Learn in ROTC?
College and university ROTC programs are designed to teach basic military skills and the fundamentals of leadership. You'll also learn the customs and history of your branch.
Typical courses -- depending on branch -- include military operations and tactics, weapons, code of conduct, psychology and human behavior, national security, military justice, intelligence and electronic warfare, ship systems, and seapower and maritime affairs.
Outside of class, labs and drills cover skills such as patrolling missions, marksmanship, assembling and cleaning weapons, navigational tools and tactics, survival, first aid, public speaking, and physical abilities such as swimming, marching, ropes courses and paintball exercises.
How Will I Benefit from an ROTC Program?
An ROTC program teaches invaluable leadership skills. Students learn to manage and motivate people, make quick decisions and promote an environment of teamwork.
Employers find this level of management experience invaluable.
"Many companies actively seek out officers because of their military experience," according to Cornell University's Army ROTC program. "Officers are trained to work well under high-stress situations, making them perfect for the fast-paced workforce. They are used to a regular and demanding workday, meaning they can be relied on to work hard and accomplish their tasks."
ROTC Officer Career Options
Upon completion of your ROTC program, you have various career paths available to you, depending on your branch.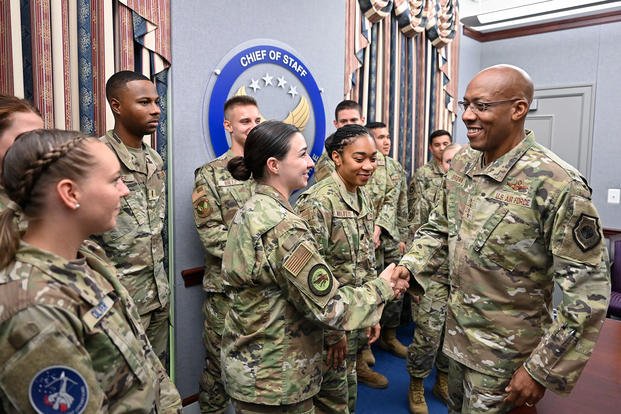 Air Force and Space Force ROTC Officer Career Options
The Air Force ROTC prepares students to become officers in the U.S. Air Force or Space Force while earning a college degree.
Some career options include:
Pilot
Space Force space operations
Behavioral scientist
Financial management officer
Intelligence
Cyber operations
Developmental engineer
Acquisitions
Army ROTC Officer Career Options
Army ROTC programs train students for a wide variety of positions, including in the areas of maneuver fires and effects, operations support, force sustainment and health services.
There are dozens of possible career options. Just a few examples include:
Air Defense Artillery
Chemical, Biological, Radiological and Nuclear (CBRN)
Finance
Medical Service Corps or Nurse Corps
Military Intelligence (MI)
Military Police
Ordnance
Signal Corps
"ROTC gives you a broad scope of everything the Army is," says Capt. Larry Boggs, who runs the U.S. Army ROTC program at Arkansas Tech University. "The leadership and managerial skills you learn from the Army apply to pretty much any job."
Navy ROTC Officer Career Options
The Navy ROTC program (NROTC) was established to educate and train qualified young men and women for service as commissioned officers in the Navy Reserve or Marine Corps Reserve.
As the largest single source of Navy and Marine Corps officers, the NROTC Scholarship Program fills a vital need in preparing mature young men and women for leadership and management positions in an increasingly technical Navy and Marine Corps.
Some career options include:
Naval aviator (pilot)
Naval aviation (flight officer)
Naval special warfare officer (SEALs)
Submarine officer
Surface warfare officer
Read More: Navy ROTC Officer Career Options
ROTC Eligibility Requirements
Air Force and Space Force ROTC Eligibility Requirements
Be a U.S. citizen after freshman year
Physically/medically qualified by Air Force standards
Admitted to an approved AFROTC college or university
Other requirements may apply; speak with your recruiter
Army ROTC Eligibility Requirements
U.S. citizen
Be at least 17, and under 31, in year of commissioning
Have a high school diploma or equivalent
Have a high school GPA of at least 2.50, unweighted if you're in high school while applying
Have taken the SAT or ACT
Take the current Army physical fitness test
Meet the physical weight and height requirements
Navy ROTC Eligibility Requirements
U.S. citizen
Be between 17-23 years of age by Sept. 1 of the year starting college
High school graduate
Meet required SAT and/or ACT scores. The minimum SAT scores are 550 Critical Reading, 540 Math (1,100 combined), and the minimum ACT scores are 21 Math, 22 English (44 combined).
No criminal record
Physically/medically qualified by Navy standards
Admitted to an approved NROTC college or university
Check out the NROTC's site for a full list of requirements for program entrance, SAT/ACT eligibility, specifics on academic/physical/medical, military commitment and more.
Marine Option NROTC Eligibility Requirements
U.S. citizen
Be between 17-23 years of age by Sept. 1 of the year starting college
High school graduate
Meet required SAT and/or ACT scores. The minimum SAT score is 1,000 combined, and the minimum ACT score is 45 combined.
No criminal record
Physically/medically qualified by Marine Corps standards
Admitted to an approved NROTC college or university (before the scholarship can be activated)
What's Included on an ROTC Fitness Test?
Each branch of service has similar requirements in its fitness testing. However, there are some differences between the test required for gaining entrance into the service academies or any branch of ROTC scholarship.
In some cases, the test you must take to get these four-year opportunities of college scholarships for military service is completely different from the fitness test you will take as a cadet or midshipman.
Regardless, one thing holds true. These college scholarships are highly competitive, and there are many variables upon which students will be judged.
Being physically prepared often is overlooked by many applicants. Being an athlete in high school may not prepare you adequately for the requirements of military fitness.
First, you must practice taking the test a few times before taking it officially. Being physically incapable of handling your first several weeks of training, whether at a service academy or an ROTC unit, could prevent you from completing the course or receiving a fully paid scholarship within your ROTC unit.
Read More: What's Included on a Service Academy or ROTC Fitness Test
How Can I Fight an ROTC Disenrollment?
In most instances, the process will start with an investigation. This investigation likely will be your first and best opportunity to influence whether you will be disenrolled.
Depending on your branch of service, you usually either will have the opportunity to present matters to an investigating officer (IO) or a board of officers. They will make findings and recommendations as to whether the reasons for disenrollment have been proven; whether you should be disenrolled; and, if you are disenrolled, whether you should be ordered to repay all the financial benefits you have received, or be subject to enlistment to repay the debt.
Your job in this process is to question the evidence presented in the disenrollment packet and/or present your own evidence. Depending on the basis for disenrollment, your avenues of defense may be different.
Read More: How to Fight an ROTC Disenrollment