Long before becoming a peanut farmer or entering politics, James Earl Carter Jr. began his adult life in the U.S. Naval Academy at Annapolis, Maryland. Jimmy Carter's military service would not only advance the Navy's new nuclear submarine program, it would later color his views as president of the United States, on everything from his work ethic to atomic weapons. 
Jimmy Carter's Military Background
Carter came from a military family. His father served in the Army during World War I, first enlisting in 1917 and receiving a commission in the Georgia National Guard after the 1918 Armistice. His uncle Tom was an enlisted radioman in the Navy, and was serving on Guam when it was captured by the Japanese in 1941. 
The postcards and tchotchkes he received from his uncle's Navy travels led to a lifelong fascination with the Navy. Even before he was in first grade, Carter knew he wanted to be a sailor.
Jimmy Carter's Military Serivce
As he grew older and the effects of the Great Depression set in, the Naval Academy became his first choice to ensure he received a college education.
Read: Naval Academy Honors President Jimmy Carter, Drops Confederate Name from Building
For years before his appointment to Annapolis, Carter memorized the entry requirements and fretted about everything that might keep him from being able to serve. Those fears were unfounded, however. He received his appointment one year in advance, and studied for a year in Georgia Tech's Navy ROTC program, before he finally began training at the Naval Academy in 1943.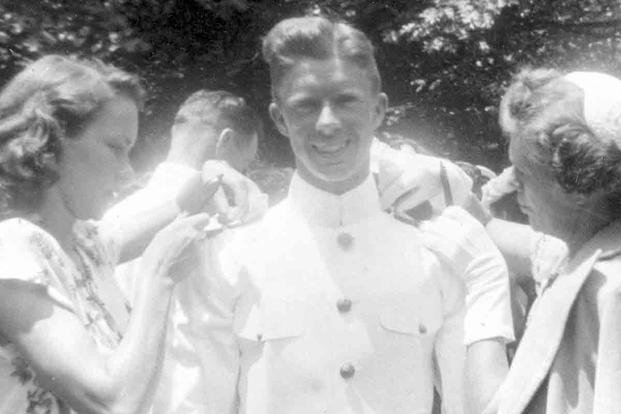 Despite serving during two wars, Carter never saw combat. World War II was still in full swing during his time at the academy, so he also learned to fly the Navy's seaplanes, trained on old battleships and learned to man 40-mm anti-aircraft guns. 
Carter was at sea on a training cruise when he learned about the atomic bombs that were dropped on Japan. A few days later, he learned Japan had surrendered. In 1946, he graduated from the academy and started his career as an officer on the USS Wyoming and the USS Mississippi, testing new technologies at sea. 
Jimmy Carter's Military Rank
In 1948, he was transferred to New London, Connecticut, to attend an officer training school for his new Navy career, ultimately earning the rank of lieutenant.  For five years, he served as a submariner, a time he called "one of the most interesting and enjoyable periods of my life" in his 1975 autobiography. He was soon sent to Hawaii to join the crew of the USS Pomfret. 
Jimmy Carter's Military Service After WWII
In 1950, Carter was sent back to New London to help with the development of the Navy's first new ships since World War II ended, a submarine called K-1, where he became qualified to command one of his own. He never did. Instead, he trained in the mathematics, physics and hardware required to build and operate nuclear submarines.
Carter trained enlisted men in nuclear reactor and propulsion operations while the power plants for the first nuclear sub, USS Nautilus, and second nuclear sub, USS Seawolf, were being built. He became so knowledgeable that he and his team were asked to help avert a nuclear disaster in Canada's Chalk River reactor. 
Read: How Jimmy Carter Saved a Canadian Nuclear Reactor After a Meltdown
The nuclear submarine program was overseen by the "Father of the Nuclear Navy," Adm. Hyman Rickover. Carter has repeatedly written that Rickover had more of a profound effect on him than anyone except his parents. Carter worked for Rickover in this role until 1953, when his father died of pancreatic cancer.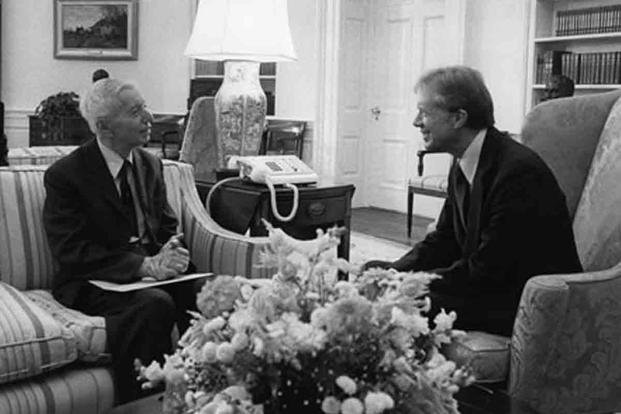 After his father's funeral, Carter left active duty in 1953, but remained in the Naval Reserve until 1961. He used the same dedication he put toward working for Rickover into rejoining the peanut business before entering politics in 1963.
-- Blake Stilwell can be reached at blake.stilwell@military.com. He can also be found on Twitter @blakestilwell or on LinkedIn.
Want to Learn More About Military Life?
Whether you're thinking of joining the military, looking for post-military careers or keeping up with military life and benefits, Military.com has you covered. Subscribe to Military.com to have military news, updates and resources delivered directly to your inbox.