In April 1943, depth charges from a Japanese destroyer damaged the USS Haddock's conning tower and radar. More than 400 feet below the surface off Palau in the western Pacific Ocean, the Haddock was well below its test depth, or the deepest a submarine can go safely. The Haddock was in danger of imploding. 
As the conning tower began to deform, the sub's lieutenant commander, Roy Davenport, thought calmly and quickly. "To get the hatch shut and save the boat from sinking, Davenport hit it with a sledgehammer," an account of the incident in Davenport's bio on the Military Hall of Honor website reads. "The conning tower held and Haddock avoided disaster."
Davenport went on to become the only sailor awarded five Navy Crosses -- the service's second-highest award behind the Medal of Honor -- while commanding the Haddock and USS Trepang during World War II. (Only Marine legend "Chester" Puller also has earned five Navy Crosses.) Davenport was credited with sinking eight ships and damaging 10 others, according to the Joint Army-Navy Assessment Committee (JANAC), a postwar effort to document Japanese shipping losses during the war.  
Called "the praying skipper," Davenport – a student of Christian Science – credited his faith for his sub's successes.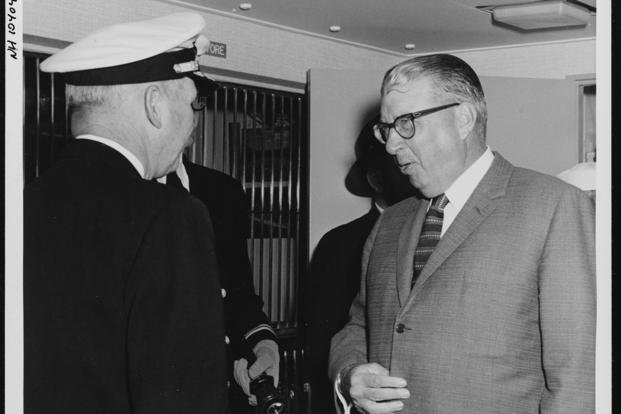 "[He] was known for his daring attacks against Japanese ships, often executed on the surface to gain additional speed," said an article from "Together We Served," an online military veterans directory. "... While none of the men under his command were lost, he and his crews experienced many close calls and escapes."  
Davenport graduated from the U.S. Naval Academy in 1933 and was commissioned as an ensign. He went on to attend submarine school and, by 1941, had risen to executive officer under Lt. Cmdr. Creed Burlingame on the USS Silversides. 
Davenport sprang into action during a couple of tense moments on the sub. 
A Japanese airplane once dropped three bombs on the Silversides, prompting it to go into a hard dive while escaping. Its bow planes jammed, the sub plunged too deep and averted catastrophe only when Davenport pulled a cotter pin, enabling the vessel to level off. On another occasion, Davenport disarmed a drunken sailor, who brandished a pistol after he thought he had been cheated during a contentious dice game. 
Burlingame recommended Davenport for his own command, resulting in his taking over the  Haddock. Davenport's first three Navy Crosses were awarded for patrols on the Haddock from late June through mid-November 1943 off the Caroline Islands, north of New Guinea.
After that, Davenport was granted his request for a rest, then returned as the lieutenant commander of the USS Trepang, a new Balao-class submarine that was commissioned in May 1944 and sponsored by Davenport's wife, Jane. His final two Navy Crosses came later that year, one for a patrol south of Honshu, Japan, and another in the Luzon Strait. 
During the latter assignment between Taiwan and Luzon Island in the Philippines, Davenport led a group of three U.S. submarines that became known as "Roy's Rangers," which the JANAC credited with sinking three ships. 
"Daringly penetrating a strong hostile escort screen to deliver a series of night surface attacks, Commander Davenport launched his torpedoes into an escorted convoy, holding to his targets grimly in the face of heavy countermeasures and sinking an important amount of Japanese tonnage," the citation for Davenport's fifth Navy Cross said.
Besides his Navy Crosses, Davenport received myriad other military honors, including three Silver Star medals, the Bronze Star medal and the Presidential Unit Citation with two bronze stars. After leaving the Trepang, Davenport became an instructor at the Naval Academy. He served during the Korean War and was the USS General J.C. Breckinridge's commanding officer in the late 1950s before retiring, ending his 26-year military career. 
Davenport discussed his service in his autobiography, "Clean Sweep," which was published in 1986 -- one year before his death.
-- Stephen Ruiz can be reached at stephen.ruiz@monster.com.
Want to Learn More About Military Life?
Whether you're thinking of joining the military, looking for post-military careers or keeping up with military life and benefits, Military.com has you covered. Subscribe to Military.com to have military news, updates and resources delivered directly to your inbox.