Decision 4 of 4
The Last Day of Battle: Where Will You Make Your Final Attack?
It is early morning on July 3, 1863.
During the evening of July 2-3, the last, fresh division of the Army of North Virginia arrived under the command of General George Pickett (left). Other divisions of A. P. Hill's III Corps, which fought on the first day of battle, are reformed and rested and available for action.
Your army is tired and bloodied, but you have a final opportunity to make one more strong attack. You have three choices. Do you:
Choice #1: Attack the Union left. After strong progress yesterday, you believe another push in the same area could almost encircle the Union army or at least force it to withdraw in disorder.
Choice #2: Attack the Union right. You believe your adversary is most concerned about the situation near the Round Tops and has weakened his right flank. A successful attack here could possibly encircle portions of the Union army.
Choice #3: Withdraw in good order. You have lost nearly 20% of your army already, and most if not all of the larger Union army is on the field. While you are in a strong position, you are outnumbered and the Union maybe able to counter any further attacks.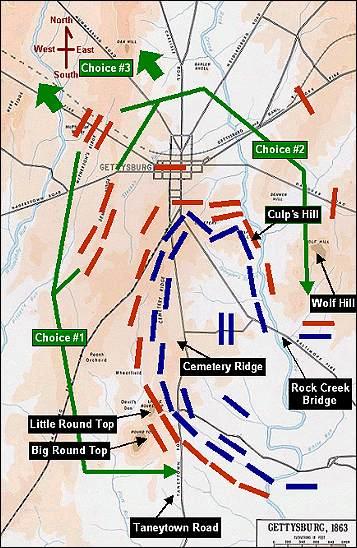 Choice #1:

Attack the Union left east of the Round Tops.

Choice #2:

Attack the Union right south of Wolf Hill.

Choice #3:

Withdraw to fight another day with better odds.