Becoming a Black pilot was unheard of in 1916 -- and that's part of why Eugene Bullard wanted to do it. He was also proud of his adopted home in France and the equality he felt on the streets of Paris. It took him a long time to get here, and he wanted to give back.
After he watched a crowd nearly lynch his immigrant father in rural Georgia, he was inspired to work his way to Europe through Britain and France and into the history books. It was in France where he joined the French Air Force -- and even put a bet on it.
Bullard's life became a testament to fearlessness and willpower, although it was unlikely that was his intent. To get in the air would take a lot more than will. It would take a lot of work.
For anyone, every step of the young Black man's life in the early 20th century would have been an epic battle. For Bullard, it just seemed natural.
Bullard was the grandson of a former Haitian slave who grew up hearing stories about Europe and other places around the world, places far from the bigotry that engulfed his life in Georgia in the 1800s. He wanted a better life where he would be judged for who he was, not the color of his skin.
When he was 8 years old, he watched a mob attempt to hang his father for some unknown and unlikely crime and decided that Paris was the place he would find the equality he sought. At age 10, he stowed away aboard a freighter bound for Europe but was caught and dropped off in Scotland.
Working his way south, Bullard became a professional boxer, which gave him a resilience he would need in the years ahead. He eventually made his way to Paris, the destination of his childhood hopes and dreams. The year after he arrived, France was invaded by the German Empire and World War I had begun. Bullard joined the French Foreign Legion on his 19th birthday.
His unit was the 170th French Infantry Regiment, nicknamed "The Swallows of Death." As an African American man in the unit, he earned the nickname "The Black Swallow of Death."
He fought at Verdun, the Somme and elsewhere, earning the highest military medals France could give. He was wounded three times. He fought until he was too wounded to still serve in the infantry. And he was lucky; 300,000 other men were killed in the fighting, and another 400,000 were missing or wounded. Now disabled, he looked for other ways to support his adopted homeland.
He soon learned about the Lafayette Flying Corps.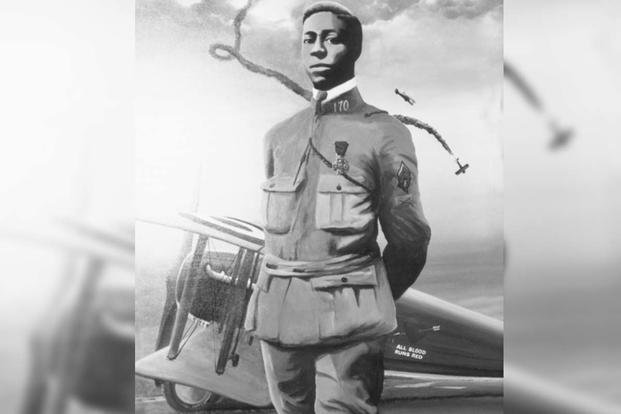 The Lafayette Flying Corps and Lafayette Escadrille were the names given to American pilots and their units who volunteered to fly in the defense of France. Through the aid of a friend, he joined the Corps as a pilot and trained to fly at Tours. By the time Bullard entered service as a military pilot, it was 1917 and the United States had entered the war.
Bullard was now flying combat missions over Verdun, where he had once fought on the ground.
The Army Air Service wanted to absorb the Lafayette Escadrille into the American forces and Bullard was eager to join them. But despite being the first Black fighter pilot, fully trained and already boasting two kills and 20 combat missions, the U.S. Army forbade Black men serving as pilots. The service even lobbied to have him removed as a pilot.
Even though he had an outstanding combat record, he was sent back to his old unit in the Foreign Legion. This time, he was serving in the service battalion, in a non-combat role. He stayed in the military until October 1919. During the interwar years, he worked as a jazz drummer and nightclub worker. The French government asked him to collect intelligence on German spies in Paris, to which he dutifully obliged.
When the Germans again invaded France in 1940, Bullard reenlisted. This time, he would be a machine gunner -- and would again be wounded.
He had to be smuggled to Spain to escape the Nazis.
As he was recuperating, Paris fell to the Nazi war machine and Bullard would be headed back to the United States for the first time in 34 years. He spent the rest of the war as a dock worker on Staten Island.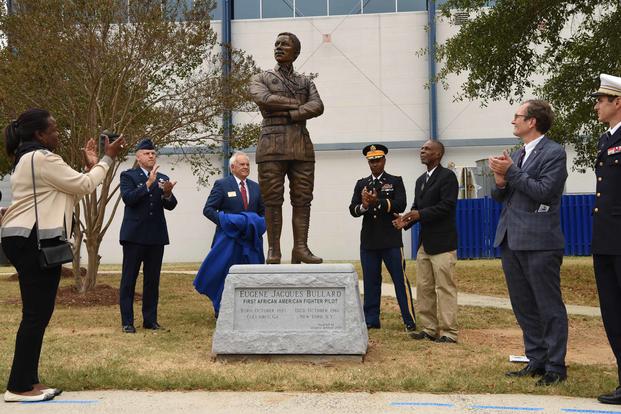 Bullard was working as an elevator operator in New York's Rockefeller Center when he was recalled to France by the famous French leader Charles de Gaulle. Bullard, then 59 years old, was asked to relight the eternal flame of the French Unknown Soldier.
On his 64th birthday in 1959, de Gaulle made him a knight of the Légion d'Honneur, France's highest military award, for his service to France in both world wars. Three years later, he died of stomach cancer and was buried in his Legionnaire's uniform.
-- Blake Stilwell can be reached at blake.stilwell@military.com. He can also be found on Twitter @blakestilwell or on Facebook.
Want to Learn More About Military Life?
Whether you're thinking of joining the military, looking for post-military careers or keeping up with military life and benefits, Military.com has you covered. Subscribe to Military.com to have military news, updates and resources delivered directly to your inbox.