The U.S. Navy has its first Black female tactical jet pilot.
Lt. j.g. Madeline Swegle recently completed the service's Tactical Air (Strike) training program in the T-45C Goshawk, the Navy announced Friday.
Read Next: Soldier Makes History as First Woman to Join the Green Berets
The milestone makes Swegle, a Naval Academy graduate, the first known Black woman who has been certified for the TACAIR mission, and she could go on to fly fighters such as the F/A-18E/F Super Hornet, EA-18G Growler or F-35C Joint Strike Fighter.
The Chief of Naval Air Training (CNATRA) congratulated Swegle on her achievement via Twitter.
"Swegle is the @USNavy's first known Black female TACAIR pilot and will receive her Wings of Gold later this month. HOOYAH!" the post states.
Photos of Swegle celebrating next to a T-45 trainer at Naval Air Station Kingsville, Texas, surfaced earlier this week from Twitter user @paigealissa. "Just my best friend making history," she wrote.
According to the Navy, Swegle, of Burke, Virginia, is assigned to the Redhawks of Training Squadron (VT) 21 at the Texas base.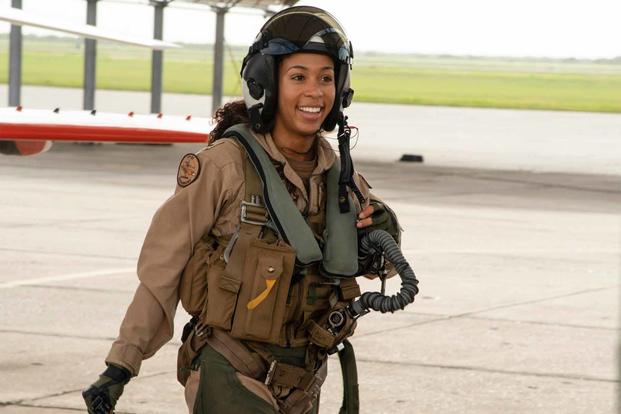 Her achievement comes as pilots have said the Navy's aviation community needs more diversity in its ranks.
A 2018 investigation by Military.com revealed that Black pilots are rare in the service, particularly in fighter units. According to Navy data provided that year, just 1.9% of all pilots assigned to the F/A-18 Hornet, EA-18 Growler, E-2 Hawkeye and C-2 Greyhound were Black.
Women also make up a small percentage of aviators in the service. As of 2018, the Navy had 765 female pilots, less than 7% of all pilots across the ranks, according to the Pensacola News Journal.
There have been pioneers. The late Rosemary Mariner became one of the first eight women in the Navy selected to fly military aircraft in 1973. She was certified to fly the A-4C and the A-7E Corsair II, and became the first woman to fly a tactical fighter jet the following year, the service said. Mariner retired as a captain.
Meanwhile, Brenda Robinson became the first African American female graduate from the Navy's Aviation Officer Candidate School, earning her wings in 1980, according to the nonprofit organization Women in Aviation. She was the first Black woman certified for C-1A carrier onboard delivery carrier landings the following year, the group said. Robinson retired in 2008.
Despite early strides, women have still faced barriers. For example, the Pentagon did not lift a decades-long policy that prohibited women from flying in combat until 1993.
Shortly thereafter, Martha McSally, now a Republican senator from Arizona, became the Air Force's first female pilot to fly in combat in 1995. An A-10 Warthog pilot, McSally retired as a colonel in 2010.
In 1999, Shawna Rochelle Kimbrell became the first female African American fighter pilot for the Air Force, flying the F-16 Fighting Falcon. Kimbrell, now a lieutenant colonel, flew combat missions in Operation Northern Watch over northern Iraq in 2001.
There was another history-making military achievement this week. A female Army National Guard soldier graduated from the grueling Special Forces Qualification Course (Q Course) Thursday, making her the first woman to join the Green Berets.
Editor's note: This story has been updated to correct Martha McSally's rank at retirement.
-- Oriana Pawlyk can be reached at oriana.pawlyk@military.com. Follow her on Twitter at @Oriana0214.
Related: Naval Aviators Say They Were Kicked Out of Training Due to Racial Bias
Want to Know More About the Military?
Be sure to get the latest news about the military, as well as critical info about how to join and all the benefits of service. Subscribe to Military.com and receive customized updates delivered straight to your inbox.