JOINT BASE ANDREWS, Maryland -- "I used to run this DV lounge," Kathy La Sauce said as she entered the distinguished visitors room nestled within the passenger terminal at the base here.
Looking around the plush room, now adorned with tables, couches and place to grab self-serve coffee, La Sauce, who was the first woman to fly presidential support missions on the VC-135 aircraft for the 89th Airlift Wing, went around Thursday reminiscing with airmen about her past work as the commander of the 89th Aerial Port Squadron (then the 93rd), a job she held from 1988 almost to her retirement in 1992.
She recalled having seen or meeting leaders such as Russia's President Mikhail Gorbachev and his delegation; she escorted the late first lady Barbara Bush off the flight line.
La Sauce was beaming -- not because of their celebrity, but that she, as the APS commander, was able to secure an updated minibus to whisk VIP delegations back and forth from aircraft to the DV lounge doors. "They had this ugly Army bus," she said, noting it was unacceptable. "Because we had people like Margaret Thatcher coming through!"
Related: 'Captain Marvel' Effect? Air Force Academy Sees Most Female Applicants in 5 Years
La Sauce, known as a mobility legend within the community and the Air Force, broke barriers. She credits her persistence and an unwavering will to get the job done.
"I knew that a lot of people all through my career never wanted me there," said La Sauce, who was also the first woman to pilot the C-141 Starlifter. She was part of the first group of women to become aircraft mechanics specializing in the C-141. Then, she entered undergraduate pilot training in 1976. The 1977-78 class was the first cadre of 10 women the Air Force allowed to begin training on T-37s, followed by the T-38 Talon.
"They didn't want to work for me; they didn't want to work with me," she said during a fireside chat alongside Col. Reba Sonkiss, commander of the 89th Airlift Wing. Military.com moderated the event and accompanied La Sauce, Sonkiss and others throughout the day to celebrate La Sauce's achievements as part of the unit's commemoration of Women's History Month.
The retired lieutenant colonel admitted she wasn't always impressed with herself, but stuck to the motto, "Hey, I can do it."
"They improved the quality of the Air Force when they started bringing women in," she said, jokingly adding that it "raised the IQ."
"Don't ever accept a barrier. There's some stories ... that you wouldn't believe about how hard it was to convince the military that the only answer to providing a strong national defense was to realize ... that talent can be both male and female," La Sauce said. "If I went to battle, if I went to war, I want the best. And if that happened to be an all-women unit, then let's go to war."
Building Her Team
The service's attitude toward women gradually improved as female service members proved their worth, she said.
To become an officer, La Sauce had to go through a 12-week indoctrination when she entered the service in 1972 as part of the Women in the Air Force program, which was used to bring women into the service in limited roles, from 1948 to 1976, when they began to join the Air Force on an equal footing with men.
WAF officers marched as a separate squadron and did not participate in small-arms fire training. They also didn't run obstacle courses, something La Sauce said wouldn't be possible in the standard-issue skirt uniform. Program participants even received a pamphlet about perfect poise and how to appropriately apply makeup, she said.
It was decisions like these that made the Air Force shortsighted on what it means to be a team -- a problem still seen today, but the culture is improving, both Sonkiss and La Sauce said.
"I think that you can't rewrite history. But I think there's some things that we need to let go of," Sonkiss said Thursday.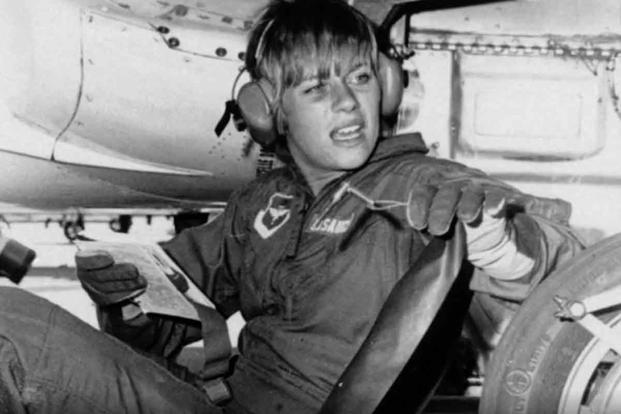 She also is credited with many firsts: Sonkiss was the first female commander of an active-duty C-17 Globemaster III squadron, as well as the first female wing commander at McChord Air Force Base, Washington. She now serves alongside the wing's vice commander, airlift squadron commander, aerial port squadron commander and operations support squadron commander, all of whom are women.
Sonkiss, who's been selected for promotion to brigadier general, said Chief of Staff Gen. David Goldfein's recent decision to change the third verse of the official Air Force song emphasizes the service's direction.
"Let's talk about what our song is and what the things are that we rally behind and then be willing to shed the things that aren't building a team. Be willing to shut some of those pieces that are unhealthy, and we got to keep doing that cycle," she said.
Honest discussions cannot be closed off, even from the general public, she added.
"What I'm realizing as I get older, my duty if I love the Air Force and want people to serve and to really gain the benefits of getting to serve, then events like [this fireside chat] where I normally would have loved to have kept incredibly private, instead I say, 'Let's come in and let's have a conversation.' It's the only way that you truly draw people in," Sonkiss said.
It shouldn't "take another Tom Cruise movie" to get people to want to join, La Sauce added, referencing "Top Gun: Maverick," which is due out this summer.
'She Made a Lot of Colonels'
"I don't lead from a particular gender," Sonkiss said. "My leadership philosophy is first care about your people and be professional in everything that you do."
La Sauce is most proud that she worked to get all her airmen the recognition they deserved. "When a guy got promoted, I'd ask [my staff], 'Where is he?' And I'd find him playing baseball on the field, would call him over, shake his hand and give him his rank. I could do it my way," she said.
She herself was selected for colonel but had to leave the service for health reasons before she was promoted.
"She didn't make colonel, but she made a lot of colonels," Sonkiss said. "Through the people that she opened up doors and opportunities for."
Speaking to the audience, Sonkiss said, "You need to be that, those mentors... [because] guess who that person is now? It's you guys. You also need to be that."
For La Sauce, it wasn't about making the next rank, going mach speeds in a T-38 jet, or accumulating more than 4,000 flight hours over the course of her career.
Onboard a C-37B aircraft Thursday, she cried as the cohort of current female leaders in the 89th presented her with a brand-new SAMFOX jacket (she gave her old Special Air Missions-Foreign jacket to the National Museum of the Air Force in Dayton, Ohio).
"This is the best gift," she said as she put on her jacket.
As she looked back to six smiling female lieutenant colonels and colonels, the gift wasn't the coat.
"Being brought back to socialize with people who are still doing things for the Air Force, it warms my heart," she said. "It warms my heart."
-- Oriana Pawlyk can be reached at oriana.pawlyk@military.com. Follow her on Twitter at @Oriana0214.
Read more: Navy Suspends Controversial Housing Utility Billing Program, But Plans to Bring It Back