Courtland Savage never expected to fly fighter jets.
Though he had served in the Air Force Reserve before transferring to the Navy and knew his way around a C-17 Globemaster transport, his test scores weren't the highest and the demanding, elitist culture of fighter aviation seemed beyond his reach.
And then there was the thing everyone knew about fighters, at least in the Navy: It was a homogeneous community of white men, with little diversity to be seen anywhere.
"I never thought about flying fighters, because people that look like me don't fly fighter jets," Savage told Military.com.
But then he got his Navy Standard Score, or NSS, used for placement in aviation training. He'd managed a 50.9 -- a hair over the score of 50 needed to qualify for fighters. Soon after, Savage was in the training pipeline to fly the F/A-18 Super Hornet. He'd earn the coveted wings of gold, marking him as a naval aviator, in December 2015.
Less than two years later, though, Savage would be kicked out of fighter training and find his Navy career in shambles. While he acknowledges he struggled in some disciplines, he believes that implicit racial bias ultimately made the difference for him between having his training cut short and being given another chance.
And he's not alone. Over the course of several weeks, Military.com spoke with three different naval aviators and trainees who believe the deck was stacked against them because of the color of their skin.
They allege the subjectivity of flight evaluations and the utter lack of diversity in fighter aviation contribute to an atmosphere of implicit or unconscious bias that leaves minority aviators on the margin at a greater disadvantage than their white counterparts.
They say they represent an even greater number of black aviators in the same predicament.
And the data tells its own story.
An investigation by Military.com reveals black pilots are vanishingly rare in naval aviation, and particularly on fighter platforms. Data also shows that they are significantly more likely to leave or be forced out of training than their white counterparts at certain points in the pipeline.
The findings and allegations raise grave questions about whether the Navy is doing enough to ensure objective standards for all trainees regardless of color, and why the service has been so remarkably unsuccessful at recruiting and retaining non-white aviators to date.
For the aviators, all of whom are pursuing redress with the Navy, these questions are pressing and consequential.
The Navy, which responded to a detailed list of questions for this story, maintains it is working hard to protect and promote diversity in aviation and across the fleet.
"Naval aviation is comprised of the nation's best, most highly motivated and talented warriors," Cmdr. Ron Flanders, a spokesman for the Chief of Naval Air Forces, told Military.com. "Our warfighting effectiveness depends on attracting and retaining the most talented people from the widest reaching, most diverse talent pools. Diversity is critical to our success."
Savage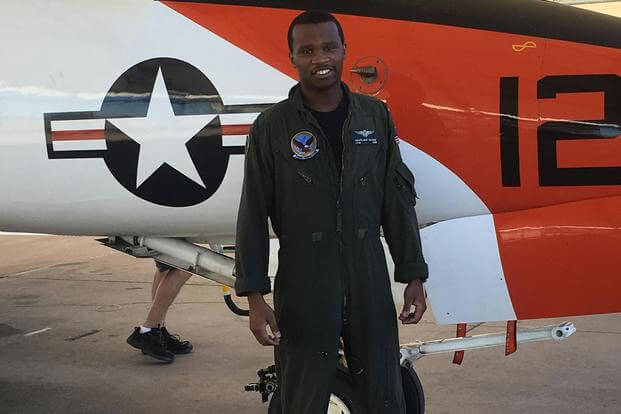 In February 2017, while on a detachment to Naval Air Station El Centro, California, Savage, then a Navy lieutenant, found out through the grapevine that he was "done."
Another student at Strike Fighter Squadron (VFA-)106, one of the two fleet replacement squadrons in the Navy that train aviators to fly the F/A-18 Hornet in operational units, told him an instructor had been telling other members of the squadron that Savage was going to be kicked out of training.
According to Savage's account, the instructor's offhand remarks came while he still had a number of opportunities to redeem himself. He'd been sent to a Performance Review Board after struggling in the strike phase of training, then returned to the squadron to improve.
Typically, an aviator in training would then have to get four "signals of difficulty," or failed flights, before being brought before a board to determine whether he or she could remain in the program. After the PRB, Savage said he had had just one failed flight.
From there, Savage said, the instructor's remarks appeared to be a self-fulfilling prophecy.
He failed flights for what he says were viewed in the squadron as relatively minor mistakes, such as "safing" an ejection seat and forgetting to re-arm for takeoff. In another flight, he claims his performance was graded above average, but he was still given a signal of difficulty. In his final flight, he said he was amazed to be asked to execute techniques and skills that did not even appear on the syllabus.
"I was not just expected to meet the requirements for the event, I had to meet an elevated standard the instructor created that other students did not have to meet," Savage would write to Sen. Mark Warner, a Virginia Democrat, in a letter appealing the Navy's ultimate decision.
Warner's office did not formally respond to a Military.com inquiry about Savage's appeal.
For Savage, failure of that flight would trigger every Navy pilot's worst fear: a Field Naval Aviator Evaluation Board, or FNAEB, to determine whether Savage's performance merited retention in the program.
He appeared at the FNAEB (pronounced FEE-nab), despairing of his future in fighters but hopeful he'd be allowed to continue to fly for the Navy in a less competitive field, such as rotary-wing aircraft. But, he said, Rear Adm. Bruce Lindsey, then commander of Naval Air Force Atlantic, decided that flying was out for him.
Savage ultimately separated from the Navy on Nov. 30, 2017.
"It felt like somebody had a personal vendetta against me," Savage told Military.com in an interview. "I thought ... did I sleep with someone's daughter or something?"
Flanders, the CNAF spokesman, said he could not reveal the contents or disposition of the FNAEB due to Privacy Act limitations.
Now pursuing a role as a pilot for the Air National Guard flying C-17s, Savage, 27, wonders if he ever really had a fair shot at fighters.
When he'd started training at VFA-106, out of Virginia Beach, Virginia, in January 2016 after receiving his wings, there wasn't a single African-American instructor in the squadron, he said.
For much of his training, he'd been tagged with the call sign "Radio," a reference to a movie about a mentally challenged black man. While most pilots received call signs that played on their names or something embarrassing or funny they'd done, it seemed to Savage that, for the black students, their skin color was punch line enough.
He knew students with call signs including "8 Ball" and "Kazaam," after a character played by Shaquille O'Neal. Eventually, he'd meet black instructors with call signs like "Chappy," after the black pilot in the 1986 film Iron Eagle, and "Snoop."
He'd internalized the message he'd received from other African-Americans when he entered training: You have to be twice as good to be average.
It didn't surprise him, he said, when white fellow students would get better classroom grades for the same work or do better on flights when they made similar errors. But now he believes this alleged implicit racial bias contributed to his being kicked out of training.
"Being an African-American, we're different. We like rap music, we watch different things on TV; we have a different culture," Savage said. " ... I don't want to go and say everybody is racist. But you look different, so you get more attention placed on you."
When Savage raised initial concerns about his FNAEB, his squadron began a preliminary inquiry, interviewing him about why he thought his performance was on par with peers who were allowed to continue on. Savage alleges he cited grade sheets of other students in VFA-106, which then were available to view by any student.
In response, he said, the squadron moved quickly to restrict students' ability to view each others' gradesheets.
"This action was taken immediately ... in an effort to prevent me or any other student from detecting bias in grading," he wrote in his complaint to Warner.
Flanders said an oversight that allowed students to view their peers' grade sheets without consent had been corrected.
"This resulted in problems when some students questioned their own performance marks due to perceived similarities with other students' flights," he said. "These students lacked the experience and technical and tactical expertise to make these comparisons. This oversight has been fixed."
Now, Flanders said, students can view each others' grade sheets only with permission. At VFA-122, the fleet replacement squadron on the West Coast, he said, students are not permitted to view each others' grade sheets at all.
Flanders said there is an ongoing investigation into Savage's allegations his career was ended due to implicit and explicit bias.
"What I can say is that we endeavor to be impartial in the training and production of naval aviators of the highest skill and judgment, regardless of ethnicity, gender, religion, etc.," he said.
The Data
The aviators who spoke with Military.com allege that bias factors into training because of the lopsided demographics in naval fighter aviation.
Data provided to Military.com from the Navy shows that of the 1,404 pilots who fly Navy F/A-18 Hornets, only 26 are black and only 71 belong to any minority. There are only 33 female Hornet pilots in the Navy, according to the demographics, and just one is non-white.
There is no platform in naval aviation where non-white pilots are well represented. In maritime helicopter squadrons, only 14 of 168 pilots identify as non-white.
But representation seems to be worst of all in jet platforms, including the Hornet, EA-18 Growler electronic attack aircraft, E-2 Hawkeye and C-2 Greyhound. Black aviators make up less than 1.9 percent of all pilots assigned to these platforms, according to Navy data.
In Navy maritime squadrons, nearly 2.7 percent of pilots are black. And in helicopters, a field which does have a greater proportion of female pilots, black aviators are barely better represented than in jets, making up just over 1.9 percent of the total.
According to the pilots who spoke with Military.com and the best of the Navy's knowledge, there has never been a female African-American fighter jet pilot.
But as homogeneous as the Navy pilot community appears, it leads Marine Corps aviation in diversity. There are so few black or African-American pilots in Marine Corps aviation that a pilot who reviewed the data with Military.com was able to pick himself out as the sole black pilot for one platform.
In Marine Corps fighters, including the F/A-18, AV-8B Harrier, and F-35B Joint Strike Fighter, there are just four black pilots out of 662 in the community, according to demographic information provided by the Corps. Two of the pilots are in the F/A-18 community, according to the data, and one each in Harriers and F-35s.
Some fields have slightly more representation -- there are 15 black or African-American pilots out of the total 545 pilots flying MV-22B Ospreys -- but overall, the numbers are minute. Over nine Marine Corps aircraft platforms, black pilots add up to just 55 of the total 3,291, some 1.67 percent of the community.
Echoes from the Past
For naval aviation, the utter lack of diversity is no secret; it's a problem the Department of the Navy has known about for more than three decades.
According to a 2010 Navy Personnel Research, Studies, and Technology study reviewing findings of a previous 1997 study on women and minorities in naval aviation, the demographics have barely budged since the 1980s.
In 1985, just 1.58 percent of Navy pilots were African-American. According to the document, representation peaked in 1997, with black or African-American pilots making up 2.66 percent of the total. Today, just 2.06 percent of pilots who fly for the Navy are black.
Faced with high minority attrition and concerns about fairness in selection, a working group formed to study attrition and recruiting of minorities in aviation met in 1990 to raise a concern that echoes today.
"If we do not impart aviation instructors with the need to recognize cultural differences that can be perceived as negative traits, we will continue to have a problem with minority students in the cockpit," they wrote in minutes from the meeting.
The uncanny similarities continue. The study goes on to discuss concerns about fairness in grading and the objectivity of the process.
"Black students feel they are evaluated while Whites are taught," the document states. "For borderline flights, Blacks feel they are not given benefit of doubt and mistakes get compounded, so they fly scared. Blacks feel that they are not permitted slip-ups; Whites often get a second chance."
In a training pipeline where many grades that make up standing in the program are subjective and determined by an instructor's evaluation, the pilots who spoke with Military.com argue that representation continues to translate to rapport in today's aviation culture. And that, they say, can be the difference between a bad grade and a less formal correction.
"There's a dance, like we're on ice," a Marine aviator who was removed from training in 2016 said. "When my peers would make mistakes and fly with people, they would get talked to about it ... I felt like their grades didn't reflect that. Maybe they had better rapport with the instructors, more to talk about."
The Navy's Efforts
Flanders, the Navy spokesman, emphasized that Navy leadership has been working hard to change the ratio in aviation. Under Commander, Naval Air Forces, there's an Inclusion and Diversity team that targets "events and groups" to recruit a more diverse population for naval aviation, he said.
The team promotes retention and mentoring initiatives and provides prospective Commanding Officers diversity and inclusion training and "talent management initiatives" aimed at improving career prospects and flexibility for their subordinates.
"We recognize that we gain a strategic advantage through the diversity of our total force when we create a culture of inclusion where people are drawn to serve, are valued, and actively contribute to mission success," Flanders said.
The Navy has been working along similar lines for more than 30 years. The 2010 study reviewed old efforts such as Tadpole, a 1985 program that taught swimming before students started aviation officer candidate school.
Another program, Avtrack, consisted of an eight-week course given to minorities identified as high academic risks to prepare them for officer training. A Fleet Awareness Program, begun in 1988, started outreach to minority naval aviators to visit aviation training squadrons in hopes of meeting role models in the fleet.
In 1998, a one-hour instructor minority awareness training program was administered to prospective flight instructors to make them aware of cultural differences, affirmative action goals, recruiting and retention challenges, and more.
But one current instructor, Navy Lt. Steven Shaw, said that to his knowledge there has never been training implemented to combat the effect of unconscious bias in the community.
"I can tell you as an instructor, no such training exists," he said. "We have literally made no progress on this front in over 20 years."
The Marine
Prior to Savage's saga at VFA-106, a similar sequence of events played out for a different black aviator at the same squadron.
The aviator, a 32-year-old Marine officer who asked not to be identified by name because he is still pursuing redress, alleges he was sent to the Marine Corps equivalent of FNAEB and forced out of fighter aviation despite performing at the middle of the pack of 100 student aviators.
When his paperwork was sent to the Pentagon for review, he said, his ranking was arbitrarily altered from 55 overall out of 100 students, and a relatively strong 28 out of 100 on his second time through strike training, to bottom of the pack: 99 out of 100.
While in training, he said, he would see white students make technical errors similar to those he had made, with dramatically different outcomes.
When, in spring 2016, he was sent to a Field Flight Performance Board, the Marine Corps version of the administrative process governing whether a student should be retained in training, other students with comparable performance records were kept on, he said.
"Someone ahead of me in the program had a mishap in the airplane and was given a simulator [Naval Air Training and Operating Procedures Standardization] event," he said. "The exact same one that I passed, he failed. He rolled back into my class and was allowed to continue. We're being held to different standards."
The Marine, who had served two tours in Iraq as an enlisted radio operator and infantryman before being accepted to the officer program on an aviation contract, was ultimately offered an alternative to leaving aviation altogether: He could be allowed to transfer to C-130 Hercules transport aircraft and serve as a pilot on that platform.
While he accepted the offer, he's still pushing, via multiple avenues, to return to fighter aviation.
Like Savage, the Marine officer had a training record that was far from perfect, though he maintains others struggled just as much with fewer consequences. He had to repeat the strike phase of training after difficulties the first time through, but showed marked improvement the second time around.
There was also an unfortunate mishap that would haunt him. Upon arrival at VFA-106 in December 2015, he said he was placed in the backseat of a Hornet without any training as a backseater and ended up mistaking an instructor's order and blowing the canopy off the aircraft.
The incident would do little to endear him to the class, and would make it onto a class T-shirt with the caption, "Once you pop, the fun don't stop."
He would eventually find out that he was the brunt of instructors' private jokes as well, which diminished his confidence in the fairness of his training.
For the Marine pilot, the mishap also highlights the reality of fighter training: Nearly every event is a high-stakes test, and there's little opportunity to develop and hone skills outside of graded exercises.
"You can start Monday in high standing and, on Friday, you can be looking for a new job," a Navy flight instructor told Military.com.
Efforts to Appeal
The Marine appealed to Commander, Naval Air Force Atlantic in March 2017, alleging that he had been treated differently than other students.
"I concur with [the pilot's] assertion that I did not treat him the same as other aviators under my command," Capt. Patrick Greene, who commanded VFA-106 when the pilot was sent to FFPB, wrote in a response reviewed by Military.com. "No two replacement aviators are ever treated the same during their time at [the squadron]. Each possesses unique strengths and weaknesses, and the VFA-106 staff carefully tailors its training efforts to address these differences."
Greene said the Marine had required 26 percent more flights and 45 percent more simulator events than the syllabus prescribed, mostly due to "performance deficiencies."
"Regrettably, the efforts of a very conscientious and dedicated instructor cadre ultimately fell short," he wrote.
When the Marine pilot made an equal opportunity complaint to the U.S. Fleet Forces Command Inspector General in November 2017, he alleged that his grade sheets were rife with errors when presented to the Field Flight Performance Board, making his standing and performance in areas such as headwork in the cockpit look much worse than they actually were.
He added that, in an event that in retrospect seemed to add insult to injury, VFA-106 had, while he was at the squadron, used him as "a diversity prop," introducing him to young black students during the Oceana Air Show in September 2015.
The Marine says he has yet to receive a disposition response on his IG complaint.
Flanders indicated he could not comment on the matter.
"It would be inappropriate to discuss an ongoing investigation," he said.
'Pure Bloods'
The Marine officer would learn only later what his instructors were saying about him behind his back. In a group chat saved from a WhatsApp chat group called "Pure Bloods," instructors trashed him, some using a purple eggplant emoji symbol to refer to him.
While that emoji is typically used as a phallic reference, the Marine officer maintains it had racial tones when directed at him. The word "eggplant" is sometimes used as a derogatory term for a black person.
"That dude was so bad. I can't even comprehend how someone does not have the most basic level of self-awareness and realize he's going to kill himself or someone else," one instructor wrote in the chat, a copy of which was reviewed by Military.com.
The chat also contained disparaging references to Savage, saying the two were working together to put forth a narrative of racial discrimination.
At one point in the conversation, one instructor jokingly threatens to show the chat to an investigator.
"Let me drop my letter first," another says, a reference to resigning from service.
Another chimes in.
"They can't fry us all, right???"
The Marine pilot's discovery of the "Pure Bloods" group chat convinced him his failure was foreordained.
"I already stood out because of my race, but with the group chat, I had to overcome the social barrier of being labeled an eggplant/n*****," he wrote in his IG complaint. "Once your codename is eggplant/n*****, there is no way to overcome such prejudice."
Asked about the eggplant emoji reference, Flanders said the allegation is under investigation.
"Zero tolerance exists at VFA-106 or anywhere in naval aviation for any type of bigotry," he said. "These allegations are under investigation, and we take these types of allegations very seriously."
The Instructor
One instructor doesn't buy the trash talk regarding the Marine pilot and others.
Navy Lt. Steven Shaw, an instructor at VFA-106, said in an interview there's simply not enough to differentiate beginning aviators early in their careers to mark one as doomed for failure or another as bound for success.
"I know that every student doesn't know anything," he said. "I know that they can't do it, which is the whole point of the process."
Shaw, 30, found himself in close communication with both Savage and the Marine pilot as they individually found themselves at the mercy of administrative boards.
Their experiences confirmed to him suspicions he'd had since early in his own training: that the uniform nature of pilot culture creates a breeding ground for implicit biases of all kinds to take hold, including racial, gender and even personality-based prejudice.
"Not only is almost every Navy fighter pilot a white guy, they all have brown hair," Shaw told Military.com. "I'm blonde, and I feel like an outsider."
Shaw bumped into Savage unexpectedly in April 2017, after Savage learned he was being pulled out of the pipeline.
"He said, 'I'm being removed from training ... for poor performance,' " Shaw recalled. "I said, 'I find that highly unlikely that you're so much worse than everyone else.' He was more than halfway through the syllabus, and now ... is out of the Navy completely."
After reviewing Savage's paperwork, Shaw was more convinced that bias played a role in his separation.
"The characterizations of his performance make him look like the worst performer there ever was," he said. "But there's not enough of a difference between beginners to justify such a difference in outcome."
Shaw believes that training should be less punitive, and evaluations should be less subjective.
In his own instruction, he says he puts that theory into practice. He doesn't document negative aspects on grade sheets, and he works with students outside a graded environment to improve technique and performance.
If a student is failing, he said, the instructor should be held accountable.
"When I work with them, because their training approach and technique is more effective, they all improve at the same rate. They're all in the same window of beginners," Shaw said.
He also has ideas about how training could be changed to make graded events more objective.
"Overnight, you could say, 'Look, you're not allowed to write any negative documentation of performance without video evidence,' " Shaw said. "We have cameras in the plane. We could have students sign a document saying, 'Hey, this is a mistake I made.' "
Flanders said there are a number of systems in place to ensure objectivity in training. Students fly with and are evaluated by multiple instructors, not just one, he said. Fleet replacement squadron instructors must pass a rigorous training program to become qualified, and each instructor receives constant counseling from other instructors.
"While there is still a subjective human element to performance evaluation, we have moved toward a more objective, metrics-based system which more closely aligns performance to deviations from a standard," he said.
A multi-service pilot training system, or MPTS, also works to standardize grading, Flanders said, enabling the Navy to be more objective in making decisions about students' success in training.
Shaw said he'd do away with graded simulator events entirely, which he compared to scoring performance during practice. During sims, he said, students need to learn and familiarize themselves with systems, rather than worry about being assessed.
Shaw is convinced that, given the chance, his method could save any foundering student who has made it into the training pipeline.
"When they tell me that [Savage and the other pilots who spoke to Military.com] are just no good, not only is it obvious to me that they're the only minorities, they're being removed," Shaw said.
"It's, 'Oh come on, I could get them better than you in under a week.' "
The Truth About Attrition
Once student aviators meet the qualifications to enter the training pipeline, attrition from the program for any reason is relatively rare.
According to data from the Chief of Naval Air Training from 2015 and 2016 reviewed by Military.com, attrition is highest in the primary phase, where students learn aviation basics on T-6 Texan turboprop aircrafts. During this phase over the timeline covered, attrition averaged 7.5 percent.
By the time students reach the fleet replacement squadrons, overall attrition drops to just 1.4 percent.
In the very earliest phase of training, including aviation preflight indoctrination and initial flight screening, there does appear to be a disparity between attrition of black and white pilots.
White trainees had an attrition rate of 2.2 percent, with 50 out of 2,273 students leaving the program; black students had an attrition rate of 7.6 percent, with 6 out of 79 dropping out.
In other phases, attrition rates between black and white pilots are more comparable for the years reviewed, or the numbers are too small to be properly compared. An official who discussed some of the data with Military.com warned of the "tyranny of small numbers" when it comes to extrapolating findings out of a small data set.
Ultimately, though, the small numbers heighten the significance of an aviator who has reached the final phases of training being brought before a board and expelled from the program.
According to data provided by the Navy, just 15 aviators were sent to FNAEB from VFA-106 between 2013 and 2017. In 2017, Savage was one of three to go to FNAEB.
At VFA-122, the other F/A-18 fleet replacement squadron out of Naval Air Station LeMoore, California, the numbers are comparable: 14 FNAEBs over five years.
Flanders, the CNAF spokesman, said the Navy did not track the race, gender and creed of those sent through the FNAEB process, so that data was not available.
Anecdotally, the black aviators and trainees who spoke with Military.com said they were aware of even more black students in other communities currently being processed out of training.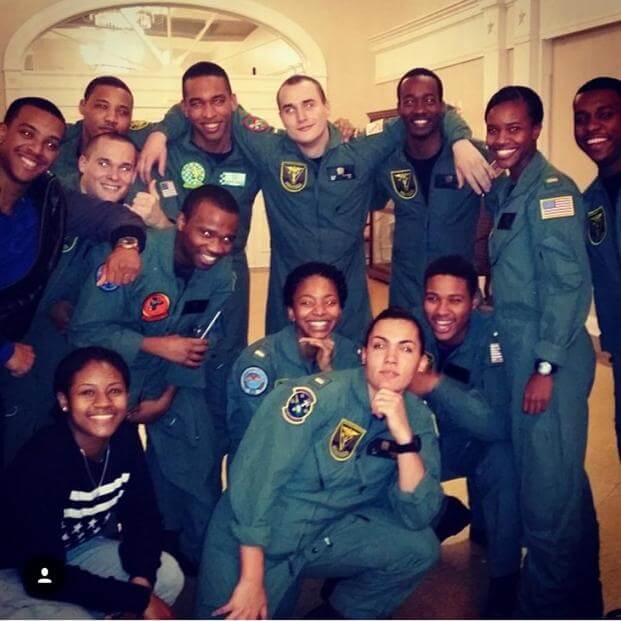 A photo belonging to Savage illustrates what he and others see as the reality of the African-American experience in naval aviation. Taken in early 2014 when he was at Training Squadron (VT-) 2 in Milton, Florida, flying T-6s, the photo shows a dozen black aviation trainees, most of them in flight suits.
Today, he said, one is an F/A-18 pilot; two others remain in the roles of E/A-18 electronic warfare officer and P-8 Poseidon naval flight officer, respectively. All the others have dropped out or were removed from training since that picture was taken.
There are currently five African-American student pilots and eight African-American naval flight officer students in the pipeline for strike training, Flanders said. In all naval aviation training, including those in pre-load and awaiting training, there are 61 African-American Navy students and 34 African-American Marines, Flanders said.
The Trainee
One of those individuals, a 27-year-old Navy aviation trainee, remains in the training pipeline awaiting his fate. He had been pursuing a career in strike aviation piloting E-2 Hawkeye carrier-based airborne early warning aircraft or C-2 Greyhound carrier onboard delivery planes.
But now, he's hoping for a transfer to maritime aircraft, rather than being kicked out of naval aviation altogether.
The trainee, who also spoke with Military.com for this story, had a childhood dream to serve in the Navy as an aviator.
"I idolized the Navy all the way. I have anchors everywhere in my house; I have Navy jackets for my dogs," said the trainee, who asked not to be identified because of ongoing administrative actions. "I was proud to be Navy."
He got into the U.S. Naval Academy in Annapolis, Maryland, but struggled in academics and was ultimately separated. Regrouping, he got a Reserve Officer Training Corps scholarship and graduated from Embry-Riddle Aeronautical University in Daytona Beach, Florida, in 2015.
He made it through early phases of training and eventually arrived in January 2017 at Training Squadron (VT-) 21 at Naval Air Station Kingsville, flying the T-45C Goshawk, a trainer used to prepare student pilots for fighter aviation.
Here, he said, it seemed like he couldn't succeed no matter how hard he tried. The third flight in his first block of flights was marked unsatisfactory. Then, he had a number of incompletes, some with negative feedback from instructors.
"Other students would say, 'I did that same thing with that same guy. He unsatted you for that?' " the trainee said.
He would go on to fail an initial progress check, then fell afoul of the instructors again by missing a simulation block due to what he said was a technical glitch that omitted his name from the schedule.
The trainee said he had felt under constant pressure and scrutiny from the beginning, and the feeling was only exacerbated by the racial tension he felt.
On two occasions, he said, he walked into a room and heard someone remark, "It's Sundown's brother," referencing the call sign of a black instructor.
Another time, he said, he was told to play music, only to have an instructor walk in and ask him what "ghetto trash" he was listening to.
"It seemed like I was not welcome or was not part of the group," the trainee said. "I never got invited to anything; I had to invite myself."
In response to this account, Flanders said the Department of the Navy has no tolerance for racial jokes or references.
"Change the Culture" presentations distributed worldwide in Navy communities since 2016 have worked to accelerate positive social norms and eliminate destructive behaviors, such as racially hostile or suggestive jokes, Flanders said.
"We all deserve a workplace where we have an equal opportunity to thrive, which is free of discrimination," he said. "The use of a student's class adviser is a starting point for any discrepancies such as this. Should that fail, the command [command managed equal opportunity] representative is always available to elevate items of concern."
The trainee said he was also held accountable to uphold rules that everyone else, even instructors, habitually broke.
Multiple aviators told Military.com that while cameras are technically prohibited in the cockpit, it's common practice for aviators to bring in their own devices to capture images and footage. One instructor even used cockpit photos to advertise watches he sold on the side.
But when the trainee brought a GoPro camera into the cockpit, he ended up with a negative counseling on his personnel record, he said.
It's one of a number of incidents, he said, that left him disillusioned with the fairness of his training.
"The Navy's trying to do something about the sexual assault culture that it has, but you can't do anything about the racism culture?" the trainee said. "[They say], unless someone calls you the N-word or is telling racist jokes, 'There's nothing we can do about it.' "
Shaw, the instructor, connected with the trainee in an effort to offer remedial help before he was ultimately recommended for attrition from the program.
"I'm not saying he is the next Chuck Yeager or anything," Shaw said. "But I've worked with him. He's no different in his performance than the average person going through."
Flanders, the CNAF official, said he could not discuss specifics related to the trainee's case due to provisions of the Privacy Act.
The trainee was recommended for attrition from training on Jan. 29, after a year-long stay at the unit that was lengthened by a four-month T-45 grounding due to pilots experiencing hypoxia-like issues in the cockpit and another month off due to family issues.
He's still pushing to stay in naval aviation and has submitted a detailed appeal to his congressman, Rep. Elijah Cummings, a Maryland Democrat.
Cummings' office said the congressman had reached out to the Navy and is awaiting a response.
For the trainee, whose father had a 24-year career in submarines, it's a heartbreaking end to a dream.
"I spent a year here going through hell, putting in so much effort to do well," he said. "All that effort and time was for nothing. If I knew what I knew now, I would have just gone and become an airline pilot."
-- Hope Hodge Seck can be reached at hope.seck@military.com. Follow her on Twitter at @HopeSeck.