June 26, 2018 marks USMC Lt. General Lewis Burwell "Chesty" Puller's 120th birthday and we think it's time to revive an old conversation: should the Marine Corps hero be awarded a posthumous Medal of Honor?
Puller is one of the fiercest fighters in U.S. history and was identified as the "Most Decorated Marine in his New York Times obituary. That tally includes 5 Navy Crosses, the Silver Star and a Purple Heart.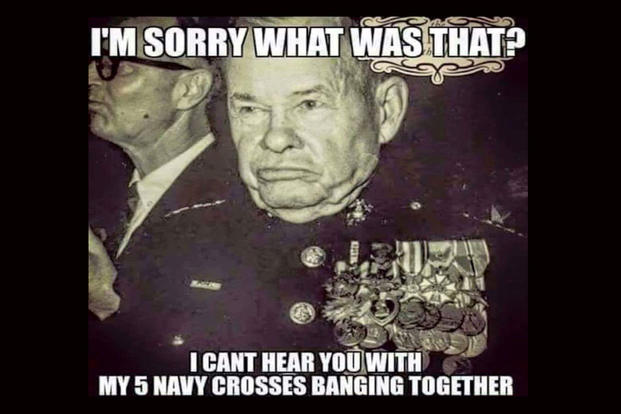 Marine recruits still chant Puller's name at boot camp and his colorful leadership quotes will be used to inspire our fighting forces for generations to come.
Example: when surrounded in Korean, Puller announced to his troops, "All right, they're on our left, they're on our right, they're in front of us, they're behind us ... they can't get away this time."
The Lt. Gen. was known for his composure and decisiveness in battle. Every one of his Navy Cross citations (two in Nicaragua, one on Guadalcanal, one on Papua New Guinea and a final one in Korea) cites his ability to calmly lead his men through battle in situations that might have broken a lesser leader.
Related content:
One hero who doesn't think that Puller's legacy needs any kind of upgrade is Medal of Honor recipient Dakota Meyer. Meyer told the Marine Corps Times, "I think this award stuff gets blown out of proportion. The guy is a hero. Hell, the guy's got five Navy Crosses. One Medal of Honor isn't going to make him a better man or more of a hero in my book."
What do you think? Should Puller have one of his Navy Crosses upgraded to a Medal of Honor? Is he such a badass that he doesn't need the validation? Let us know what you think and sound off!