Picture this: It's homecoming day, and you're in active labor with your second child.
That was Marine Corps spouse Katrina Wythes' reality in late August when her husband, a Marine Corps Sergeant, returned from deployment to Camp Pendleton, California.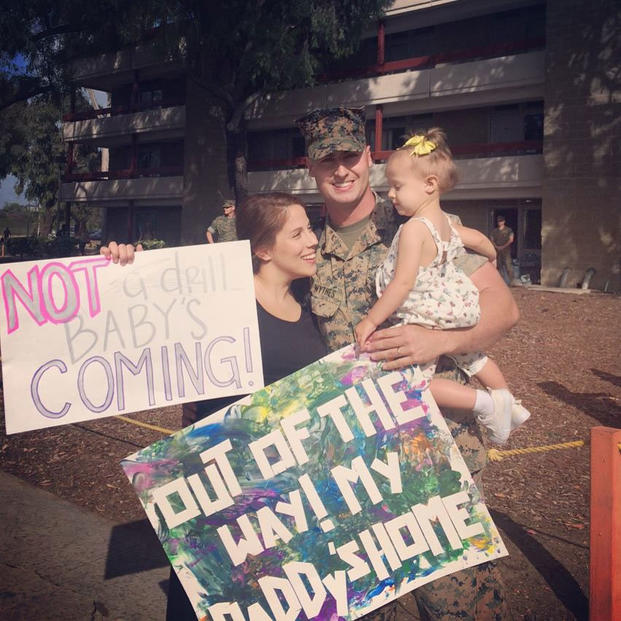 The baby really was coming! (Photo: Courtesy of Facebook.)
A video blogger, Wythes shared her story with the Facebook page Love What Matters -- and the post and video she took before, during and after her husband's homecoming has since gone viral.
"My husband deployed when I was about 3 months pregnant. The entire deployment we joked how I'd go into labor at his homecoming, while actually we tried not to think about the possibility of him missing the birth of our second daughter." she told Love What Matters.
"My contractions started about an hour after he boarded his first plane to come home. He landed to a text saying 'I think you better hurry!' and a screenshot of my contraction timer app. I was determined to be there to pick him up, so I just prayed my heart out, and begged baby girl to wait for her Daddy. Luckily, she did just that!"
Wythes attended the homecoming with a sign that read "Not a Drill. Baby's Coming!" and looked like she was, well, a little uncomfortable.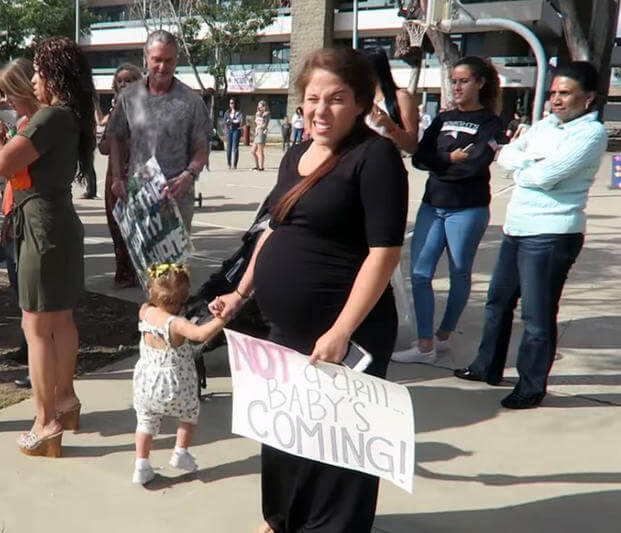 Wythes is a little uncomfortable looking while in labor at homecoming. (Photo: YouTube screen grab)
After welcoming her husband back, Wythes can be heard on the video encouraging him to get a move on and get her to the hospital.
"OK. We gotta go," she tells him.
"I think we're headed straight to the hospital to be honest ... obviously they're keeping me. I'm way, way in labor," she says after they are in the car.
Hours later, Wythes gave birth to new baby girl Julianna -- with daddy in attendance, of course.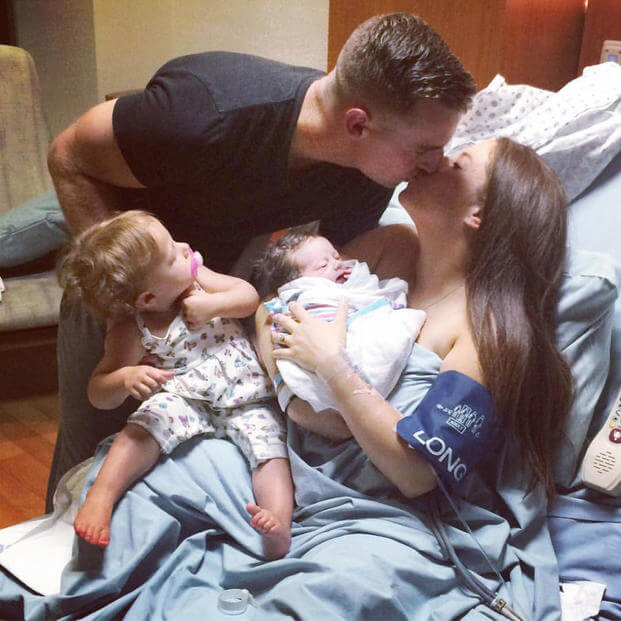 Katrina Wythes and her family welcome their new daughter. (Photo: Courtesy of Facebook.)
You can see the entire 25 minute-plus video -- and other hilarious vlog entries -- on Wythe's YouTube channel.