Not all military heroes are humans.
Five military working dogs -- four living and one honored posthumously -- were presented October 12 with the American Humane's Lois Pop K-9 Medal of Courage. 
We all know how troops rely on the good sense, training and courage of their canine partners to get their jobs done -- and protect the lives around them. The canine honorees do important and heroic work, like sniffing out bombs and saving lives. And even after their retirement from the military, the dogs continue to serve both in the home of their handlers-turned-adopters and, in one case, as a canine employee with the TSA.
So who are these hero pooches?
Alphie: Military hero and TSA agent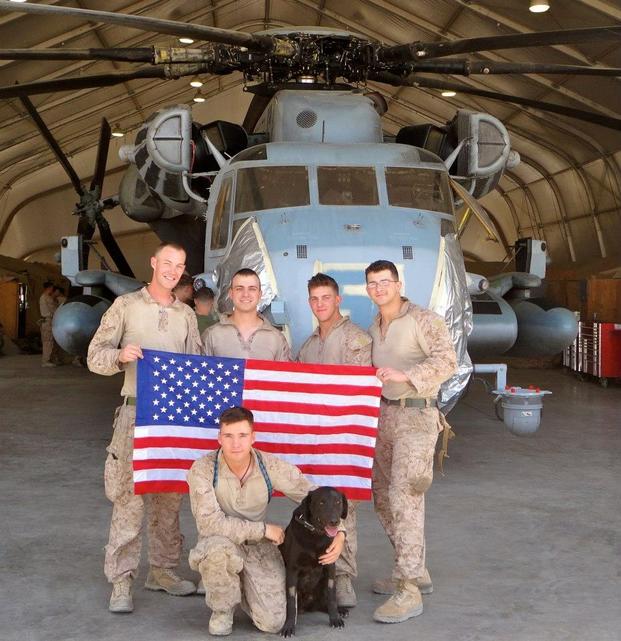 Alphie poses with his military team.
Black lab Alphie, a veteran of Afghanistan, served as an explosive detection dog helping his then-handler Marine Lance Cpl. William Herron. He cleared villages for IEDs, found enemy weapons and communications equipment and helped troops take out processing plants for illegal narcotics.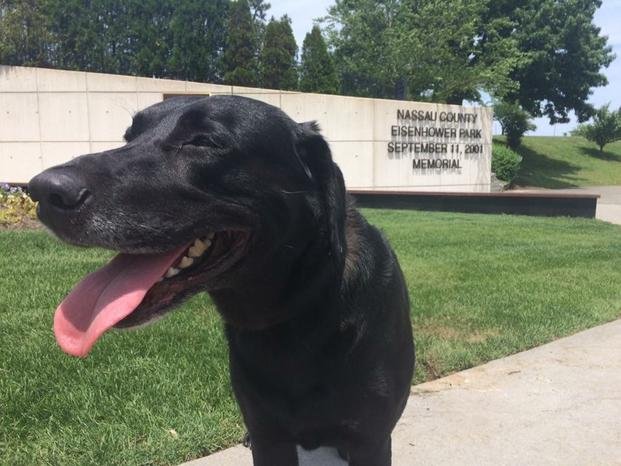 Alphie takes a break from his TSA day job. (Photo: Courtesy of American Humane)
But that's not all. After retiring from military service in 2014, now seven year old Alphie is working with a handler,  Lesley Runnels as a member of the TSA's elite Canine Explosives Detection Program. 
Coffee: Protector of many, devoted to one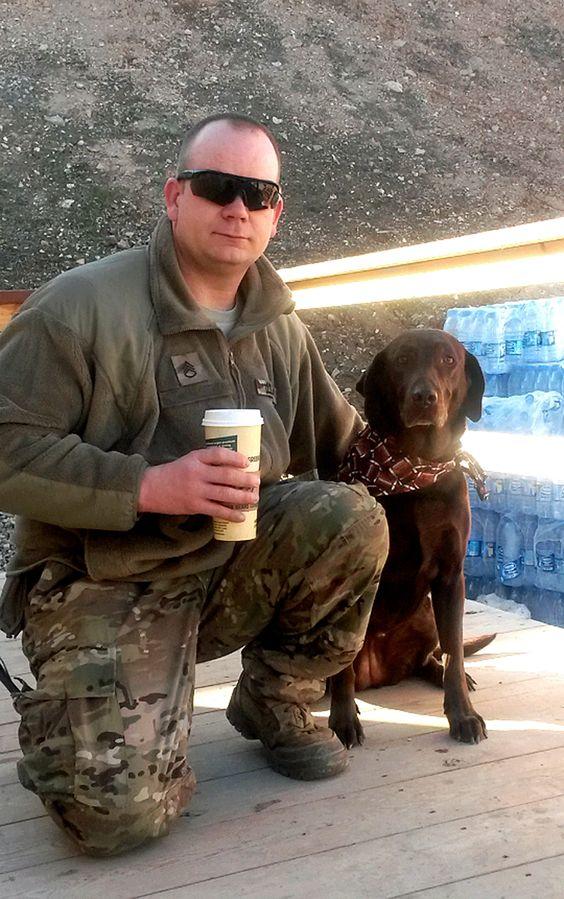 Coffee and his handler Sgt. First Class James Bennett. (Photo: Courtesy of American Humane.)
Chocolate lab Coffee has been by Sgt. First Class James Bennett's side since day one. An explosives-detection dog, Coffee never lost a soldier in her over nine years of Army service. Most dogs see more two to seven handlers over their time, but Coffee has only ever worked with Bennett.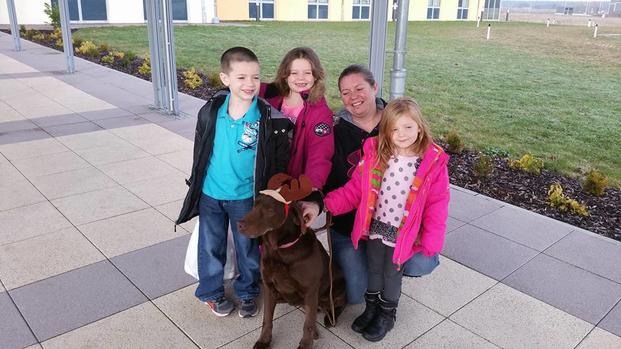 Coffee enjoys retirement. (Photo: Courtesy of American Humane.)
And that remains true in her retirement. Now 13, Coffee lives with the Bennett family.   
Gabe: From pound puppy to search hero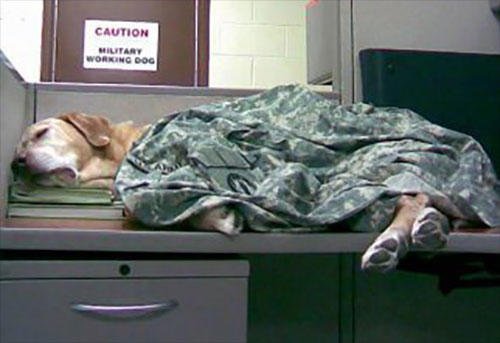 Military working dog and hero Gabe. (Photo: Courtesy of American Humane.)
Gabe was just a pound puppy when the military scooped him out of a Houston, Texas animal shelter. Starting his career as Specialized Search Dog for the Army in 2006, he earned more than 40 awards and coins of excellence in just three years on active duty.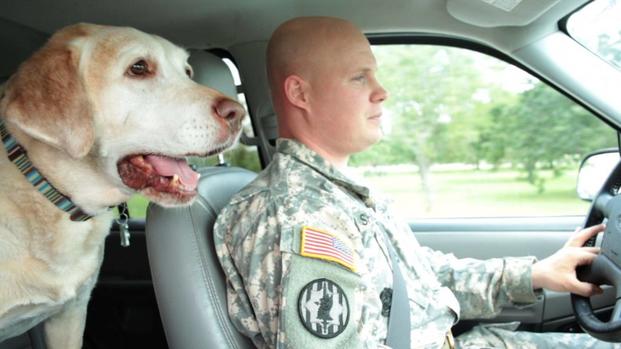 Sgt. First Class Chuck Shuck and Gabe. (Photo: Courtesy of American Humane.)
After being named American Hero Dog in 2012 by American Humane, Gabe toured the country with his handler, now retired Army Sgt. First Class Chuck Shuck as advocates for shelter pets.
Gabe passed away in Shuck's arms in February, 2013.
Capa: Protector of presidents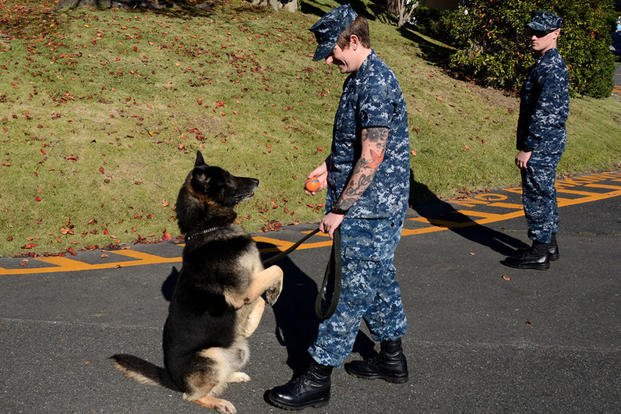 German Shepherd Capa (Photo: Courtesy of American Humane.)
The American Humane's medal of courage isn't German Shepherd Capa's first award. He has in the past received the Navy & Marine Corps Commendation Medal for meritorious service. 
Deployed to Iraq, Capa has also been tasked with providing security on four missions protecting the President of the United States, another protecting the First Lady and a mission protecting the Secretary of Defense. During nine years of service Capa protected thousands of American troops.
German Shepherd Capa (Photo: Courtesy of American Humane.)
He's now enjoying retirement with his handler Megan Wooster.   
Ranger: Veteran of Iraq and Afghanistan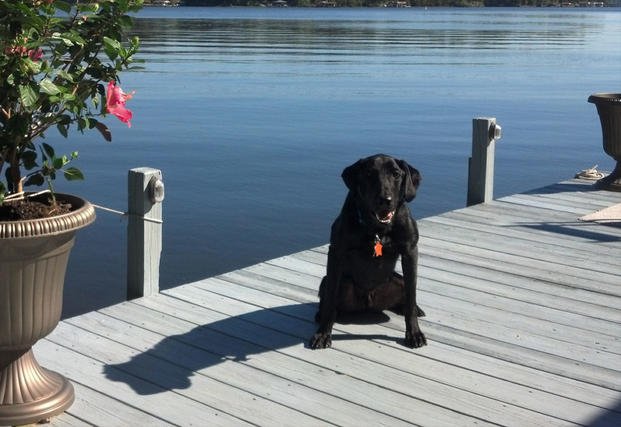 Ranger, now retired. (Photo: Courtesy of American Humane.)
Ranger regularly saved lives and risked his own in service to the U.S. as an explosives-detection dog. He sniffed out IEDs and protected our human troops.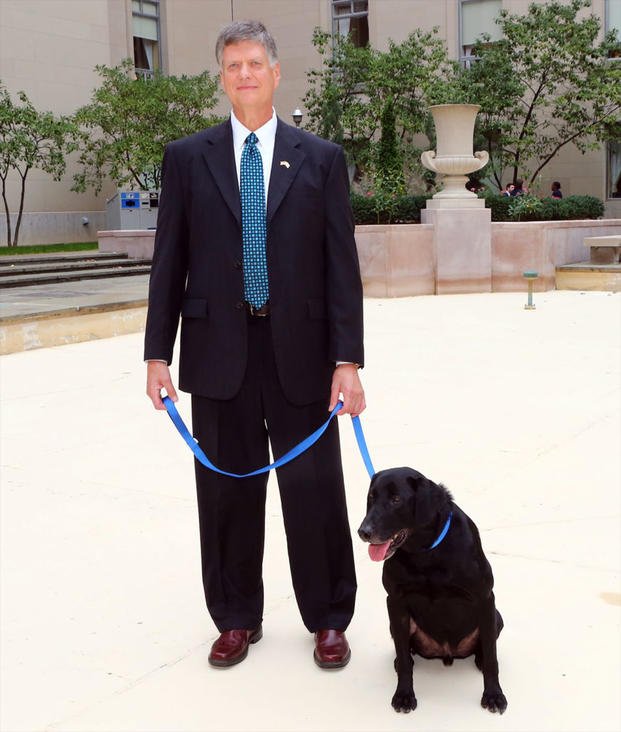 Ranger and his adoptive dad Kirk Adams. (Photo: Courtesy of American Humane.)
Retired in 2012 after suffering heat stroke, Ranger is now battling cancer. But he still makes sure that every visitor to his forever home is cleared for entry, his adopted Dad Kirk Adams reports. He diligently sniffs every visiting vehicle for bombs.