When it comes to sifting through the emails, social media posts and requests for your money on #givingtuesday, you may find yourself feeling a little bitter. Don't these organizations know you give of your time and money throughout the year? What makes this Tuesday so special?
Coming hot on the heels of Black Friday, Small Business Saturday and Cyber Monday, it only makes sense we have something on Tuesday, too. However, in typical military spouse fashion, a group of spouses have taken it to another level.
While much of Giving Tuesday focuses on contributing cash or physical donations, the Giving Tuesday Military effort is a little different. By asking people to instead contribute acts of kindness the military community can participate -- without spending a dime.
Co-founder Jessica Manfre said, "It's our second year running the campaign, and the goal is one million acts of kindness all over the world by activating our military community and patriotic supporters."
The #GivingTuesdayMilitary team consists of over 100 ambassadors around the globe who are coordinating events and ways for participants to join in acts of kindness on December 1st. Nonprofits and organizations are helping to support the goal by spreading the word and encouraging intentional kindness.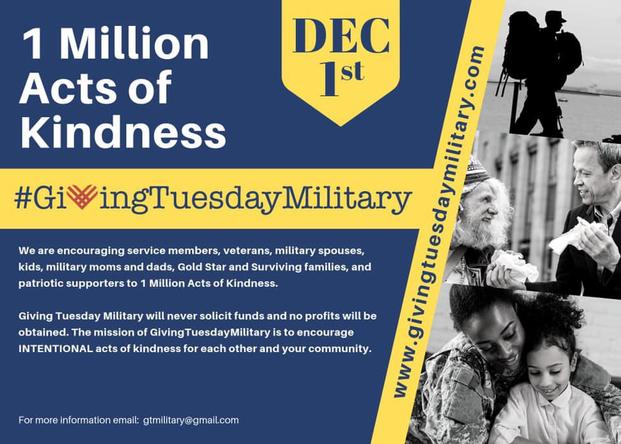 Manfre said there are many ways and locations in which people can participate, even with current social distancing recommendations. Some of the projects that have been planned include:
Blood drives
Writing thank you cards to veterans in hospice
Warm pajamas drives for foster children
Essentials drives for the homeless
Leaving kind notes in random places for strangers to find
Cleaning up parks and public spaces
Bring goodies to first responders and hospitals
But it doesn't have to end there and it doesn't have to be something prearranged. Military spouses have been speaking up for their local communities and issues that are close to their hearts. Tying those efforts in with #givingtuesdaymilitary broadens the scope of who can participate and brings the kindness outside the community.
Making Personal Donations
Military Chaplain spouse Jennifer Hamrick has a personal goal for a donation this year for #givingtuesdaymilitary. Hamrick recently published her book, "Once You See Racism" which talks about her upbringing as a white, Southern, Christian woman and how everything she learned about racism changed when they adopted a biracial child. Hamrick is donating all proceeds from the sale of her book throughout the month of November to an organization that she firmly believes helps with education about racism, Be the Bridge.
Boosting Morale
Military families near Keesler Air Force Base, can visit Christmas in the Park drive through light display on December 4th and receive a cookie making kit to kick off the holidays. The supplies for the 300 available premade kids were donated by businesses and individuals in the local community.
To participate in #givingmilitarytuesday, you can find a project close to your location or start one yourself. Check out all the things that are planned on the website, and make a plan to get involved.
Keep Up with the Ins and Outs of Military Life 
For the latest military news and tips on military family benefits and more, subscribe to Military.com and have the information you need delivered directly to your inbox.
--Rebecca Alwine can be reached at rebecca.alwine@monster.com. Follow her on Twitter @rebecca_alwine.