They are the only Special Olympics cheer team on a U.S. military base -- and now they are planning to head to the Special Olympics World Games in Abu Dhabi, United Arab Emirates.
Special Olympics works around the world with athletes who have intellectual and physical disabilities. Joint Base Lewis-McChord (JBLM), Washington, is the only military base that is home to a year-round Special Olympics or Special Olympics cheer squad.
Two members of the JBLM team are planning to join a larger group from the U.S. representing the program in mid-March in the UAE.
Although there are eight cheerleaders on the squad, the athletes must raise their own funds for the trip, a challenge just two families were able to take on, said Stacie Pogoncheff, who helps lead the program on base. While many Special Olympics sports receive funding help for travel to events, cheer does not, she said.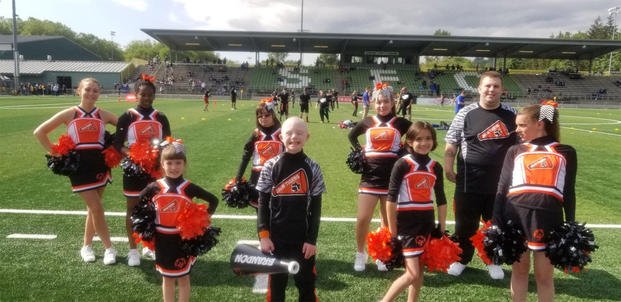 Pogoncheff said her daughter, Kelbie, 18, helped start the cheer program on base as a volunteer project. Pogoncheff's son, AJ, 12, has cognitive impairments stemming from premature birth and is active in the Special Olympics program, she said. The Pogoncheffs were honored by the Association of the United States Army as the 2015 volunteer family of the year, in part for their work with the Special Olympics program.
Pogoncheff said their program, which is run through the base Child and Youth Services office and the Exceptional Family Member Program where she also volunteers, has had plenty of interest from local families.
"A lot of it is word of mouth," she said. "I get to see families that come in, and as soon as I see someone that might have interest in sports, I make sure to tell them about Special Olympics and what they have," she said.
To get their two cheerleaders to the Middle East, the team needs to raise $20,000 alone just for airfare and hotels to cover the two cheerleaders, coaches and parents. So far, they've raised about $3,000 through a variety of fundraisers, including staffing the gift-wrap station at JBLM's Exchange any time they can.
"We will be gift wrapping, we're selling some items, I've done the Facebook fundraiser," she said. "Otherwise the parents have had to commit and say 'yes, if the money doesn't come through we're going to pay out of pocket.'"