This article by Alison Buckholtz originally appeared on the Military Officers Association of America (MOAA) website.
Lauren Hope is a self-described "military history nerd" who never imagined that she'd be able to transform her interest in vintage buttons and insignia into a business.
But this Army spouse-turned-jewelry-designer now fashions custom-made cufflinks, tie clips, earrings, necklaces, and brooches from old uniform pieces that others no longer have a use for. As her business, Hope Design Ltd., has grown, she launched the website ShopMilitary.org and hashtag #ShopMilitary to encourage customers to support a wide range of military spouse and veteran-owned initiatives. Hope, 34, started making jewelry as a child, back when the only materials she had access to were dried macaroni noodles, glue, and string. After she met her husband and his best friend - both West Point graduates with a passion for overlooked elements of military history - they started visiting junk shops and antique shows to track down memorabilia that corroborated some of the tales they'd uncovered. One of the biggest thrills, Hope remembers, was finding a gold Air Force button. That's because most Air Force buttons are silver - the gold ones were only worn from 1947 to 1949. At that time, the fledgling service used the same materials at the other military branches while leaders waited for their unique oxidized silver buttons to be produced. "When I find a treasure like that, it's a snapshot of history," she says.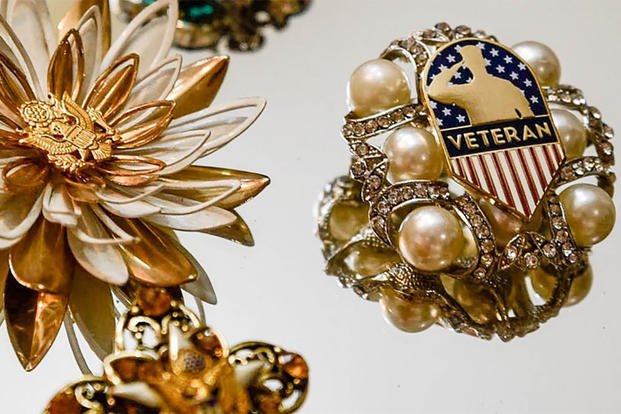 Hope also searches for "sweetheart jewelry," pieces that were purchased by World War II servicemen for girlfriends and wives back home. Those who served in World War II "are a passing generation, and their stories are being lost," she says. "I collect and restore those pieces so I can keep the stories alive for the military community."
One treasure with special meaning for her is a heart-shaped locket, tarnished and scratched, sold to her by an antique dealer for $2. She cleaned and shined it until the silver gleamed and the inscription from the soldier to his fiancée was legible: "To my sweetheart, Feb 14, 1943." She then sold it to another military history aficionado so she could afford to further her passion in restoring sweetheart jewelry.
Although much of the jewelry that Hope makes comes from commissions - including many from Gold Star Families who want to wear something from their loved one's uniform to feel closer to them - she sells ready-made pieces through her website, hopedesignltd.com, and on Etsy. The demand has been so great that she recently hired two military spouses near her home in Fort Leavenworth, Kan., to help with orders. She still makes all of the jewelry herself to maintain the "personal connection" that's important to her.
"Each piece has its own story and its own meaning, and when I can know the person in the military community it goes out to, it makes my heart happy," she says. "Especially with the Gold Star Families I work with, I feel like I'm helping that person be remembered. The sense of pride that these pieces are worn with is not lost on me."
Since Hope started selling her creations in 2013, she has met many other military spouse and veteran entrepreneurs managing their own businesses. To help them find their target markets and give consumers a way to support military-affiliated ventures, she launched a social media campaign called #ShopMilitary. The website ShopMilitary.org compiles and links to businesses participating in the effort.
"For people who want to support the military, this is a much more effective thing to do than putting a sign in your yard," Hope says.
In building the #ShopMilitary initiative, Hope relied on research from Hiring Our Heroes and other studies that have delved into the issue of military retention rates. Since lack of financial stability for spouses is a reason that servicemembers leave the military, she believes that strengthening spouses' ability to build careers can contribute to higher numbers of individuals remaining in the service. She and other #ShopMilitary participants are now working with several civilian companies to help businesses identify as military spouse-led.
As Hope's business and the #ShopMilitary effort gain momentum - recent photos of Second Lady Karen Pence wearing a Hope Design brooch have generated considerable attention - Hope finds herself busier than ever. It's a good problem to have, she acknowledges: "Military spouses have the innate ability to turn stress into just another adventure, so we're having fun with it."
This article, "She Transforms Vintage Military Insignia into Art While Boosting Other Businesses," originally appeared on the Military Officers Association of America (MOAA) website. MOAA is the nation's largest and most influential association of military officers.