Sesame Street Workshop has rolled out even more resources aimed at military kids, their parents and, now, even their doctors.
Let's get one thing out of the way right now. I can't lie to you: I adore Sesame Street. I won't even pretend to have the capacity to be critical of it. It's a bias planted from birth that I simply cannot overcome. When I was three my "pretend friend" was Cookie Monster (... I never claimed that I was a creative child). My sons were Elmo addicts. We, in short, are Sesame Street people.
Which is handy for us, because Sesame Workshop officials say they just love helping military kids.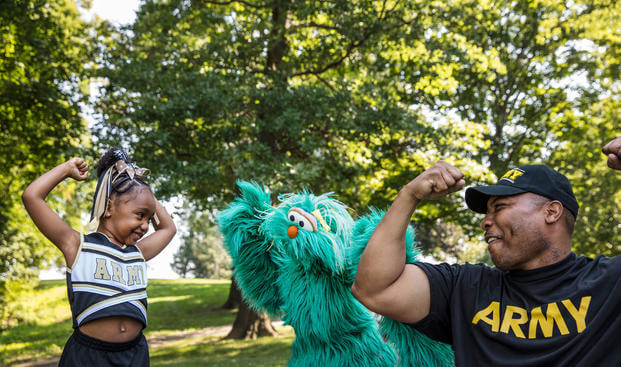 Since 2006 Sesame Workshop has been rolling out resources based on extensive research and directed at the military community. Deployment, injury, grief, military moves, transition back into the civilian world and making friends are all examples of the topics they've tackled.
But the team has recently introduced some new resources for both families and, for the first time, the medical professionals who care for them. That's because while many military families are seen on base by doctors who know the military life well, plenty are also seen off by those who simply don't personally know the stresses of military life, or what its impacts can be on the kiddos.
And it's more than just versing providers on what being a military family means. Getting them keyed into Sesame's resources is another way to get the word out about resources to the families themselves, said Jeanette Betancourt, Sesame's senior vice president for community and family engagement.
Just like the rest of the military community, the challenge isn't always in offering the resources, it's in letting people know they exist.
"It could be a pediatrician or it could be the nurse practitioner, or the person doing intake in the office ... they do want to introduce these materials," she said. "What we often heard is there's so many military families and young children, but they often feel like they are alone."
Sesame has also recently introduced military parent and child help specific to life celebrations, like birthdays, and overall health and wellness, like eating healthy meals and getting outside to exercise.
If you've ever watched Sesame Street as an adult, you know that not all of the content and humor is there for the kids. After all, who doesn't enjoy a Cookie Monster parody video?
That's on purpose, Betancourt confesses. But for the military resources, the team goes a step farther, developing help specifically and blatantly to help parents work through the tough stuff with their kids.
"We create resources that are very child centered ... but there's also additional resources specifically for the grown-ups and it talks to them from the point of view of their routine or how you can sneak in these strategies," she said.
So what's next? Betancourt said they have heard a need for more resources for parents and kids who have left military life and now find themselves in the role of caregiver to an injured service member. She said they are currently doing research to get that help ready to go.