On Dec. 11, 2021, the Army Black Knights and Navy Midshipmen will meet at New Jersey's MetLife Stadium. This will be the 122nd meeting between the U.S. Military Academy and the U.S. Naval Academy football teams, but it will be the first time the game has been played at MetLife Stadium.
Currently, Navy leads the all-time series with 61 wins to Army's 53 and seven tie scores. Navy comes into the new venue with an advantage, having played in MetLife Stadium before, where the Mids beat Notre Dame 35-17 in 2010. Navy also tops Army in three of four Army-Navy games held in East Rutherford, New Jersey, at old Giants Stadium. Those wins came in 1989, 1997 and 2002.
Army has topped Navy in four of their last five meetings and comes into the game with an 8-3 record. Navy (3-8) has had a tough season, with its wins coming against UCF (8-4), Tulsa (6-6) and Temple (3-9). Three of its losses were against ranked Top 25 teams, while Army played just one ranked team.
Army is also guaranteed to retain the Commander-In-Chief's Trophy with its win over Air Force earlier in the season. Army won the coveted trophy in 2020, defeating both Air Force and Navy, and is set to win it again with a victory in this year's Army-Navy Game. If Navy wins the game, the trophy will be shared, but Army will keep it at West Point as tradition dictates.
On Sept. 11, 2021, Air Force defeated Navy 23-3, holding the Midshipmen to a single first down by the start of the fourth quarter, and limiting Navy to 68 yards of offense. Army topped Air Force on Nov. 6, overcoming the Falcons in overtime when an Army player recovered a teammate's fumble in the end zone for a touchdown.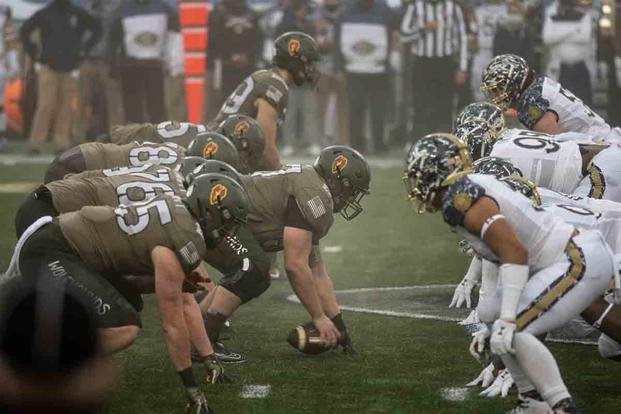 Navy's Key to Victory
"The Army goes rolling along" is not only the Army song; it's how the Black Knights play football. Army averages 301 rushing yards per game and 5 yards per carry. If the Mids are going to have a chance of winning this year's game, they will need to shut down Army's relentless rushing attack.
Shutting down the Black Knights' Christian Anderson will be the biggest issue for Navy. He is Army's dual-threat quarterback, leading the team in passing yards and its second-most productive rusher behind running back Tyrell Robinson. The Navy defense will have to pressure and contain Anderson for all four quarters to win this game.
Army's Key to Victory
The Black Knights should not underestimate their opponent. While Navy comes into the game with fewer wins in their schedule, it's a new day when Army plays Navy. The Midshipmen's season started off slow, but the team can still put up points. In Navy's three matchups against ranked teams, the Mids stayed in the game against two of them. Navy's loss to #16 Houston came by just eight points while the game against #3 Cincinnati was lost by a single touchdown. Navy also kept the score close against SMU and East Carolina.
The key to an Army win in this year's game will be its run defense. Army is allowing 22.8 points per game coming into MetLife Stadium and Navy has a potentially explosive rushing attack of its own. Look to Navy fullbacks Isaac Ruoss (and his 608 rushing yards) and Carlinos Acie (averaging 9.6 yards per carry) to keep the ball moving and chew up the game clock.
-- Blake Stilwell can be reached at blake.stilwell@military.com. He can also be found on Twitter @blakestilwell or on Facebook.
Want to Learn More About Military Life?
Whether you're thinking of joining the military, looking for post-military careers or keeping up with military life and benefits, Military.com has you covered. Subscribe to Military.com to have military news, updates and resources delivered directly to your inbox.