Nashville pop country duo Florida Georgia Line, best known for their 11x platinum smash "Cruise," will headline the next event in the USO's MVP Summer Series on Saturday, Aug. 1, at noon ET.
Joining FGL for this Military Virtual Programming Event will be Grammy Award-winning pop group The Chainsmokers and singer-songwriter JoJo.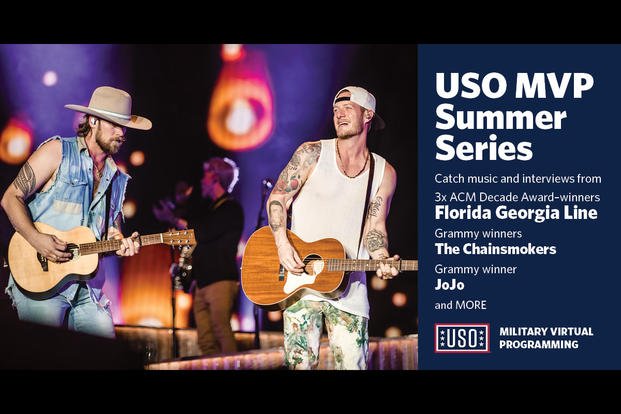 You can watch via Facebook Live or YouTube. Links to all the live streaming spots can be found at USO.org/MVP. You can also check out the live July 4th event featuring country superstar Clint Black on YouTube.
Related: Clint Black, Headlining the USO July 4th Concert, Reflects on an Epic Country Career
After 16 No. 1 country singles, FGL's Tyler Hubbard and Brian Kelley are still going strong and still love to crank up the AutoTune to 11 on their vocal tracks. Their latest single, "I Love My Country," has lyrics that cleverly manage to be about their music and America at the same time.
This prerecorded Florida Georgia Line concert was shot at The Anthem in Washington, D.C., as part of the World's Biggest USO Tour in 2018.
Related: You Can Watch the 'World's Biggest USO Tour' Show Live from DC
The Chainsmokers, fresh off a newsmaking benefit concert in the Hamptons, have been among the most consistent hitmakers of the last decade. The duo of Alex Pall and Drew Taggart scored a No. 1 hit with the 12x platinum single "Closer," featuring vocals from Halsey.
JoJo scored a No. 1 pop hit in 2004 at age 13 with the single "Leave (Get Out)." An artist who's been known to fight for her creative rights and take on label interference, she released her fourth studio LP "Good to Know" via Warner Records in May 2020.
The USO has plans for another major MVP event over Labor Day weekend. Stay tuned for details and tune in this weekend for Florida Georgia Line, The Chainsmokers and JoJo.
Keep Up With the Best in Military Entertainment
Whether you're looking for news and entertainment, thinking of joining the military or keeping up with military life and benefits, Military.com has you covered. Subscribe to the Military.com newsletter to have military news, updates and resources delivered straight to your inbox.