Country music legend Clint Black's new song, "America (Still in Love With You)," is about finding common ground as a nation -- a theme that might seem a little out of our grasp right now. But in a recent interview with Military.com, Black said that's sort of the point. Even while stopping to acknowledge the flaws, he said, we can appreciate its aspirations.
"America is a ship that's constantly trying to right itself and there's a pendulum. It keeps swinging to each extreme as everyone tries to pull it to the middle from the opposite side," he said in the interview. "So if you look at what this country has been through, look at its founding and all its flaws, I think its aspirations are what we should appreciate, not its shortcomings."
Black is headlining the USO MVP July 4th Special, appearing alongside comic actor Craig Robinson ("The Office"), comedian Iliza Schlesinger, Mike Love & the Beach Boys featuring John Stamos and "America's Got Talent" world champion Shin Lim.
The show will air Friday night July 3rd at midnight ET and repeat on Saturday July 4th at noon ET, streaming on the USO's Facebook, YouTube and Twitch pages. The shows are open to anyone who wants to watch.
To insure a quality viewing experience, the show was pretaped and will be edited so that everyone looks their best. There will be video visits to bases around the world plus questions and shoutouts from our men and women in uniform.
Clint talked with us via phone this week. His new album, "Out of Sane," which includes "America (Still in Love With You)," released on June 19th and had a full slate of tour dates and public appearances scheduled for the rest of the year. Everything's on hold in his camp while we wait to find out when it's safe to go back to music.
Clint Black represents a bridge between classic country music artists and a handful of modern traiblazers. He managed to carry on the tradition of singer/songwriters like Dolly Parton, Merle Haggard, Buck Owens and Willie Nelson in an era when Nashville labels wanted their artists to only sing songs written by the Nashville pros.
Clint was a lonely holdout in the '90s and helped set the stage for modern Nashville icons like Kacey Musgraves, Eric Church, Taylor Swift, Sturgill Simpson, Chris Stapleton and Miranda Lambert. There are still plenty of successful country music singers who opt to perform outside material, but Clint helped blaze a path that allows for more than one type of career in Nashville.
There's a lot of frustration for anyone who's made a career in the performing arts, perhaps more than the general public has been able to fathom so far. Black opened up about the issues that he and his support team are facing. He also shares some stories about his history with the USO and how the excellent new single "America (Still in Love With You)" came together at the last possible moment.
Check out our conversation with Clint, enjoy the show this weekend and wonder how it's possible that the man who wrote and performed "Killin' Time" isn't yet in the Country Music Hall of Fame.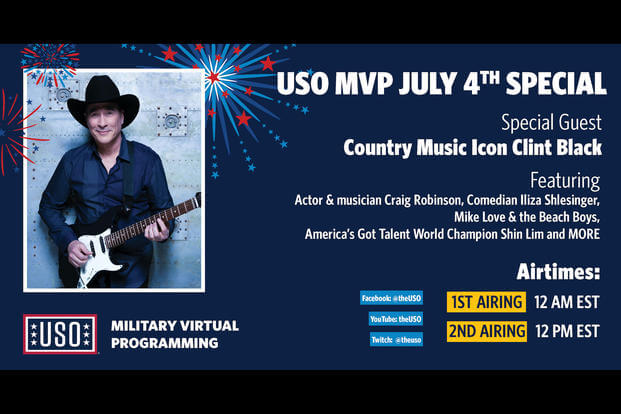 Military.com: Tell us about the USO MVP July 4th Special.
Clint Black: Well, it's a multi-locational show and that makes it a little more segmented, but the taping felt really good. I sat at my console, playing and singing and talking to Craig and having fun with him.
We got shout outs and questions from soldiers and officers all from all over the world. They'd put their images up on a screen so I could see everyone I was interacting with. It all felt really natural considering the restrictions we had.
I really enjoyed it from the musical standpoint. It's me with my acoustic guitar and harmonica brace. I didn't just use the computer mic. I'm running through a 1953 model Telefunken U47 Neumann microphone and a mic preamp. I've got all the best gear, so the sound quality is good as long as I didn't ruin it in post.
I'm just performing some old hits, some deep cuts and some stuff off the new CD and answering questions. I don't yet know how they're going to put it all together, but just from what I saw on the day we taped it, it's going to be really fun.
Of course, it's not up there with a full band entertaining. I see it a little more humbly and want to try to manage the expectations. I do think it'll be fun for those isolated on bases around the world.
Military.com: What's your history with the USO?
Clint Black: I've done some stuff with Bob Hope on his USO specials. I went overseas during Operation Restore Hope when our troops were in Somalia and went over and traveled around and played in everything from an abandoned soccer stadium to a decontamination tent to the tailgate of a transport truck near the Ethiopian border. We traveled around and played on bases to support the troops any way we could.
Military.com: Tell us about your new album "Out of Sane" that came out on June 19th.
Clint Black: I finished it right on the cusp of the lockdown while inklings of quarantine were being talked about. Steve Warner came over to show me his new Steve Wariner Gretsch, which he'd kept forgetting to bring over every time he came over to write the record. I had ordered mine, but I hadn't yet received it. So he comes over and we're messing around playing his guitar.
Steve and I wrote half this album together. Hayden Nicholas and I wrote the other half. I told Steve about this idea that I had: "I'm still in love with you in spite of all our ups and downs" and recited some of that chorus getting to the hook: "I'm still in love with you America."
Steve didn't see that coming and said, "Yeah, we've got to write that." And I said, "What would we do with that musically? And he goes, Oh, I don't know. I've kind of hear this". And we started messing around with ideas and I just sort of pushed us into songwriting, which we hadn't planned.
I'm off to the side, texting my production assistant and engineer and musicians to see who's available two, three, four or five days from now, whatever we can do. I think we were writing this on a Saturday and had a tracking session on Wednesday. I got my vocals sung on Thursday, put my slide guitar on there and then gave it to my engineer to mix and then on the bus and went to Kansas to do a show.
[Editor's Note: Jambase says that Clint had a show scheduled in Mulvane, Kansas on March 13 which seems like the tail end of the times when people were trying to keep businesses open as usual. It also lets us know just how new a song "America (Still in Love With You)" actually is.]
We drove 800 miles, woke up the next day thinking there's no way we have a show. The shutdown was looming. The first thing I did was text my manager. "Do we have a show?"
Nope. They shut it down. County commissioner came over and shut it down. So we let the driver sleep all day, got on the bus that night and drove 800 miles back to Nashville.
And that was the beginning of the lockdown. So now my engineer gives me the mix and I work on it for four days and get it mastered and delivered on the day of my deadline.
Military.com: "America (Still in Love With You)" is a song about finding common ground in spite of problems and differences. That shouldn't be a controversial idea, but we find ourselves in a moment where some people aren't looking for ways to come together.
Clint Black: I've tried to write the song so it would ring true for anyone. I have friends from every stripe from ultra-conservatives to socialists. I'm sure I've also got every kind of fan, and I didn't want to offend anyone's sensibilities but, at the same time, I know what there is to love about this country.
I know all of our country's flaws and warts and I think it's still worthy of our greatest affection and appreciation just like any family member who has flaws. Maybe there are some family members who have to be written off because they're irredeemable or whatever.
But America is a ship that's constantly trying to right itself and there's a pendulum. It keeps swinging to each extreme as everyone tries to pull it to the middle from the opposite side. So if you look at what this country has been through, look at its founding and all its flaws, I think its aspirations are what we should appreciate, not its shortcomings.
Military.com: Do you have an idea about when you might be able to return to touring?
Clint Black: At this point, the earliest we may go out is the beginning of September. We've lost hold on our August dates now as of a couple of days ago. I believe wholeheartedly that this virus is here to stay in some form or fashion. A vaccine is a long time down the road and not everyone's going to take it. So this virus will stay with us.
I really have some well-founded fears about what's going to happen to our people in music. There's so much at risk for staying locked down and there are risks for unlocking us, but there's a long line of people associated with every show I do. I'm afraid they're all about to involuntarily meet real estate agents. If there's no work, they may be forced to just walk away from their homes.
You look around and it's not just music. It's Bear in the Big Blue House on tour and Stars on Ice. It's all of Broadway. It's the local symphony orchestras. It's the comics who go on tour. It's so far-reaching, it's just unfathomable. People can't imagine what this is doing psychologically to all of these people.
Keep Up With the Best in Military Entertainment
Whether you're looking for news and entertainment, thinking of joining the military or keeping up with military life and benefits, Military.com has you covered. Subscribe to the Military.com newsletter to have military news, updates and resources delivered straight to your inbox.