Spartan Race, voted Outside Magazine's Best Obstacle Race in 2012, is the world's leading obstacle race series and the first of its kind to have global rankings. Spartan Race is a timed event series featuring races at three escalating distances in locations worldwide that culminate in a World Championship Finale with cash and prizes for the champions. While featuring competitive elite heats, Spartan Races are for athletes of all levels and abilities and are geared towards ripping people off their couches and into the outdoors.
Spartan Race has had a longstanding commitment to the Armed Forces. In 2012, a portion of all Spartan USA revenue is donated to Homes for Our Troops, a national nonprofit, nonpartisan organization that assists severely injured servicemen and servicewomen and their immediate families by raising donations of money, building materials and professional labor and to coordinate the process of building a home that provides maximum freedom of movement and the ability to live more independently.
Learn How to Train for Any Race
Spartan also launched a Military series in Fort Carson, Colorado in May of 2012.  The Military series was a huge success and it was coordinated through the Army Department of Family and Morale, Welfare and Recreation (DFMWR), a comprehensive network of support and leisure services designed to enhance the lives of soldiers (active, reserve and guard), their families, civilian employees, military retirees and other eligible participants.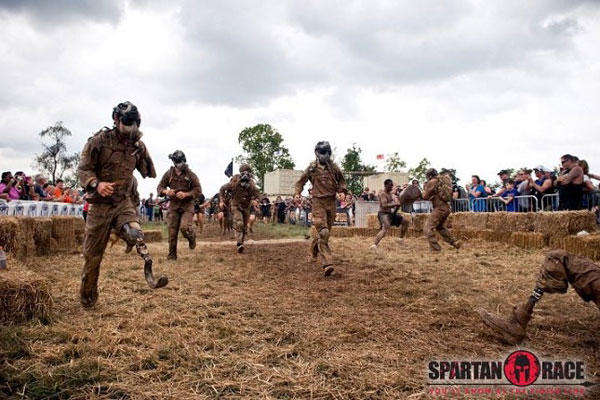 In keeping with the longstanding Spartan Race tradition of giving back, a portion of the proceeds from the Spartan Fort Carson event was donated to direct military nonprofits including the Green Beret Foundation.  Future military series events will do the same and will donate to other organizations to help address the unique needs of each respective host installation. 
In a recent Spartan event in Leesburg, VA Team X-T.R.E.M.E. took part in the event and they are set to be a part of the upcoming Spartan Beast in the Carolinas October 13th and 14th.  The team is actually a non-profit organization with an ongoing mission to Honor, Empower and Motivate our nation's wounded heroes and it was started by Jeremy Soles, a United States Marine Corps and Operation Iraqi Freedom veteran.  Known for donning blacked out gas masks for endurance events that restrict 25 – 30% of oxygen intake, Team X-T.R.E.M.E. completed the brutalizing 10.5 mile course and all the obstacles on Saturday.  With over 75 obstacles to speak of, it was no small task.  The gas masks are worn as a symbol of encouragement and inspiration for their fellow wounded brethren and to honor the sacrifice of our nation's wounded veterans.  The venue in Leesburg, VA is a unique location, normally reserved for horse racing, but it wasn't horses that were unleashed on the landscape this weekend, it was people who would ultimately hurdle, climb, crawl and run their way to the finish line.
The course was rugged and muddy, each obstacle posing a unique challenge to the team who took turns carrying Team X-T.R.E.M.E. member, USMC Cpl. Todd Love who weighs in around 100 pounds.  Love was carried throughout the course but regularly completed obstacles solo including a heroic hill climb near the halfway point of the race, the cargo nets and rope climbs.  It was an inspired finish by an incredible team.  Go to www.spartanrace.com for more information, a schedule of events or to register for a Spartan Race. For videos, please visit www.spartanrace.tv. Their tagline touts, "You'll know at the finish line!"