Are you eligible for a VA loan? While it's generally left to the VA to determine eligibility, these facts can help you get the loan you earned!
A VA loan can be a great way to finance a home. The government-backed mortgage program has several unique features that save borrowers cash both up front and each month. In fact, it's one of the few programs available that allows for 100% loan to value (LTV), meaning you may be able to finance the full loan amount. Even better? Private mortgage insurance (PMI) is never required – even when you put zero down.
What borrower wouldn't love zero down payments and no PMI? Many would, however these loans aren't for everyone – VA loan eligibility must be earned.  Here are 10 facts about VA loan eligibility that will help you determine your own eligibility.
Find out if you're eligible for a VA loan. Click here to get in touch with an approved lender now.
1. VA Loan Eligibility is Earned
Most service members are told that they will be eligible for a VA loan if they stay in long enough. Generally, service requirements are as follows:
2 years for regular service members
6 years for Reservists and National Guard members
90 days active duty during wartime
181 days active duty during peacetime
Are You Eligible for Home Loan Benefits?

If you're not sure if you meet these requirements, don't worry! You may still be eligible for a VA loan.
2. All Uniformed Services Have VA Home Loan Benefits
When most people think of VA loan eligibility, several military branches may come to mind. But did you know there are seven uniformed branches that have home loan benefits? These include:
Army
Navy
Air Force
Marines
Coast Guard
Space Force
National Oceanic Atmospheric Administration (NOAA)
Public Health Service (USPHS)
For commissioned officers of NOAA and the USPHS, you may have access to VA loans. Please check the VA website for more information.
3. Reserve/National Guard Members Can Earn Eligibility Too
Weekend warriors are also eligible for VA loans. If you are currently serving your country in the Reserve or National Guard, you are eligible for this great benefit after 6 years of service. No longer active duty? Not necessarily a problem. During the Iraq War a great number of Reservists were deployed to active duty. If you were, you could be eligible under active duty wartime (90 days or period ordered) rules.  Here's how the Reserve and Guard members can typically earn eligibility:
Six Years of Service, and

Discharged honorably, or
Placed on retired list, or
Transferred to Standby or Ready Reserve after honorable service, or
Continue to serve in Selected Reserve
Again, be sure to check the VA website for more information.
4. You Can Earn Benefits Faster by Serving on Active Duty
If you're on active duty, or called up for active duty service, you may be on the fast track to earning your home loan benefits. (Requirements vary for periods.) Here is a summary of active duty requirements:
90 continuous days for active duty service members
90 days of active service for current Guard and Reserve service members (this can be either Title 10 or Title 32 service)
90 total days for wartime veterans until 05/07/1975
181 continuous days for peacetime Veterans until 09/07/1980 (10/16/1981 for officers)
At least 181 days or full call for peacetime Veterans 09/08/1980 – 08/01/1990 (10/17/1981 beginning date for officers)
At least 90 days or full call for Gulf War Veterans 08/02/1990 - present
Determining your own eligibility can seem complicated. If you need help, contact a lender that specializes in serving veterans.
5. Surviving Spouses Can Earn Eligibility
Spouses play an active role not only in the decisions of their husbands, wives, or partners, but also in decisions that affect the military. And while not serving alongside their spouses, their sacrifice for the greater good can lead to uncertainty and stress – including the unimaginable.
In the past, surviving spouses could only be eligible for VA loans if a husband or wife died on duty or from a duty-related injury. But times have changed. Now, when a veteran dies of any cause, a spouse may apply for a VA loan as long as the veteran lived with a duty-related condition for a period designated by the VA, and is eligible for compensation at the time of death. Some eligibility requirements include:
Veterans who died in service, or of duty-related causes
Veterans who were disabled and eligible for compensation
POW or MIA
Surviving spouses should strongly consider checking with the VA about all bereavement benefits during this difficult time.
6. Certain Other Members Can Earn Eligibility
Did you know: Veterans of the 7 branches and National Guard/Reservists aren't the only people who are eligible for VA loans? In fact, several other groups may be eligible, including:
Academy Cadets

West Point
Air Force Academy
Coast Guard Academy

Midshipmen
POW and MIA
Of course, certain rules apply. However, if you fall into one or more of these categories, you may be able to receive a VA loan. For more details on VA loan eligibility, click here.
7. There are Eligibility Requirements for the Home Too
You should know that the home you buy must meet VA minimum property requirements (MPRs), and that only certain types of homes can be financed under VA loans.
What Can You Buy with a VA Loan?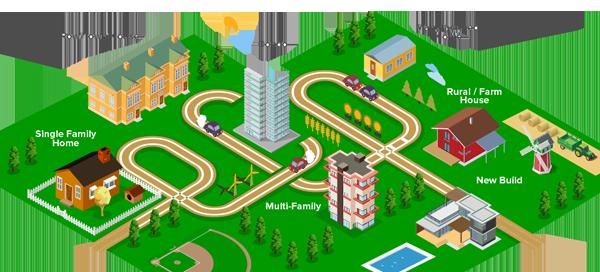 During the VA loan process, a VA-certified appraiser will use a checklist to ensure the structure meets MPRs. At a minimum, the home needs to be safe, sound, and sanitary with a good foundation, structure, and roof. Basic requirements like clean water, heat, power, and no health hazards are next on the list. Any home with pests, mold, rot, or broken windows will not pass muster. The home must also have year-round access on a well-maintained road. Other requirements include distinct living areas for sleeping, cooking, dining, and bathing. Check with your real estate agent for additional requirements.
8. If Your Service is Cut Short, You May Still Be Eligible
It is possible to earn benefits if you have not met the minimum service requirements, and were discharged due to one of the following:
Hardship
Government convenience
Reduction in force
Certain medical conditions
Service-connected disability
9. A COE in Hand Puts Any Doubts to Rest
If you have any doubt about your VA loan eligibility, a certificate of eligibility (COE) will clear it up. A COE is proof you're entitled to home loan benefits. If you think you may be eligible, obtain your COE. Lenders need this document before they can consider you for a VA-backed loan.
How Can I Get My COE?

You can get a COE printed instantly through your lender if the VA has sufficient data for you and if the lender has access to the VA's WebLGY system. If you are not in the system, your lender can still help you obtain your document. Ask your lender to provide the correct forms to fill out and expedite the process.
10. Eligibility is Just Part of the VA Loan Process
Eligibility is just one part of the VA loan. Four key parts make up the process. If you're eligible and want to buy a home, get ready to prove that you also have the ability to pay your mortgage and any buying-related costs. Your lender will likely run a credit report very early in the process, and they will ask about your assets and income up front. Be prepared to back up any claims with documentation.
However, the VA loan qualifying process is straightforward. While individual lenders determine the qualifying guidelines, a credit score of around 620 is generally needed, along with a debt to income (DTI) ratio of 41% or lower. Exceptions to the DTI rule do apply, such as if you have more than enough residual income. You'll need to have enough money left over to live after paying all your monthly expenses, including your new mortgage. An approved lender will determine if you have the ability to pay for your loan.
4 Keys to VA Loan Approval

For more information about VA loan eligibility or to obtain your COE, contact an approved lender here.