Home improvement projects take planning, especially when it comes to funding them. A VA refinance may give you cash to turn your current home into your dream home.
Does your home have exactly what you want? Does it have the granite countertops you love? Or how about the three-car garage you need? It's a loaded question, and many homeowners settle for a home that has enough of the features they want -- but not all of them. Many homeowners, given the choice, would rather remodel their current home than buy a new one to get more of the features they love.
A popular show on HGTV called "Love It or List It" pits a real estate agent and an interior designer head-to-head to help homeowners decide - do I stay or do I go? And while the agent takes the homeowners house hunting, a designer remodels the current dwelling. Open-concept floor plans, gourmet kitchens, and master retreats are usually added. In each episode, suspense builds as homeowners are faced with the decision to love their updated home or list it and buy a new house.
But unlike the homeowners on HGTV, most people don't have a TV production team in their back pocket. Instead, they need to think the decision through for themselves.  A VA refinance in the current housing market may help make your choice a little easier. With a VA refinance loan, eligible borrowers can take cash out up to 100% of their home's equity to pay for renovations like new kitchens, master baths, and even a brand new addition.  And, VA loans have competitive rates -- often lower than what's offered for conventional loans. Click here to learn more about VA refinance loans.
Not sure if you love your home or want to start fresh somewhere else? Here are some factors that may affect your choice.
Where Should You Spend Your Remodel Dollars?
Many homeowners think with their eyes instead of their wallets and spend big money on kitchens, landscaping, and superficial upgrades. But the data proves that this isn't always the wisest financial path.  According to the National Association of Realtors (NAR), attic insulation gives homeowners the largest return on investment (ROI). In fact, adding insulation to the walls and attic is the only home improvement that pays out more than you spend ― a whopping 116.9% return, should you sell.
Most of the go-to projects like master bedroom and bathroom remodels yield the least ROI.
But what about one of the most popular remodels: a new kitchen? In case you're wondering, the average ROI on a new kitchen is 83.1%. While this popular home improvement probably won't give you your money back, a kitchen remodel may increase the value of your home if you sell, and can help you be more comfortable if you stay.
What are Your Improvements Going to Cost?
It is so important to plan before you start your remodel. First, think through all your designs completely, and if you can, consider hiring an interior designer, general contractor, or architect to get the most out of your spaces. Also, make sure to get multiple estimates from several licensed contractors. In a recent Angie's List online poll, more than 30 percent of members admitted to soliciting fewer than three bids for their last home remodeling project, which can lead to being overcharged, missed deadlines, or other problems. Are you a handy homeowner? You may be able to cut some costs by doing the cosmetic work yourself. But major structural, electrical, and plumbing work will need to be completed to code and is best left to professionals.  Here's the average remodel costs for a typical home (about 2,500 square feet):
Average Remodel Costs for Typical Home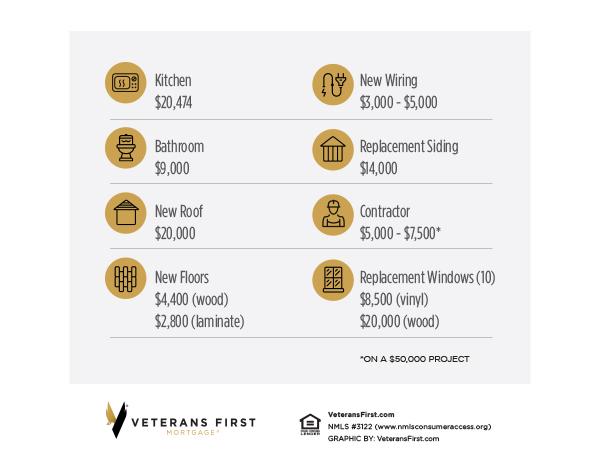 Once you understand the total cost of your renovations, you can begin to assess if a remodel makes sense for you.
How Are You Going to Pay for Your Improvements?
If you don't have a lot of money saved up for your home improvements, a VA cash-out refinance loan can be a great low-interest, long-term financing option.  Click here to learn more about VA cash-out refinancing.
To consider a cash-out loan, you'll need equity in your home. Here's the good news: home prices are up annually in all nine U.S. Census divisions.  If you've owned your home for a while, this may be a great option.
But before you move forward with a VA cash-out loan, you'll need a VA appraisal. Only VA-certified appraisers can assess your home's value for a VA loan. To get a VA appraisal, contact your lender. They are usually completed within 10 days, though they may take more time, particularly in certain rural markets.  If you qualify and your home appraises at a high enough value, you can cash out up to 100 percent of your home's equity. The amount you cash out will be added to your total principal. Certain refinance costs you don't pay upfront may also be added to your loan. 
Many homeowners find that using their equity to pay for home improvements now allows them to benefit from the improvements longer, with low interest. If maximizing the amount of time you're able to enjoy the enhancements to your home is a priority, taking advantage of your current equity may make more sense than waiting until you can save cash for the project.
How Much Remodel Can You Afford?
Let's say you find out after the VA appraisal that you have $50,000 in equity available to be cashed out. Can you just have it? In some cases, the amount you can add to your loan balance will come down to your income, expenses, and other qualifying factors. If you're wanting to use part of the $50,000 in equity for your remodel, a VA-approved lender can help you find out how much you can use. Once you know, you can start to imagine your home improvements you might make within your budget.
What Do Buyers Face in Today's Market?
Did you know that there are fewer homes on the market? Just prior to the 2017 spring buying season, the number of for-sale listings fell to its lowest level since 1999, according to NAR. In other words, slim pickings! And inventory has stayed low. That and rising home prices have made it a seller's market. This can create challenges for the buyer.
For starters, bidding wars between multiple buyers are pretty typical and can drive purchase prices well above asking. If you're using a VA loan, a purchase price that exceeds the appraised value can create some issues. The VA will only provide its guaranty up to the appraised value and within loan limits.
Another challenge for buyers in a seller's market is it may take longer for the right house to come along.
In the end, it may be that the remodel you have in mind makes the most sense. Either way, a VA loan can help you achieve your homeownership goals. If you need more information, click here to talk with a VA lender that specializes in serving Veterans.