If you have equity in your home and you're eligible for home loan benefits, you may be able to get a VA cash-out refinance loan to pay down debt.
Have bills become a contentious topic in your home? Maybe you used a rewards card for the free airline miles and now your payments are sky high. Or maybe you didn't have enough cash for a hospital visit, and now you're sick of getting the monthly bill. Your monthly payments are rapidly taking over your life and you need some relief.
An accumulation of too much revolving debt can happen to the best of us. Luckily, homeowners have an advantage. If you own a home, and you're eligible for VA home loan benefits, a VA refinance loan with a low interest rate may be a great way to consolidate your debt.
Understanding Revolving and Secured Debt
Credit cards and lines of credit are unsecured, revolving debt. Interest rates for this type of debt tend to be high ― often in the double digits ― and carry heavy penalties if you're late or miss a payment. Interest may be compounded daily, which means it's added to your balance every single day. If you don't pay off your balances every month, you can end up paying interest on top of interest.
Average Interest Rates for Credit Cards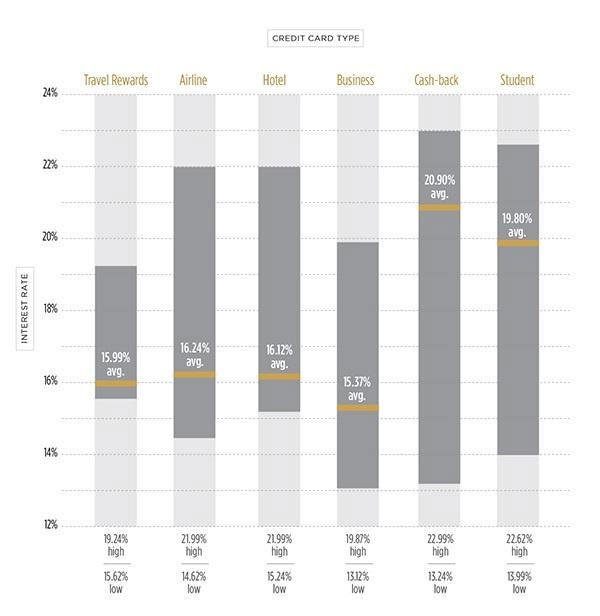 On the other hand, a mortgage is secured, installment debt. Interest rates tend to be low — 30-year loans averaging around 3.92% as of July 2017 according to Freddie Mac. And mortgage balances are amortized for a specific term, meaning that you will know exactly how long it will take to pay off the loan in full.
Average Mortgage Interest Rates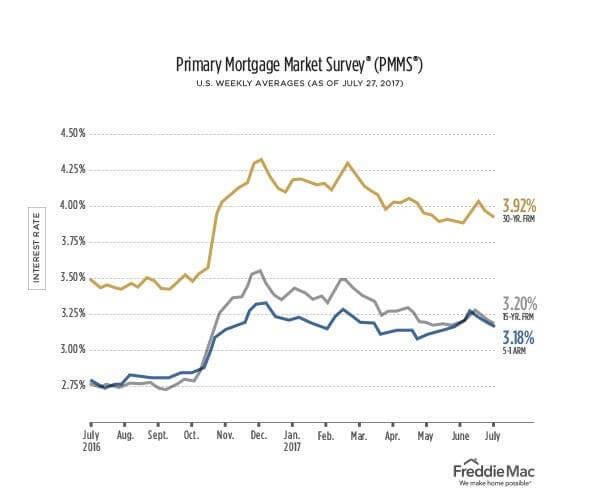 Debt Consolidation Can Reduce Overall Monthly Payments
Imagine your credit card balances and other revolving debt with the same, low interest rate of your mortgage. Borrowers have experienced tremendous relief to their monthly cash flow by rolling debt into their mortgage with a VA cash-out refinance loan. This is a form of debt consolidation available to those with VA home loan benefits. With this type of loan, you can cash out up to 100% of your home's equity to pay off balances on credit cards and other debts. Balances are added to your mortgage principal. Click here to learn more about VA refinance loans.
The theoretical example below compares monthly payments for a debt balance of $15,000. The credit card sample reflects a minimum monthly payment of 2.4% of the balance and an annual interest rate of 16% (around the average APR for credit cards according to several sources). The mortgage sample shows principal and interest only for a 30-year fixed loan at a hypothetical 3.92% interest rate (APR 4.00%). As you can see, the monthly payment for the same amount of debt is drastically different.
Monthly Payments for Credit Card and VA Mortgage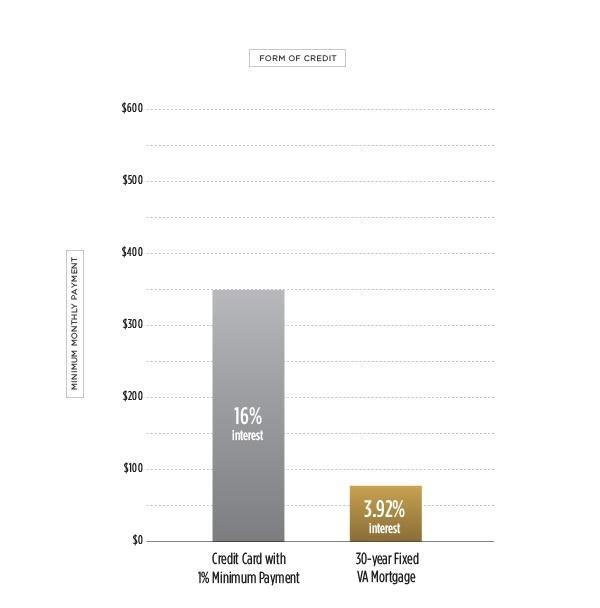 Many consumers are paying more than 16% APR on credit cards, which would make the minimum payment on $15,000 debt ever higher than the sample above. The Federal Trade Commission strongly urges consumers to avoid making just minimum payments on credit cards. Unfortunately, when credit card users accumulate this kind of debt, the minimum payment may be all they can afford. While debt consolidation may lower your monthly payment, remember that your total finance charge may be higher over the life of the loan.
VA Cash Out Depends on Home Equity
In order to use VA cash out loan for debt consolidation, the conditions have to be right. Equity is the first requirement. Your ability to pay is also important. If you have enough equity in your home and you can meet the financial requirements for the new loan, this type of debt consolidation may be a great option for you.
Home values in many areas are on the rise. Many homeowners have discovered a surprising amount of equity currently at their fingertips for reducing or completely eliminating high-interest debt.
Home Equity is Key to VA Cash-Out Debt Consolidation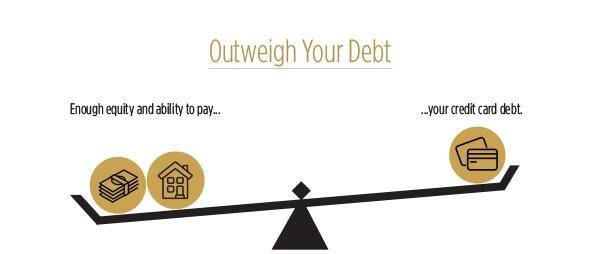 How Much Does This Kind Of VA Loan Cost?
The costs involved with a VA refinance may be similar to the costs you paid on your original home loan, including:
Origination fee of up to 1%
VA funding fee (unless exempt)
Reasonable interest rate discount points
VA appraisal fee
Credit report fee
Prepaid fees for escrow (e.g. taxes, insurance, etc.)
Any other closing costs (e.g. title insurance costs, recording fees, etc.)
Remember, a cash-out loan used for debt consolidation is going to increase your loan balance by the amount of equity you "cash out," plus any fees you decide to roll in.
Take the Next Step
If you're ready to move forward, or just want more information, the first step is to get no-obligation rate quotes.