For more than 10 years, Passamaquoddy tribal historian Donald Soctomah has been researching and writing about a group of men who fought in a horrific war for a nation not their own and returned to see their exploits nearly forgotten. Thanks to a new documentary, his effort to preserve their memory is getting a major boost.
On the Smithsonian Channel, "Americans Underground: Secret City of WWI" follows photographer Jeffrey Gusky as he explores a group of ancient caves and quarries hundreds of feet deep under French farmland -- readymade bunkers where both sides rested their troops as vicious trench warfare raged above. It's one of many attempts to draw attention to the Great War, a pivotal conflict that has long been overshadowed by its second act, World War II.
The documentary features the story of nine members of the Passamaquoddy Indian Nation from northeastern Maine who volunteered in 1917 to fight as Americans despite their people being denied United States citizenship until 1924. Like many soldiers who billeted underground, these men left behind intricate carvings and inscriptions in the stone walls. Among various national symbols, caricatures of political leaders and "I was here" graffiti, the Passamaquoddy etchings stand out. They echo native traditions that date back thousands of years, and their exposure a century after they were carved is helping pick up the pace of discovery back home.
Families Tie Some Loose Ends
Soctomah appears onscreen as a subject-matter expert in the one-hour documentary, which aired in mid-March. In a phone interview, he said the production crew approached him early last year, looking for help. "They asked me, did I know anything about the Passamaquoddys in World War I, and I said I know quite a bit." He has spent his life following the stories of his tribe's warriors. "My grandfather did it, and his grandfather did it. I'm following in their footsteps," Soctomah recalled, adding that he does so in the hopes of correcting some of the misconceptions about his people.
He showed the producers some of his collection, including photos of doughboys taken before they crossed the Atlantic for the battlefields of France. Then came a light-bulb moment: "When they asked, are there any sons and daughters still alive, I stopped and that's when I realized that there are," Soctomah said.
Those sons and daughters, now men and women in their 80s and 90s, have provided valuable insights through military documents and stories about watching their fathers work through the lingering effects of poison gas, bullet wounds and combat stress. "I said, wow, I didn't know this. Here I am, trying to gather history and knowledge about the tribe, and here are these families that have so much knowledge and material of their fathers."
And now, after the documentary premiered, Soctomah has been receiving a flurry of phone calls and emails from his fellow Passamaquoddy, offering to share historical treasures tucked away in attics and basements. "I think the families are holding a lot of information, but they really haven't been asked in detail," he said.
One of those calls came from John Sockbeson, the 86-year-old son of Henry Sockbeson. John offered to share records of all the battles in which his father participated. He said his father, who volunteered in 1917 at age 28, was exposed to mustard gas and never quite recovered from his symptoms after returning home. Every conversation like that lets Soctomah pair stories with a dig into historical records for a clearer picture of the tribe's complicated past.
Passamaquoddy ancestral lands extend from Maine into New Brunswick, Canada. Of the tribe's two dozen World War I veterans identified so far, 10 served in the Canadian armed forces, enlisting soon after the British Empire entered the war in summer 1914.
In the U.S., nine members of the tribe volunteered as soon as President Woodrow Wilson asked Congress to declare war in spring 1917. Those soldiers included the tribal governor's son, Moses Neptune, one of the last servicemen killed on the last full day of fighting, Nov. 10, 1918. Unlike Black troops, who fought in segregated units, Soctomah said Indians were often integrated into white units based on where they lived.
All nine served in Company I of the 103rd Infantry Regiment, part of New England's 26th or "Yankee" Division, the first National Guard division to fight in France. They saw action in several major engagements, including the St. Mihiel salient, the Rupt sector and the massive Meuse-Argonne offensive.
However, on their return home none of the survivors were formally recognized by the U.S. government, and under federal law, none was allowed to vote or own property.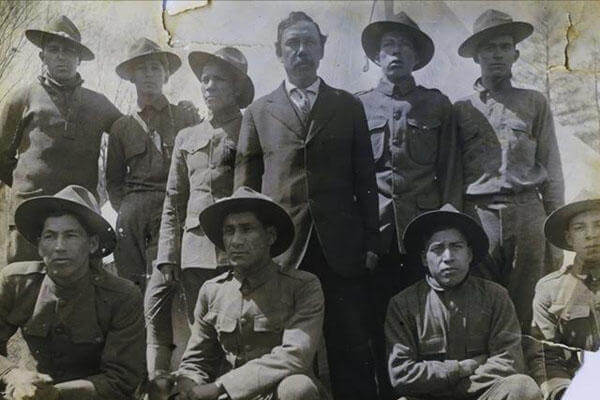 Passamaquoddy soldiers in Company I of the 103rd Infantry Regiment before departure for France in 1917. Standing from left: Sam Dana, David Sopiel, Peter Lewey, Chief William Neptune, George Stevens Sr. and Charles Lola. Kneeling from left: Peter Stanley, John Newell, Henry Sockbeson and Moses Neptune. Photo courtesy of Donald Soctomah. 
Code Talkers and the Rise of the Powwow
An estimated 10,000 Native Americans fought in World War I from across the continent, and two tribes -- the Onondaga and Oneida -- officially declared war on Germany.
Although Indians were discouraged from speaking their language at home, it became instrumental in saving lives on the Western Front, according to curators at the Texas Military Forces Museum. The first code talkers were Choctaw Indians during the Great War. By 1918, the Germans had become expert at tapping Allied phone lines and breaking their codes, but by pure chance, an officer with the 142nd Infantry Regiment from Oklahoma heard two Choctaw speaking their native language. After a successful test run in which code talkers coordinated the nighttime withdrawal of two companies from a perilous position, several Indians were trained in code talking, and their work appeared to be a major success.
Two decades later, Army planners remembered that success and recruited the Navajo code talkers of the Second World War.
Reno Charette, director of American Indian outreach at Montana State University Billings, has studied why they volunteered to fight in 1917 while their families were legally confined to reservations, and government boarding schools were systematically eliminating native languages and traditions. In a phone interview, she said for most tribes, protecting their ancestral homeland overtook all other concerns. "Our culture has many ways to express that as the honorable thing to do. Even women at home supported the homeland by canning, victory gardens and sent money in, even though they were very poor."
In many parts of the U.S., state and local regulations made it difficult for tribal members to enlist. Those who were allowed to serve found themselves subject to the stereotype of Indians as fierce warriors, so they were often put in the most dangerous infantry jobs, serving as scouts, reconnaissance specialists and forward observers, Charette said. On one hand, these dangerous assignments contributed to a higher casualty rate among Native Americans, compared to their white or Black comrades. On the other hand, they had a somewhat easier time intimidating the Axis troops, because many Germans had read the pulp fiction of the American West and were in awe of the Indians.
After the armistice, as soldiers returned to their reservations, they helped bring about an important benefit for tribal culture. Charette said before World War I, the federal government had restricted tribal events and even traditional dancing. After the war, those regulations loosened a bit as tribes sought to honor returning veterans.
Some traditional songs and dance found their way into parades and other celebrations, and the men told their stories using traditional methods. Those festivities led to the modern powwow.
"As powwows evolved after World War I, tribal people selected new materials made available by the new Euro-American economy. Even now in the larger global economy, tribal people are creating brilliant works of art in clothing that consist of a variety of fabrics, yet distinctively convey the tribal identity," she said.
Posthumous Recognition
Last July, the Smithsonian production crew traveled to Maine to film a long-overdue ceremony honoring the six Passamaquoddy who were killed or wounded in the trenches nearly 100 years ago.
People gathered with state, military and tribal officials to remember the deaths of Neptune, killed just before the end of hostilities, and Charles Lola, who died in the 103rd's first big engagement on June 16, 1918. Lola, a machine gunner, received the French Croix de Guerre for valor, after he lost his life holding his position to save the rest of his unit at Xivray.
First Lt. Jonathan Bratten, command historian for the Maine Army National Guard, said usually that medal was paired with the American Distinguished Service Cross, but Lola didn't receive it. The ceremony also honored Samuel Dana, who lost a leg in the war; Sockbeson; George Stevens Sr.; and David Sopiel. Representatives of the state of Maine presented the families of these veterans with military service medals and other honors, while the tribe marked the soldiers' sacrifices with decorated eagle feathers.
From Bratten's point of view, the ceremony helped to fill a larger gap in America's memory. "World War I veterans are the forgotten generation," he said. "They did one year of horrific combat with little or no recognition. They saw the highs and lows of humanity," he said. But World War II quickly eclipsed their concerns. "They were overlooked, and this is a chance to right that wrong."
To that end, Soctomah said the tribe is building a "veterans memorial stone" to be ready for unveiling on Maine's Native American Veterans Day, June 21, 2017. He said: "I put together a design and last week took it in front of our elder council," a group of 40 tribal members over age 60. After soliciting comments, he is going back to the drawing board.
"They liked most of it, but they just wanted it designed a little bit different," Soctomah said. Honoring the memory of America's veterans, the Passamaquoddy are still doing it their way.
"Americans Underground: Secret City of WWI" aired in mid-March, 2017, on the Smithsonian Channel. Visit www.smithsonianchannel.com for more information.
For more information on the Choctaw code talkers, visit www.texasmilitaryforcesmuseum.org.
Paul X. Rutz is a studio painter and freelance writer in Portland, Oregon. A former naval officer, he earned his Ph.D. in theory and cultural studies at Purdue University, writing a dissertation on combat art from the Iraq war. Find his work at paulrutz.com.
Lt. Col. Alisha Hamel is an Army Reservist and historian for the Center of Military History, and she is finishing her master's degree in military history with a focus on World War II. She just completed a one-year, active-duty tour managing the Museum Support Center at Anniston Army Depot where most of the Army's museum collection is stored.
Want to Know More About the Military?
Be sure to get the latest news about the U.S. military, as well as critical info about how to join and all the benefits of service. Subscribe to Military.com and receive customized updates delivered straight to your inbox.