The U.S. military has doled out exactly 3,535 Medals of Honor since the award's introduction during the U.S. Civil War, and as of August 2023,  only 65 recipients were still alive. Retired Air Force combat photographer Jeremy Lock wants to photograph all of them.
"These guys are the ultimate heroes to me," Lock tells Military.com. "I've always had a fascination with them, these larger-than-life heroes that are just like us, just like you and me."
Lock, who was named Military Photographer of the Year seven times during his time in the service, created a special page on his website dedicated to the portraits he's taken of living Medal of Honor recipients. He's been at it for nearly eight years, with 32 portraits to show for it and the ultimate goal of capturing all of them.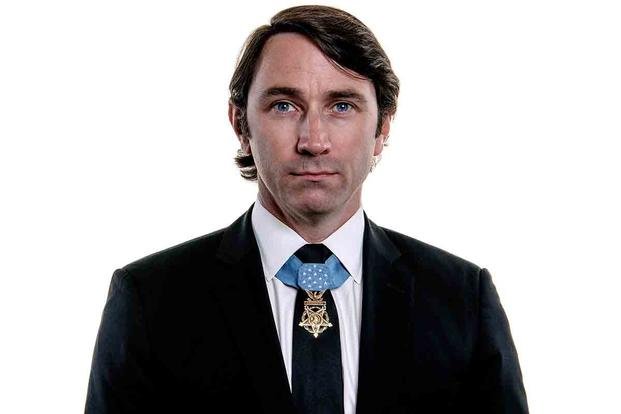 Today, Lock is still a photographer, but he's also a storyteller and podcast producer. He started taking portraits of these Medal of Honor recipients through his regular work. In 2016, he was hired to be the lead photographer for the AirPower Foundation's annual Sky Ball gala event, which regularly features a guest list that includes former prisoners of war and Medal of Honor recipients.
Lock had years of photojournalism experience, covering everything from worldwide humanitarian missions to combat operations while in the U.S. military. His work had been featured in Time Magazine and even the Smithsonian. But before covering the gala, he'd learned studio portrait photography and decided to put that practice to use.
"I had this real opportunity," he says. "I had this new skill, and I thought, 'How amazing would it be to sit down for, like, 10 minutes with my heroes?' At first, it was tough, because they're trying to go to the gala."
The AirPower Foundation was impressed by Lock's efforts, and before long, the organization began specifically setting aside room for him to take the portraits.
"Now they're calling and asking: 'What room do you want to set up for the portraits? We gotta get these,'" he says with a laugh. "It's been awesome to sit down and just kind of capture the essence of who these heroes are. That's basically how the project was born."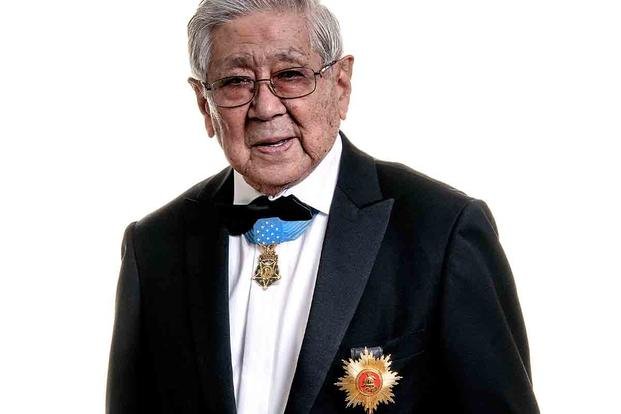 Lock has his favorites, of course. Among them is Army Staff Sgt. Hiroshi Miyamura, a former POW who received the Medal of Honor for covering his squad during a nighttime retreat, holding back a human wave of Chinese troops with his bayonet and killing 50 enemy troops before being captured.
Then there's Sgt. Maj. Bennie Adkins, who received the Distinguished Service Cross for his defense of a Special Forces camp in Vietnam's A Shau Valley in 1966. While wounded, he directed mortars while exposing himself to enemy fire to rescue his fellow soldiers. When no one else remained to fire the mortars, he took over until he ran out of ammo. He fought for 38 hours before leading his men in a two-day escape through the jungle.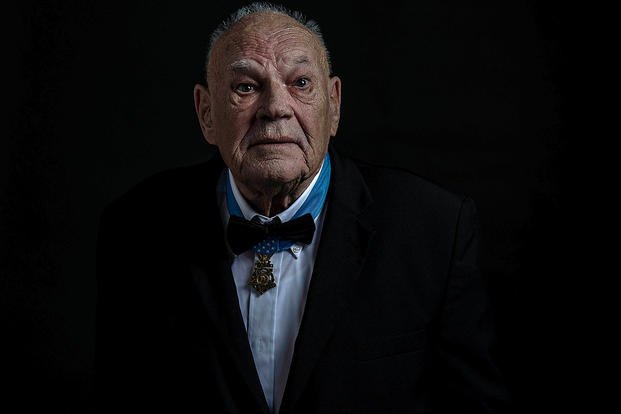 Both men passed away in the past few years: Adkins died in 2020 at age 86, and Miyamura died at age 97 in 2022. Lock, who has seen more than his fair share of combat with the U.S. military, has stunning portraits of both men.
"I mean, God. What an honor it is to do that," Lock says of taking their photos. "No one can tell what kind of person they're going to be on the battlefield. You can't answer until you've been in that situation. And these guys, they're me and you; they're us. But something switched in them on the battlefield, and they became heroic."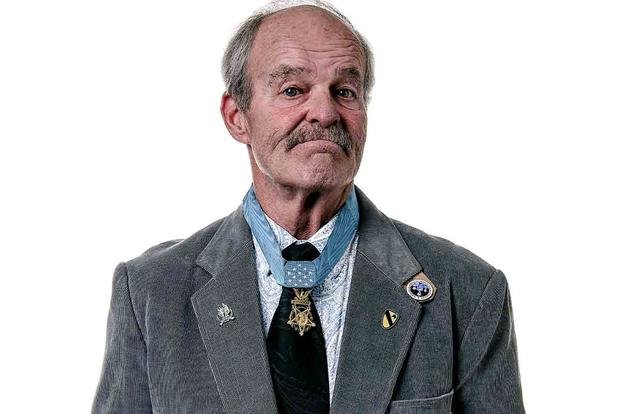 His podcast, "Last Letters," grew out of the time he's spent photographing his heroes. He hosts people from all walks of life, from Nobel laureates to exonerated prisoners, who talk about what they would do if they knew tomorrow was their last day on Earth.
"It opens up an amazing conversation," says Lock. "It's the greatest storytelling I've ever done. ... There's no bias whatsoever. At the end of the day, everyone is going to die: So what would your final words be? And who are you saying them to?"
The latest episode of the show features Maj. Gen. Patrick Brady, a helicopter pilot during the Vietnam War who received the Medal of Honor after flying through a maelstrom of smoke, fog and enemy fire to rescue wounded soldiers, even landing in a minefield to reach them. Lock has a portrait of Brady, too.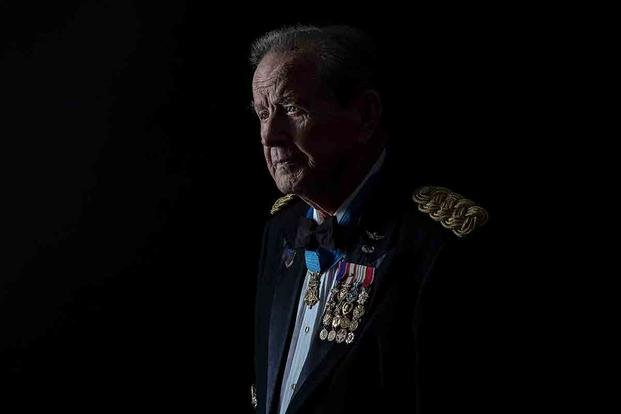 "These guys aren't getting any younger," Lock says. "You'll see quite a few that have already passed. These photos show the kindness and greatness of them, but also their humanity -- that the person standing right next to you could be the next Medal of Honor recipient."
To view Lock's full portrait gallery, visit the Medal of Honor recipients page on his website, and be sure to see his other work on JeremyTLock.com, which includes 21 years of military photojournalism, and the Last Letters Podcast.
-- Blake Stilwell can be reached at blake.stilwell@military.com. He can also be found on Facebook, Twitter, or on LinkedIn.
Want to Learn More About Military Life?
Whether you're thinking of joining the military, looking for fitness and basic training tips, or keeping up with military life and benefits, Military.com has you covered. Subscribe to Military.com to have military news, updates and resources delivered directly to your inbox.