Who are the best marksmen in U.S. military history? It's a hotly debated subject, and Military.com is throwing its hat in the ring with PeopleMaven, a startup that creates lists of amazing people, to provide an answer.
Since the names and activities of current U.S. military marksmen are classified, we only considered unclassified service members and veterans for our list, and factored in these four criteria:
Combat heroes famous for exceptional confirmed kill count

Combat heroes with record-setting kill shot distances

Military shooters who went on to public recognition

Premier competitive marksmen
Below, we feature the top seven legends from the list.
US Marine Sgt. Carlos Norman Hathcock II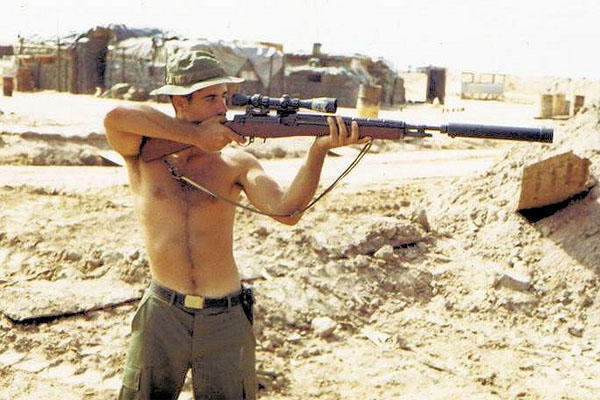 Hometown: Little Rock, Arkansas
Nickname: "Whitefeather"
Years of Service: 1959-1979
Wars: Vietnam War, two tours
Confirmed Kills: 93
One of the most legendary combat heroes with exceptional confirmed kill counts is USMC Sgt. Carlos Norman Hathcock II.
Hathcock's legend grew from countless acts of bravery on the battlefield. He was an incredible woodsman with unmatched patience, traits that served him well in the jungles of Vietnam, where he served two tours.
Among Hathcock's impressive stories of wartime success was a manhunt that required him to cross enemy lines to dispatch a North Vietnamese Army general. He went four days without food, water or sleep, crawling inch by inch, on his side, to get safely within range of the general. At 700 yards, he took out the target and then sneaked back to safety.
Hathcock also held the record for the longest confirmed kill shot for more than 30 years, at 2,500 yards. His record was beaten in 2002 by Canadian Master Cpl. Arron Perry and Cpl. Rob Furlong, with 2,526-yard and 2,657-yard kill shots, respectively. Both shots occurred in 2002 during the War in Afghanistan.
Hathcock claimed that his only motivation as a sniper was to do his duty and protect his fellow Marines.
US Army Scout William Dixon
Hometown: Ohio County, Virginia
Nickname: "Billy"
Years of Service: 1874-1883
Wars: Battle of Adobe Walls, Battle of Buffalo Wall
U.S. Army Scout William "Billy" Dixon was a marksman famed for one of the longest kill shots in combat, at 1,538 yards. Dixon was an American buffalo hunter and scout in the Texas Panhandle in the 1800s. He learned how to hunt game out of necessity as a young boy, which helped him grow into an exceptional marksman. Dixon is one of only eight civilians ever to receive the U.S. Medal of Honor.
Before joining the U.S. Army Scouts, Dixon led founders of Adobe Walls to the Texas Plains in 1874. Twenty-eight men and women from the group were attacked by an estimated one thousand Native-American Indians. Dixon ended the attack by making his 1,538-yard kill shot. At the time, it was dubbed "The Shot of the Century." The shot also spooked the assailants, causing them to retreat.Two veterans who gained public attention based on their success in combat include Navy SEAL Brandon Webb and Army Ranger Sgt. Nicholas Irving, with both winding up in the media spotlight after leaving the military. Their personas are controversial and compelling, so we feature them below. 
Navy SEAL Brandon Webb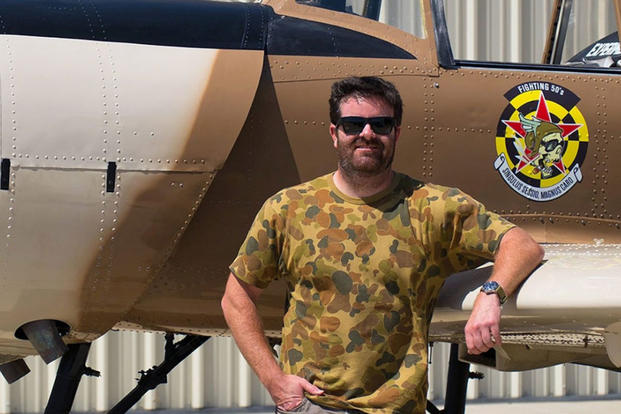 Image from brandontylerwebb.com
Hometown: Vancouver, Canada
Years of Service: 1993-2006
Wars: One tour in Afghanistan, one tour in Iraq
Webb was a certified SEAL sniper. He deployed four times, once with SEAL Team 3 to Afghanistan. After his final deployment, Webb worked at the Naval Special Warfare Group One Sniper Cell. He ran the sniper program at the Navy Special Warfare Command as the SEAL sniper course manager, where he trained nearly 300 SEALs from 2003 to 2006, including the legendary "American Sniper," Chris Kyle.
When Webb left the Navy, he became a New York Times bestselling author and an entrepreneur. He is the co-author of "The 21st Century Sniper: A Complete Practical Guide." He's also written "The Red Circle," "The Making of a Navy SEAL," "The Power of Thought: Core Principles to Overcome Adversity and Achieve Success," "Total Focus," "The Killing School" and "Among Heroes." In 2018, his newest book, "Mastering Fear," will be released.
The Special Forces community has mixed opinions about Webb and his books. However, most agree that he has elevated SEALs to celebrity status. Webb is often the go-to subject matter expert for providing insight to the media regarding special ops missions, and he has contributed to media outlets, including Fox, CNN, MSNBC and The New York Times.
Army Ranger Sgt. Nicholas Irving
Unit: 3rd Ranger Battalion, U.S. Army
Hometown: Fort Meade, Maryland
Nickname: "Reaper"
Years of Service: 2004-2010
Wars: Three tours in Iraq, one tour in Afghanistan
Confirmed Kills: 33 kills in less than four months
Irving was the first Black sniper in the 3rd Ranger Battalion. During his final tour as a Special Operations Command sniper in Afghanistan, it is estimated that he killed 33 insurgents in less than four months, making him one of the deadliest snipers of all time. Other Rangers nicknamed him "Reaper" because of his fierce effectiveness.
Since leaving the Army, Irving has written multiple books about his experience in combat, including "Team Reaper: 33 Kills ... 4 months," his best-selling title, "The Reaper -- Autobiography of One of the Deadliest Special Ops Snipers," and most recently "Way of the Reaper: My Greatest Untold Missions and the Art of Being a Sniper." In 2016, Irving was one of four military leaders to serve as a coach on the TV show "American Grit" with John Cena.
Irving is transparent about his struggles with alcoholism and PTSD since retiring from the Army. His authenticity is raw and at times shocking in its gory detail, but he does not shy away from bluntly describing his wartime experiences and how they have impacted his life.
US Army Capt. Glenn A. Dubis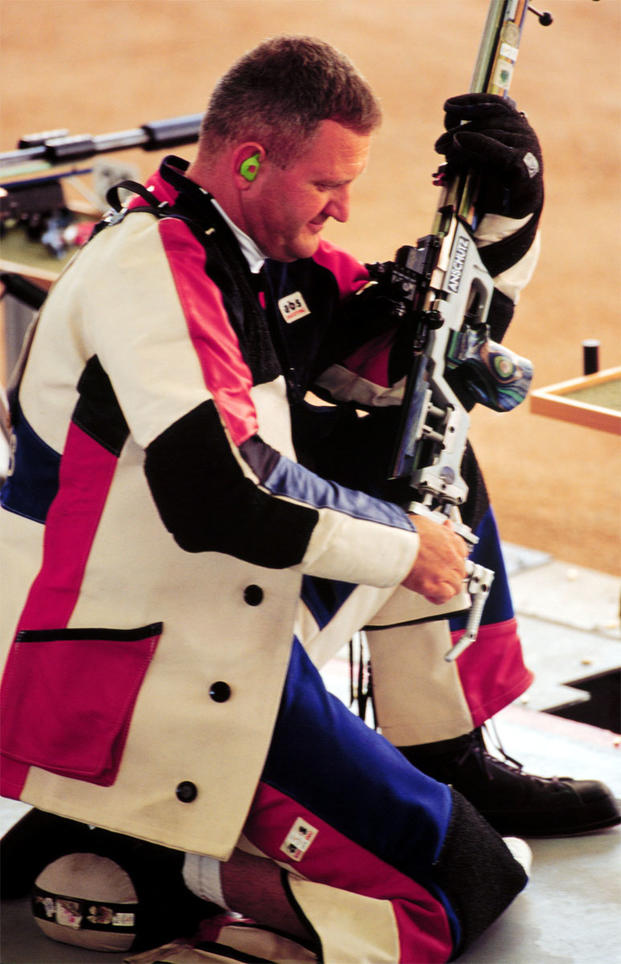 Capt. Glenn A. Dubis prepares to shoot from the kneeling position during qualifications for the Men's 50-meter rifle three position on Sept. 23, 2000, at the Olympic Games in Sydney, Australia. (Tech. Sgt. Rick Sforza/U.S. Air Force) 
Hometown: Bethel Park, Pennsylvania
Nickname: "Michael Jordan of Shooting"
Service: 1982-2002
Wars: Operation Desert Storm
Dubis is a Desert Storm veteran and four-time Olympian (1984, 1988, 1996, 2000), where he finished below the top 20 in only one of his Olympic appearances. His best finish was fifth place at the 1998 Olympic Games in Seoul, South Korea. Outside of the Olympics, Dubis has won the Conseil International du Sport Militaire rifle trophy numerous times, to the point that the trophy commonly is referred to as the "Dubis Trophy." He is a member of the U.S. Army Marksmanship Unit International Rifle Hall of Fame, and in 2015, he was inducted into the U.S. International Shooting Hall of Fame.
US Army Sgt. 1st Class Josh Olson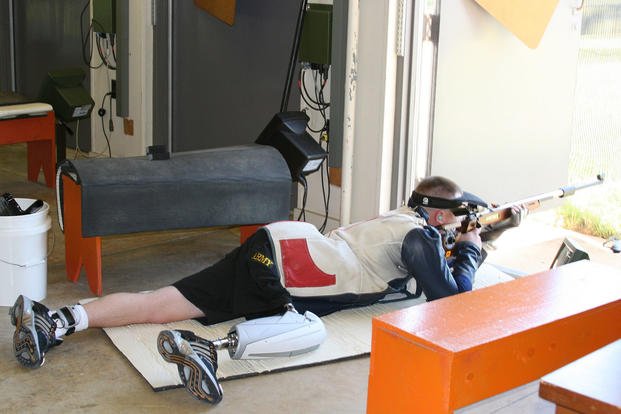 Hometown: Spokane, Washington
Years of Service: 1997 to present
Wars: Kosovo, Iraq
Olson lost his leg to a rocket-propelled grenade in Iraq in 2003, but in 2004, he met a Prosthetic & Orthotic Associates employee in Orlando. Together, they drew a design for a prosthesis on a piece of napkin, which eventually became the "Olson Design" prosthetic leg. Officials liked the new prosthesis so much that they sent copies to wounded soldiers all over Florida.
The following year, Olson continued his military service, and he was assigned to the U.S. Army Marksmanship Unit as a marksman and instructor. He is the first athlete with a physical disability to be nominated to the Army's World Class Athlete program.
In 2012, Olson qualified for the Paralympics by winning a gold and a silver medal at an International Paralympic Committee approved competition. He competed at the 2012 Paralympics and placed 12th in the mixed 50-meter rifle-prone SH1, a designation that indicates that athletes can support their firearm without assistance.
US Army Sgt. Julie Golob
Unit: U.S. Army Marksmanship Unit
Hometown: New York, N.Y.
Years of service: 1995 to 2002
Golob's dad was her first shooting instructor. She was a natural talent, and in 1994, she was accepted into the U.S. Army after meeting with the coach of the Army action shooting team. She won multiple shooting competitions and was selected the "U.S. Army Female Athlete of the Year" in 1999 while stationed at the U.S. Army Marksmanship Unit in Fort Benning, Georgia. Golob served there for eight years as an instructor with multiple military awards and honors.
Golob is still an active competitor today. She is the International Practical Shooting Confederation world champion, and she is the only U.S. Practical Shooting Association Ladies Seven Division national champion in history. When not competing, Golob works with different brands, including Smith & Wesson, Benelli USA, Federal Premium and Safariland to promote the sport. She is the author of the book, "Shoot: Your Guide to Shooting and Competition."
Thanks to Caleb Stinson at Gunivore, Colton Jordan at NoirTraining, Robert J. McWhirter, Jeff Pullar, Kaitlin Hung and Meghan Knudson for their insights and feedback on early drafts of this article.
Lewis C. Lin is the founder and CEO of PeopleMaven, a new way for people to search the world's most amazing people. Chelsea K. Tucker also contributed to this article.
Want to Know More About the Military?
Be sure to get the latest news about the U.S. military, as well as critical info about how to join and all the benefits of service. Subscribe to Military.com and receive customized updates delivered straight to your inbox.