For more than 29 years, Don Milne worked in the financial services sector. In 2016, he began to write a blog during his lunch breaks, writing the stories of American service members who died during World War II.
At first, he would honor the departed on the anniversary of their 100th birthday. He never intended to write a short biography of all 421,000 Americans killed during the war.
In the years since he first started writing, that has become the goal. He has enlisted the help of other writers who are all intent on telling every story in time for the 80th anniversary of the end of World War II, on Stories Behind the Stars.
He would also like your help.
"My kids are older," Milne tells Military.com. "I was looking for a hobby I could do on my lunch break, and I'm a terrible golfer."
Milne isn't a veteran but he is an avid history reader, and especially loves World War II history. He loved seeing fallen WWII veterans honored in the media, but noticed that hardly anything was ever mentioned about their personal lives. He decided to write them himself, right up until the 75th anniversary of the end of the war, Sept. 2, 2020.
Every day on his original blogspot blog, Milne would write a short biography of one of those killed in World War II. It wasn't anything elaborate; an article akin to an obituary. Within a year and a half of writing, he noticed he had a million views, with 3,000 to 6,000 people visiting every day.
"And then people started contacting me and saying, 'Hey, can I write some, too?'" says Milne. "The plan was always to just do this for a short period, get around 1,300 stories and then we'd be done, but people started saying, 'Why do we have to be done?'"
Milne says that even with help, doing one story a day would take them 1,109 years to tell every story. To which his help replied, "Why only do one story a day?"
Then, the COVID-19 pandemic came and shut down much of the world. Milne was let go from his financial technology job and moved to Kentucky. He started a nonprofit organization with the mission of documenting the stories he was writing and began a new collaborative website, Stories Behind the Stars, in February 2020.
"I thought to myself, what if you were actually at the grave site, what if you were at the USS Arizona or in Arlington [National Cemetery]," he says. "What if you could pull out a smartphone and read the stories of the fallen right there?"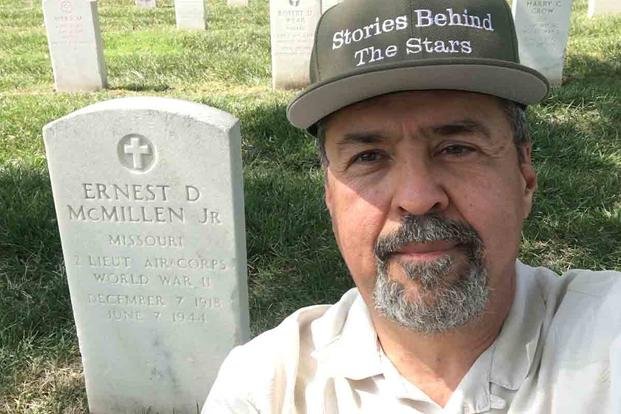 Stories Behind the Stars has grown since those first days. Milne says the goal of telling all the stories by the 80th anniversary of the end of World War II on Sept. 2, 2025, is completely achievable.
"It's really not that hard to help out," he says. "We're just asking people to give up maybe two or three hours once a week to sit down at their computer and go to a few research sites that we can guide them to. Within that amount of time, they're able to find enough details to write maybe a 500-word obituary of who that person was."
So far, Milne and Stories Behind the Stars has written 16,000 personal background stories on those Americans killed in World War II. Though the website lists hundreds of contributors, Milne estimates that if he had 3,000 people writing one story per week, the goal would be reached.
"We aren't drafting people for a 40-hour workweek," Milne says. "If you have an interest in World War II and are interested in remembering these people, you get to know someone within three hours, even if you start with a birthday and death date and nothing more."
To learn more or donate to the cause of telling these stories, visit the Stories Behind the Stars website.
To volunteer for the STAR Corps (StoryTelling and Research -- the volunteers who write the stories), visit the volunteer page.
-- Blake Stilwell can be reached at blake.stilwell@military.com. He can also be found on Twitter @blakestilwell or on Facebook.
Want to Learn More About Military Life?
Whether you're thinking of joining the military, looking for post-military careers or keeping up with military life and benefits, Military.com has you covered. Subscribe to Military.com to have military news, updates and resources delivered directly to your inbox.