When South Vietnam fell to North Vietnamese forces in 1975, an estimated 125,000 Vietnamese refugees fled to the United States to avoid retribution at the hands of the North Vietnamese.
Among those refugees was U.S. Navy Rear Adm. Huan Nguyen, the first Vietnamese-American ever to hold an admiral's rank. Nguyen's road to becoming a distinguished Navy officer was a long and tragic one, and begins with one of the war's most iconic photographs.
"America is the beacon of hope for all of us. There is no other place in the world where a person can go for such opportunity," Nguyen said at his 2019 promotion ceremony.
Eddie Adams' photo of Viet Cong guerrilla Bay Lop being executed by South Vietnamese Gen. Nguyen Ngoc Loan made newspapers around the world in 1968. It became one of the most enduring images of the Vietnam War.
The photo fueled the anti-war movement back in the United States, which saw the photo as proof that the war was unjustified. But Adams' photo only tells half the story, as the former Marine Corps photographer admitted.
Bay Lop was executed in Saigon, on the second day of the Tet Offensive. He was captured after murdering South Vietnamese Lt. Col. Nguyen Tuan, along with the officer's wife, mother and six of his children. One of his children survived, however, after being shot through the arm and thigh. Another bullet pierced his skull.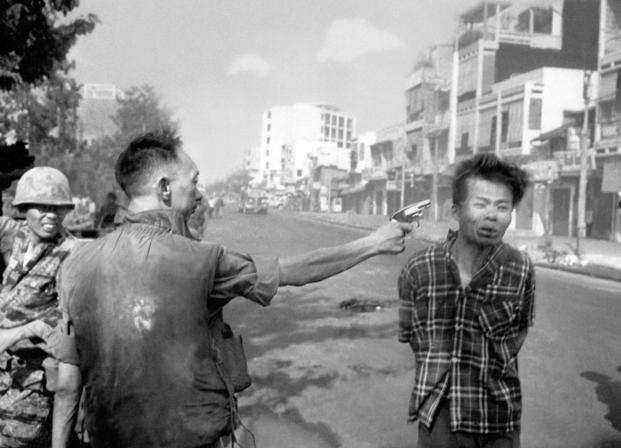 Nine-year-old Huan Nguyen stayed next to his mother for two hours after the murders.
When night fell, he escaped the scene and avoided the communist guerrillas. The young boy was taken in by his uncle, a colonel in the South Vietnamese Air Force. After the fall of Saigon in 1975, the officer and Nguyen escaped to the United States.
U.S. Navy and Marine Corps troops took care of the family as they made their way through Guam, along with thousands of other refugees, before being sponsored for relocation in the United States. U.S. Air Force Col. Ed Veiluva sponsored the family, which was resettled in Oklahoma as political refugees.
By 1981, Nguyen earned a bachelor's degree in electrical engineering from Oklahoma State University. He later earned master's degrees in electrical engineering, engineering and information technology. In 1993, he received a direct commission in the U.S. Navy through the Reserve Engineering Duty Officer Program.
Huan Nguyen was promoted to rear admiral in October 2019, at the time the highest-ranking Vietnamese-born officer in the U.S. Navy.
"The images that I remember vividly when I arrived at Camp Asan, Guam, now Asan Beach Park, were of American sailors and Marines toiling in the hot sun, setting up tents and chow halls, distributing water and hot food, helping and caring for the people with dignity and respect," Nguyen said.
"I thought to myself how lucky I am to be in a place like America. Those sailors inspired me to later serve in the United States Navy."
-- Blake Stilwell can be reached at blake.stilwell@military.com. He can also be found on Twitter @blakestilwell or on Facebook.
Want to Learn More About Military Life?
Whether you're thinking of joining the military, looking for post-military careers or keeping up with military life and benefits, Military.com has you covered. Subscribe to Military.com to have military news, updates and resources delivered directly to your inbox.